The Vans Warped Tour felt like my second home for years, and I will miss it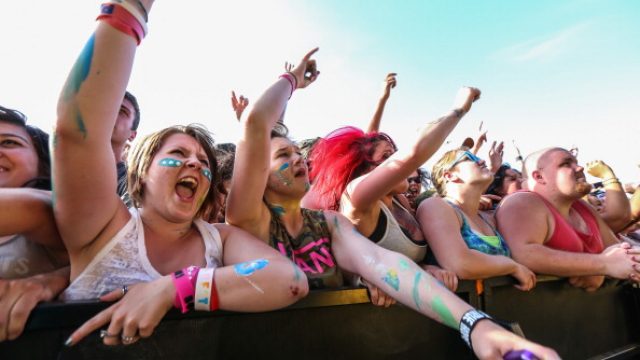 I was mindlessly scrolling my social media feed when I saw it. I couldn't believe what I was reading. Vans Warped Tour founder Kevin Lyman had released an official statement:
"Today, with many mixed feelings, I am here to announce that next year will be the final, full cross-country run of the Vans Warped Tour."
For countless summers, I've grown up with this festival, surrounded by the bands and music I love dearly. The Vans Warped Tour, or VWT, originally dates back to 1995 and has been a summer staple for music fans ever since. We'd brave the heat for this outdoor festival with seven stages, featuring performances from MTV regulars to up-and-coming local bands. Some of my favorites from past lineups are Neck Deep, Four Year Strong, Bring Me The Horizon, and Bad Religion. Often called "the punk rock summer camp," the VWT always provided a chill, fun environment for anyone who simply wanted to listen to their favorite artists perform live.
To know that something I consider so special is actually coming to an end in 2018 — I can't help but feel a little heartbroken.
Since 2004, I've considered the VWT a second home.
What started as a concert soon became a tightknit community I eagerly reunited with each summer.
https://www.instagram.com/p/BXjiSR1AIAK
I was 13 when I attended my first VWT.
My cousin Greg took me to the show at Cal State Fullerton, and I had no idea what to expect at a festival of that size. Fall Out Boy, NOFX, Taking Back Sunday and My Chemical Romance took the stage — just to name a few bands from the lineup. There were mosh pits, mohawks, and, of course, good music.
That was the day I fell in love with Vans Warped Tour. Immediately, I knew it would be a new tradition in my life.
As numerous summers came and went, the VWT became a haven of happiness, nostalgia, and good memories. Whether I was street teaming with a record label, taking photos from the pit for a band, or just attending as a fan, every summer was unforgettable.
The long, hot summer days spent enjoying this tour are some of the most special times I've had with family and friends.
I'll forever cherish taking endless road trips to different dates, standing against the barricade as I sang along to my favorite songs, and meeting the bands from the posters in my room.
As I got older, I remembered the moment that started it all, and knew I had to continue the work of my cousin, Greg: I took my younger cousin to their very first VWT in 2015. I wanted to pass on my love for music and my love for this festival, just as Greg had done for me.
Before I had my driver's license, I could always count on my dad to drive me and my friends to VWT shows near and far. Without him, there is no way I could have gone so frequently. He helped me pursue my passion for music. Because of my dad, I've always imagined taking kids of my own to the Warped Tour one day.
https://www.instagram.com/p/BI0LzSbAips
It's never easy letting go of something you love. I'll always be thankful that I was around to experience the Vans Warped Tour while it lasted.
I was lucky enough to grow up with this tour. It's hard picturing the future without it, knowing that other kids won't have the same chance.
To the punk rock summer camp, I hope this is more of a "see you later" than a permanent "goodbye." Thank you for earnestly representing youth and nostalgia. Thank you for providing a welcoming home for us fans every summer.
Here's to one final run on the road and one final time in the mosh pit. I'll always be #ForeverWarped.