New "Vanity Fair" editor-in-chief Radhika Jones can wear whatever the f*ck she wants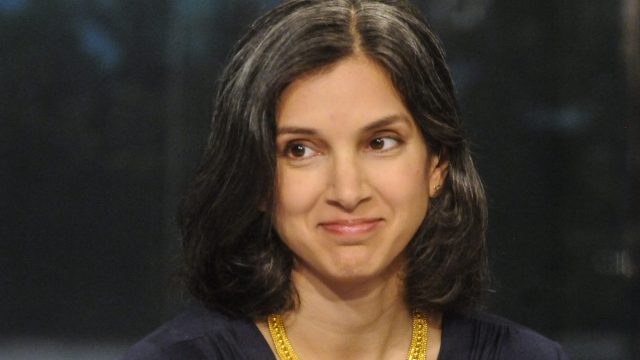 Radhika Jones is the first Indian-American woman to hold the title of editor-in-chief of a major magazine. On December 11th, Jones will begin her new role at Vanity Fair, succeeding longtime VF editor Graydon Carter. Jones is the former editorial director of the books department at The New York Times, as well as an alum of Time Magazine and The Paris Review. She's a graduate of Harvard and holds a doctorate in English and comparative literature from Columbia.
So why the hell are we talking about her clothes?
According to WWD, Jones recently attended an introductory meeting at Condé Nast to become acquainted with her new team, and wore an outfit that garnered negative commentary from the magazine's fashion staffers. As WWD reports, the Vanity Fair fashion staff was not impressed with their new boss's personal style. Jones reportedly wore a navy shift dress adorned with zippers and a pair of tights covered with cartoon foxes. Um…and? Personally, we think that sounds adorable. But the fashion police always come out of the bushes to say something.
WWD observed a Vanity Fair fashion editor having a conversation about Jones's outfit with co-workers. "She seemed nervous. The outfit was interesting," the editor reportedly said. The same staffer also described Jones's dress as "iffy." WWD also reports that Anna Wintour, Condé Nast artistic director and famous arbiter of taste, stared at Jones's fox tights throughout the staff meeting.
"I'm not sure if I should include a new pair of tights in her welcome basket," the staff member continued. Sigh.
Here's the thing: Why does Jones's outfit matter?
It doesn't. The pettiness is so fragrant that the story of the Vanity Fair fashion editor's remarks caught wind. Many people took to Twitter to support Jones and her caricature tights. false
See? People love the fox tights!
Everyone in publishing is wearing them.
Glad we can all agree.
false
If you fancy a pair of fox tights for yourself, here are some lovely suggestions.
false
If the high-school gossip of one staffer was a tactic to scare off Jones from stepping into her role as boss, now we're rooting for her even more. And we hope she wears animal-print tights every damn day during her reign.