Vanessa Lachey's gender reveal came with a 98 Degrees song, obviously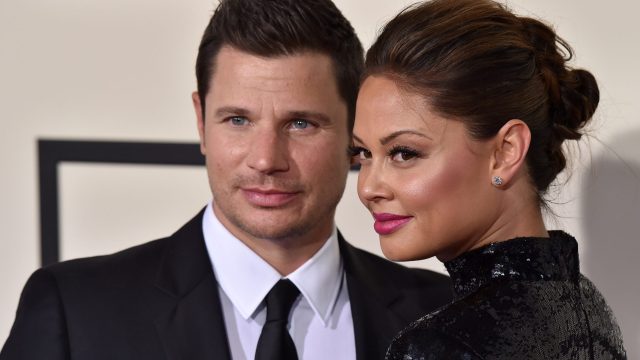 Gender reveals are all the rage these days, and celebrities have been enjoying the excitement as well. But when it came time for Vanessa Lachey's gender reveal, the wife of Nick Lachey wanted to make the moment unforgettable. How do you up the ante when announcing the gender of your next baby? With an homage to your husband, of course. Lachey decided to go all out, even sharing the video with her fans on Instagram — and the results are truly aww-inspiring.
As a television personality (and wife to a member of 98 Degrees), Vanessa Lachey's gender reveal shows off her considerable talent for timing. Just home from a reunion tour with his famous '90s boy band, husband Nick gets the greeting of a lifetime: a mini-surprise party, complete with his pregnant wife and two small children. As Lachey walked into his home to the tune of his hit song with 98 Degrees "Because Of You" (a classic) , his son and daughter greeted him with blue balloons that excitedly proclaimed he would soon have another little boy running around the house.
Vanessa didn't do anything by halves when it came to the gender reveal, decorating the room with balloons bigger than her small children. Son Camden, 4, gleefully ran to his dad with a giant blue balloon while infant daughter Brooklyn looked on in delight. And just in case the color-coded balloons were too subtle a sign, Vanessa also wrote it out in big silver letters: It's A Boy!
Lachey's gender reveal is the perfect combination of sweet, sincere, and a little bit silly. Instead of throwing a huge party she kept it to the immediate family, including their beloved pet pooch. And if your husband was a member of a famous boy band, could you resist using one of his most memorable melodies in such an important moment? When it comes to celebrity baby reveals, the Lachey family has certainly raised the bar in the most charming and hilarious way possible.