Vanessa Hudgens' new sideboob tattoo is SO PRETTY that we found 9 other celebs who make us want one, too
We officially have new ink inspo. Vanessa Hudgens took to Instagram to show off a new sideboob tattoo on January 24th, and it's just so pretty. In a series of photos and videos, the Rent: Live star gave us all a peek at the dainty sunflower tattooed on her left side. She appropriately captioned the first photo, "And to conclude our #thirstythursday" with a winking emoji.
And we weren't the only ones in love. Paris Hilton brought back her catchphrase to comment, "That's hot." Sarah Hyland, who has her own sideboob tattoo, commented in all caps, "I am here for thirsty Thursdays."
https://www.instagram.com/p/B7r49RiBdv8
Hudgens got inked at Bang Bang Tattoo in New York City, a celebrity tattoo hotspot. It's where Selena Gomez got her new "Rare" neck tattoo.
https://www.instagram.com/p/B7r5qBThV8m
https://www.instagram.com/p/B7r8BORBzGH
We love Vanessa's new tat so much that we had to turn to other celebrity sideboob tattoos to keep our inspiration going.
Ashley Benson
https://www.instagram.com/p/B0OZlB-BMPR
While promoting her collection with Privé Revaux, Benson showed off a sideboob tattoo of letters "CD"—which we have to assume is in honor of her girlfriend, Cara Delevigne. It wouldn't be the first tattoo commemorating their relationship, either, as Benson also has "squish" (Delevigne's nickname) tattooed on her hip.
Rihanna
https://www.instagram.com/p/VUj54jhM8W
Rihanna rocks loads of tattoos, including more than one along her ribcage and sideboob. We love this homage to ancient Egyptian Queen Nefertiti, which you can spot in her throwback 2012 photoshoot.
Ariana Grande
https://www.instagram.com/p/Bk6mEeNHA2n
Ariana Grande is no stranger to body art. In this photo, you can spot her "bellissima" tattoo—which she's said is what her late grandfather called her—and her "always" underboob tattoo. The latter (which was in Pete Davidson's handwriting) was seemingly covered up with a more elaborate tattoo.
Lea Michele
https://www.instagram.com/p/BEGcpBICD-N
Lea Michele debuted a "5" tattoo in 2016, in honor of her late partner and Glee co-star Cory Monteith. His character, Finn, wore that number on his William McKinley High School football jersey.
Alexis Ren
https://www.instagram.com/p/BivMshIHJxm
Like Hudgens, Dancing With the Stars performer and model Alexis Ren has a flower sideboob tattoo that's oh so pretty.
Rita Ora
Rita Ora showed off one of her many tattoos in her 2014 Elle UK cover. According to The Huffington Post, Ora dubbed the also-topless lady "Rosetta."
Sarah Hyland
https://www.instagram.com/p/BInbgephw3-
The Modern Family star has a script tattoo with a dainty flower that reads, "follow my heartbeat." In her Instagram caption, she reveals that it's a reference to Hair, and it's by celebrity tattoo artist extraordinaire Dr. Woo.
Lily Collins
https://www.instagram.com/p/Bcsb7O1ltAJ
The actress showed off a tattoo that reads "fragile thing" and pictures a tiny fairy sitting on a crescent moon.
Miley Cyrus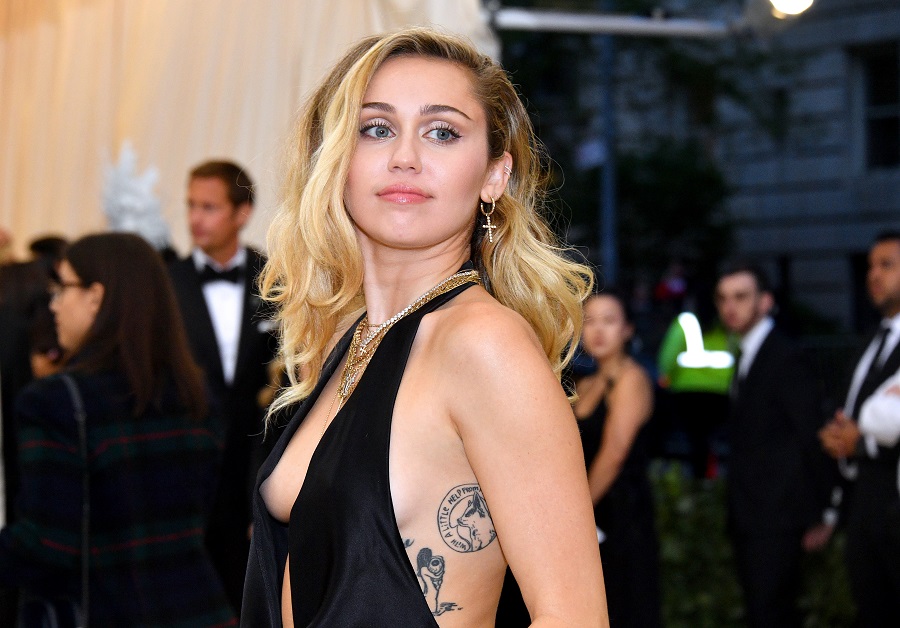 Miley Cyrus has so many sideboob tattoos (and so many tattoos, period), you can truly take your pick of favorites.