Vanessa Hudgens rapping Nicki Minaj's "Monster" at the Billboard Music Awards just made our day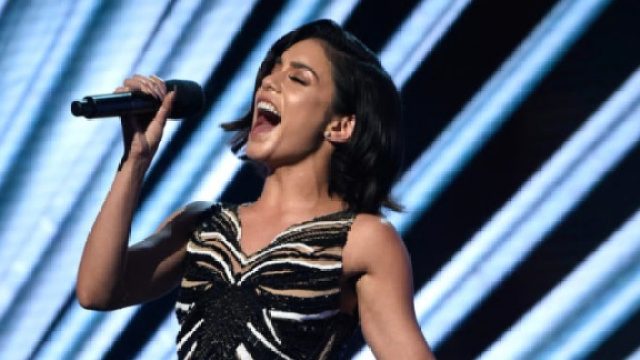 In case you missed it, Vanessa Hudgens rapped Nicki Minaj's "Monster" last night, proving she doesn't back down from a challenge — even on live TV. The High School Musical alum and cohosted the awards with rapper Ludacris.
Hudgens (who also somehow managed to slay in every single one of her *thousand* costume changes) was challenged by her cohost to rap a Nicki Minaj verse — immediately following Minaj's shows-topping opening performance. Obviously not one to say no, Hudgens boldly busted out the Minaj verse, and we're seriously impressed.
Hudgens may not be a rapper but she brought her all and *killed it* on stage.
https://twitter.com/udfredirect/status/866449047569256450
The "Monster" performance wasn't Hudgens' only surprise cover of the night. Following Celine Dion's moving performance of "My Heart Will Go On" to celebrate the 20th Anniversary of Titanic, Ludacris challenged her, once again. And guess what? Once again, she delivered.
https://twitter.com/udfredirect/status/866448777267351552
Seriously, it takes guts performing iconic songs in front of thousands of people (and everybody watching on TV), including iconic singers and rappers. But when you're as talented as Vanessa Hudgens, you don't have to worry about sounding terrible. Luckily, Ludacris got the memo and didn't try to challenge the "Grease Live" actress to any more surprise karaoke contests.
Hudgens had an incredible presence on stage and seemed thrilled to be celebrating with some of the biggest musical artists in the world. Dion's performance visibly moved Hudgens, who was brought  to tears. Backstage, the cohost and Dion took a photo so adorable, we're ready to have it framed.
Seriously though, we loved Hudgens' commitment to the Billboard Music Awards and are keeping our fingers crossed that she returns to host next year!