Vanessa Hudgens' new show "Powerless" films on the "Grease Live" set, so she naturally she busted out in song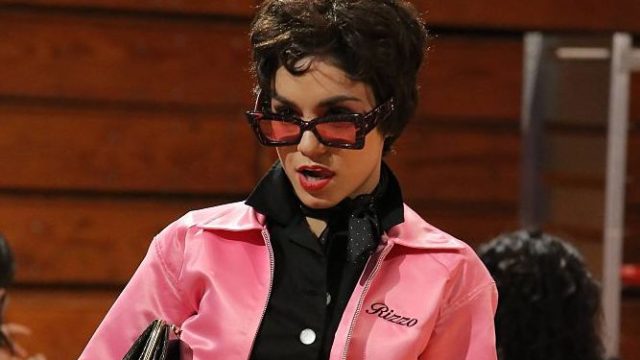 Seriously we are having so much FOMO and TBT feelings at the same time! Vanessa Hudgens' new show Powerless films on the Grease Live set, so she busted out in song. Brb we are going to play the Grease soundtrack like right now!
If you're a huge Grease buff like we are than you are probably obsessed with Rizzo. Of course we are obsessed with Sandy, but what girl didn't love that Rizzo was the polar opposite of her. So when Vanessa Hudgens was slated to perform "There Are Worse Things I Could Do" we couldn't help but wait with baited breath for this number. It wouldn't be an exaggeration to count this song as one of the most heartfelt and pipe bursting performances in a musical.
But hours before Grease Live! Vanessa Hudgens announced on Twitter that her father passed away from cancer the night before. Despite the heartbreaking moment for her and her family, she still found the strength and courage to perform. Fans, critics and social media were absolutely blown away. Not only was her performance as Rizzo an amazing ode, but her rendition of "There Are Worse Things I Could Do" was a major standout moment.
So when Hudgens sang a piece of the performance on her old set we fangirled, hard. Seriously, the girl still has it!
According to Nerdist, in her new show Powerless Vanessa Hudgens stars as Emily Locke who is the new director of a research and development team for Wayne Security (you guessed it, the legendary Bruce Wayne). This department is trying to find a way for citizens to deal with the dangers they are encountering by the superhero fights in the city.
This show will focus on the normal every day people that the superheros work so hard to save. This sounds like a show we are going to have to watch!
No matter what she performs in, we will always love the roles that Vanessa Hudgens plays. But we can't help but yell "Eat your heart out Kenickie" anytime something with Grease comes up!