Vanessa Hudgens opened up about the sexual misconduct allegations against James Franco, her former "Spring Breakers" co-star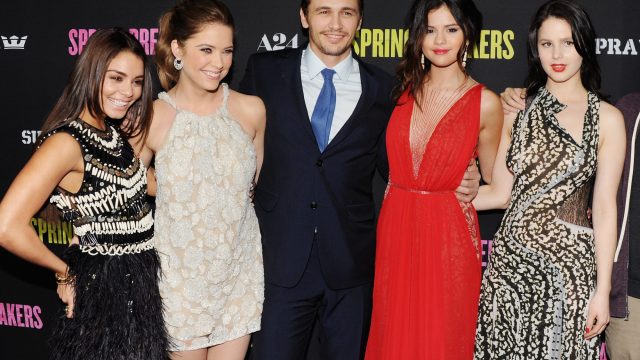 In light of the recent sexual misconduct allegations against James Franco, several of his former colleagues and other Hollywood insiders are speaking out on both sides. The latest to do so is actress Vanessa Hudgens, who starred alongside Franco in the 2012 film Spring Breakers.
At Delta's pre-Grammys party on Thursday, January 25th, the actress shared her reaction to the reports of Franco's sexually inappropriate behavior. Hudgens stood by the actor, essentially echoing what he said in an appearance on The Late Show with Stephen Colbert following the 2018 Golden Globes, during which the actor denied several of the allegations. "The things that I heard that were on Twitter are not accurate," he said. "But I completely support people coming out and being able to have a voice because they didn't have a voice for so long."
In an interview with InStyle, Hudgens said she supported Franco's comments on the controversy.
"He's saying that the allegations are false but he supports all the women speaking up because they didn't have a voice before, and the fact that that they do now is an amazing thing," Hudgens added. "He supports that. I just know that I loved working with him. He was always very respectful."
In case you missed it, the controversy around Franco took off after the 2018 Golden Globes, when several actresses commented on his apparent hypocrisy in wearing a Time's Up pin on the red carpet. The Breakfast Club actress Ally Sheedy specifically called out Franco's win for Best Actor in a Comedy or Musical.
Sheedy did not make a specific accusation of harassment, and eventually removed her tweet. But other Twitter users reminded us of Franco's questionable behavior in the past.
false
In fact, James Franco himself previously admitted to trying to arrange a hookup with a 17-year-old girl on Instagram in 2014.
He brought up the incident in an interview on Live! With Kelly and Michael that same year:
"I'm embarrassed, and I guess I'm just a model of how social media is tricky," Franco said. "It's a way that people meet each other today, but what I've learned — I guess because I'm new to it — is you don't know who's on the other end. You get a feel for them, you don't know who you're talking to. I used bad judgment and I learned my lesson."
What do you think of Hudgens's comments?