These two products are what you need to recreate Vanessa Hudgens's holiday hair
Vanessa Hudgens is one of those stars who always manages to nail the "I woke up like this" look. Her style is effortless yet super chic, her makeup is always on point but natural-looking…and let's not forget about her amazing hair.
While Hudgens tends to be partial to the summery beachy wave thing, even she's not immune to the need for a fancier holiday-inspired 'do. She went for a more polished, formal look recently in honor of the season, but she still kept it true to her own signature style. The look doesn't appear too "done" or "perfect," it just feels perfectly appropriate for Christmas dinner or a holiday party.
Joico celebrity hairstylist Riawna Capri created the look, and surprisingly, it only used two products: Joico's K-PAK Color Therapy Luster Lock Treatment ($19.99) and Joico's Hair Shake Finishing Texturizer Spray ($17.99) .
Here's how to recreate this look at home, courtesy of Riawna Capri.
Add the Luster Lock Treatment to your hair before placing loose waves of different sizes in with a curling iron. Then, make a small ponytail with a section of hair at the front of your scalp. Here's the tricky part: You have to create a small opening in your hair between the scalp and the band, then repeatedly pull the ponytail under and through the opening until you're happy with the look. Then, simply secure it with bobby pins, spray with Hair Shake Finishing Texturizer Spray. And that's it.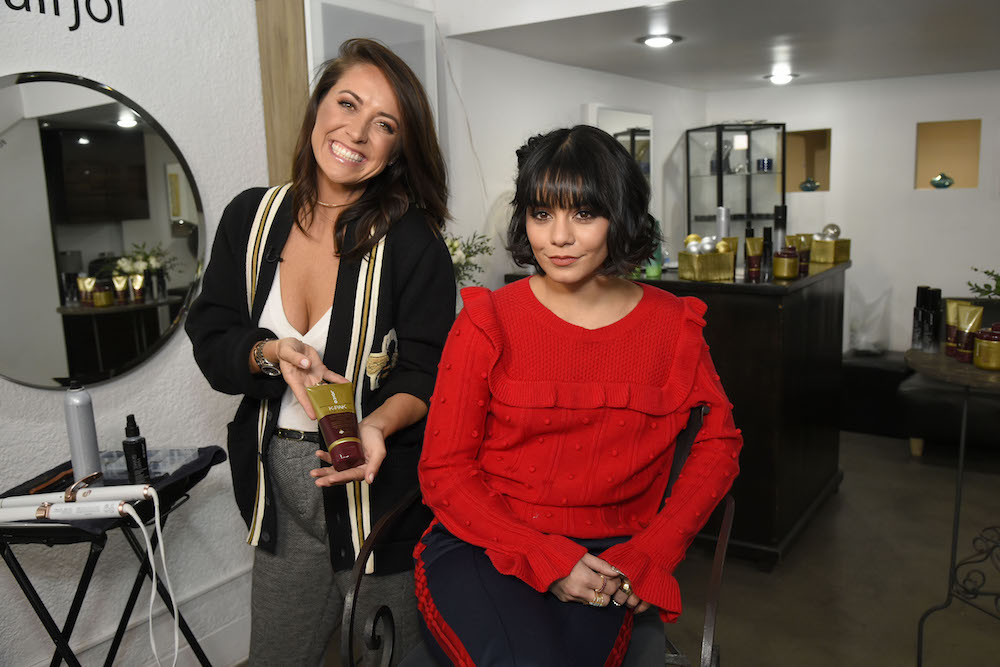 See how pretty that looks? While achieving the look may sound difficult, it's important to note that a hairstyle like this is meant to look effortless. So, if you can't get it perfectly, that's ok! It may even look better a little messy.
Considering this only take two products and a few bobby pins, we'd say it's definitely worth trying out for your next gathering.