Vanessa Hudgens' new hair is giving us major Daenerys Targaryen vibes
Will Vanessa Hudgens' real hair please stand up? The actress/singer/jill-of-many-trades has been serving up hair lewk after lewk after lewk lately. With her new job as a judge on So You Think You Can Dance, Hudgens has had to reinvent her look night after night. Indeed, a wig is your best friend when you judge a reality competition show.
After rocking her usual dark bob at the 2017 MTV Video Music Awards on Sunday night, Hudgens quickly switched it up on Monday with this icy blonde wig that is totally giving us Daenerys Targaryen vibes.
Is every blonde middle part a knock-off of the Mother of Dragons? Yes, always. Hudgens is missing an intricate braided pattern, but still, the inspiration remains.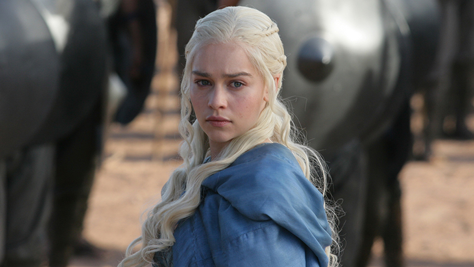 Hudgens also posted this playful lip-synch to Taylor Swift's new song "Look What You Made Me Do."
"DEATH TO THE OLD TAYLOR lol #havingwaytoomuchfun," she captioned the photo.
Hudgens' hair stylist is a damn genius. Hudgens goes from a wavy lob one day:
To somehow having bangs:
To looking like Cher:
To having the sleekest blowout, all in a matter of days.
Her stylist is Chad Wood, who is also responsible for Olivia Munn's lovely waves:
And Julianne Hough's intricate top-knots:
Low-key keeping our eyes to Hudgens' gram for whatever new hair comes next.