Vanessa Hudgens talks brows, brushes, and empowerment through beauty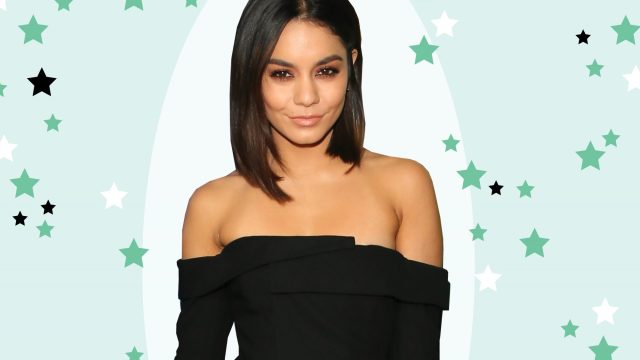 When it comes to our beauty and style icons, Vanessa Hudgens is at the top of the list, and her recent role as ambassador for the EcoTools #MyTrueBeauty campaign proves just why.
Environmentally-friendly cosmetics tool company EcoTools has partnered with The Girl Project, a non-profit organization created by Glamour to benefit girls worldwide. There's an eight-week beauty bar tour making its way across the country to bring awareness to the cause, and share fun tricks and techniques using the limited-edition EcoTools sets. Vanessa is the perfect face for the campaign — she believes that makeup can help you feel better and more confident, and we agree.
In an exclusive interview with HelloGiggles, she dished some of her beauty tips, including the surprising secret behind her perfect brows!
HelloGiggles: The campaign with EcoTools is so cool. Do you have a particular favorite from the collection?
Vanessa Hudgens: They did a three-brush set with the Girl Project which raises money for women's education all around the world. They have one called "Eye Am Courageous" and it's an eye brush kit, which I love because your eyes are the windows to your soul. I love having fun with eye makeup and if you don't have the right brushes, you can't get the look! So I love having all the tools that I need.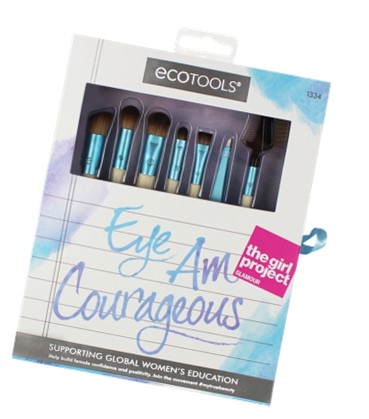 HG: Right now there's sort of a thing with celebs everywhere going makeup-free. Would you consider pulling an Alicia Keys and going out in public or to an event without any makeup on?
VH: When I work out I don't wear makeup. A lot of the time after my workouts is when I get photographed, so that's not really intentional. I personally feel better when I have some makeup on. I feel more confident. But to each their own, whatever makes you feel beautiful.
HG: We loved you in Grease: Live! The '50s look was really fun. Is there a particular era of makeup or beauty you like the best?
VH: The '70s for sure. The late '60s, early '70s, the ultra-hippie look. That's why I love long hair so much, and a lot of the festival or Woodstock looks like glitter, or drawing daisies on the face. I think that was such a cute, free time when women expressed themselves so much.
HG: Of the characters you've played, which had your favorite beauty look?
VH: My favorite beauty look that I've done as a character was probably Rizzo. I loved having that short little wig! I felt so sassy with the bold lip. You can't help but feel strong and empowered when you've got short hair and a bold lip on.
HG: What was the biggest, most cringeworthy beauty blunder you've made in the past?
VH: I feel like for the most part with beauty, it's fun to try new things, and the things that I've done haven't been too, too crazy. Frosted lips come and they go, and it's never like a definite no-no. I feel good about all the looks I've tried.
HG: Is there a beauty trend you dream of trying, but for work reasons or otherwise, you can't commit to?
VH: I always say that if I wasn't an actress I would have so many more tattoos. I have a butterfly on the back of my neck and would love to have those butterflies go down across my back, but it would just take so long to cover up that it's not worth it. It takes more time in the chair — time that you could be sleeping or working on your lines!
HG: Do you ever do your own makeup?
VH: If I'm working, I obviously have hair and makeup. But for the most part I love doing my own. I love trying new things and doing different looks. I've done my makeup since I was like eight years old so I feel pretty comfortable with it.
HG: Is there a beauty product you can't live without?
VH: Mascara. I try all different things. I love Better Than Sex by Too Faced. Right now I'm using The Shock by YSL. Just anything that will give added volume and length.
HG: And for eyebrows?
I love eyebrows! I'm always brushing my eyebrows out. One trick that I've learned is that if you put some hairspray on your eyebrow brush and brush them up they tend to stay fluffy longer.
Check out the tour when it comes to your town! And get involved by sharing the message of women's empowerment on social media by using the tag #MyTrueBeauty and tagging @EcoTools. For each post, EcoTools will donate $1 to The Girl Project, up to $100,000!