Vanessa Hudgens chatted with us about makeup, "Powerless," and her favorite apps
When you think about powerful, multi-talented women, her name definitely comes to mind. We were so glad to have the chance to chat with actress Vanessa Hudgens, who was in the midst of promoting a fun gaming app from King called Bubble Witch 3 Saga. Sound familiar? Of course — this is the company that brought us Candy Crush Saga, so they definitely know how to keep us interested and entertained.
Hudgens, who is currently starring on the NBC show Powerless, was all set for a fun round of laser tag to promote the event — and honestly, we couldn't think of a more fun way to get people psyched about a game launch.
"It's a complete way to decompress and unwind," Hudgens said about the app. "That's basically why I love it."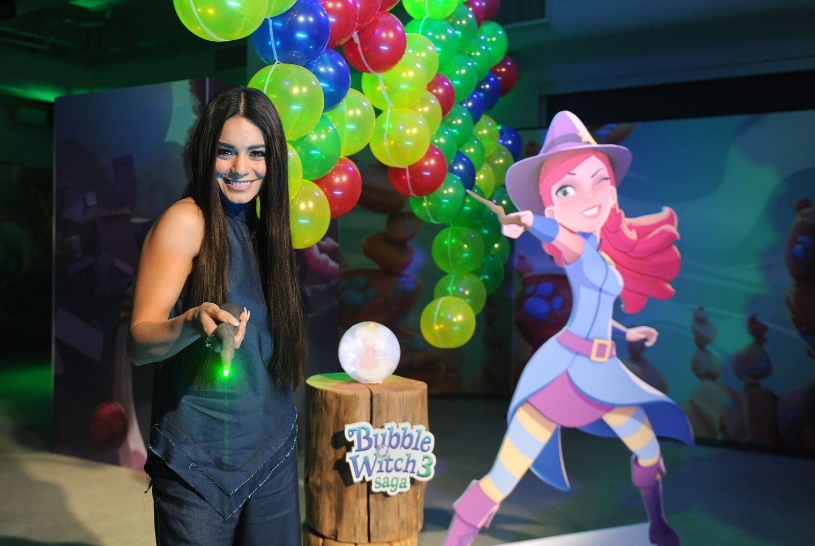 This version of the title will include elements of good versus evil — a concept that Hudgens likely knows a lot about based on her brand new sitcom. "You're helping out the good witch Stella defeat Wilbur, this evil cat who has dark magic," she said.
While she often reaches for her phone to play Bubble Witch 3 Saga, Hudgens also spends a lot of time on social media — especially Snapchat. Still, she credits her phone's alarm function as being one of the phone functions she depends on the most. We can definitely relate.
Of course, apps were just one of the many subjects we chatted with Hudgens about.
Since Hudgens always manages to look camera-ready, we were pretty curious about her everyday makeup routine. What kind of products does the star swear by?
"I feel like good skin is a necessity for your makeup regiment," Hudgens admitted. "For foundation, I always use this foundation stick by Hourglass. I've gotten all my friends on it, all my makeup artists on it... it's just so good. It gives really good coverage but feels super lightweight."
She also noted that she often enhances her lashes with a few individual add-ons if she's "feeling fancy," and contours with a little bit of bronzer. Also? She puts just a bit of highlighter on her cheekbones. We're so glad we asked, since now we know what to pick up during our next Sephora run.
But, what about lips?
"Every single lip color I have is matte," she said with passion, before admitting she's got them all in a big bag that goes everywhere with her.
Noted.
We were also super curious about Powerless, which just premiered on NBC in February.
Hudgens plays the role of Emily Locke, the Director of Research & Development at Wayne Security. Yes, in case you had no idea, this is a superhero show that takes place in the DC Universe.
For Hudgens, it's her first time on a series. While she's had a ton of experience with TV movies, and even live shows, she's never tackled a weekly television show before.
"It was so amazing. It was honestly one of my favorite filming experiences I've had," Hudgens said. "Definitely the hardest I've ever worked in front of the camera... I had no idea the hours it would take. But luckily I had an amazing cast who all got along, and who are just ridiculously funny. I had a good time on set every single day."
Hudgens noted that the opportunity came to her after her (incredible) performance in Grease Live! which aired in early 2016.
Hudgens had the role of Betty Rizzo, and likely made Stockard Channing quite proud with her spin on Channing's original role. 
That's probably why the head of Warner Brothers, Peter Roth, brought up the idea of starring on Powerless. Hudgens agreed to it, since not only was it new and fun, but she kinda-sorta has a thing for workplace comedies.
"'Parks and Recreation' and 'The Office' are both my favorite shows, and they were both on NBC," Hudgens said.
So, it should come as no surprise that in her wildest dreams, Amy Poehler would appear on an episode or two of Powerless. Hudgens thinks Poehler is absolutely hysterical, which we — of course — totally agree with.
So, uh — how about it, NBC?
Since we covered gaming, beauty, and television, there was one last topic we wanted to discuss with her — and that's music. Hudgens has released two studio albums, V in 2006 and Identified in 2008. While she's contributed a lot to certain soundtracks, we haven't gotten a lot of original music from the star in almost ten years. And really, her amazing performance in Grease Live! only reminded us that she's got a solid set of pipes.
"I actually have a little musical surprise coming your way in the next few months, " Hudgens hinted.
Of course, that's all she'd give up. (Trust us, we tried.)
"It's on the DL. It's all secret," Hudgens said with a laugh.
We honestly can't wait to hear what she's got in store.
https://www.youtube.com/watch?v=fsjEDFJi8AY?feature=oembed
Sadly, while we felt like we could talk with her for hours, we had to sign off with Vanessa Hudgens — she had a pretty important game of laser tag to attend.