Vanessa Hudgens loves this exact lipstick shade for her famous Thirsty Thursday posts
Vanessa Hudgens has been going all in on a #ThirstyThursday Instagram trend recently, and we are so here for it. No, she's not posting pictures of her beers at Happy Hour. Instead, she's been sharing confident photos where she's looking great and feeling herself. And bless her soul, Hudgens also gave us a beauty product tip for how we can also be feeling ourselves on Thirsty Thursday or any day: One of her favorite shades of lipstick.
In a now-expired post on her Instagram Story, Hudgens shared a selfie of herself wearing a deep purple-red, berry shade of lipstick. She used text over the photo to notify all of us at home that she's rocking Charlotte Tilbury's Hot Lips Lipsticks in "Hel's Bells." Fittingly, the shade is named for dream-goth Helena Bonham Carter.
Unsurprisingly, Charlotte Tilbury is a celeb-loved brand. Meghan Markle has been known to repeat-wear the brand's Matte Revolution lipstick in "Very Victoria," the perfect everyday nude. (The shade is named after Victoria Beckham, but we see that allusion to Queen Victoria, Duchess Meghan.)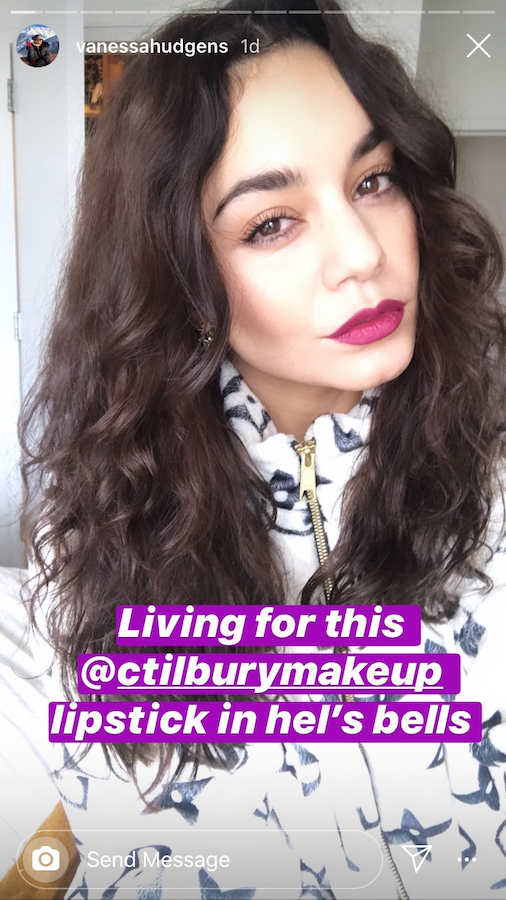 Other Hot Lips lipstick shades channel stars like Nicole Kidman, Salma Hayek, and Liv Tyler, and they each retail for $27 at Net-a-Porter. (Which, shh, is less expensive than at Sephora.)
For a bold look, we are definitely getting our hands on Hudgens' shade that she was "living for" on #ThirstyThursday.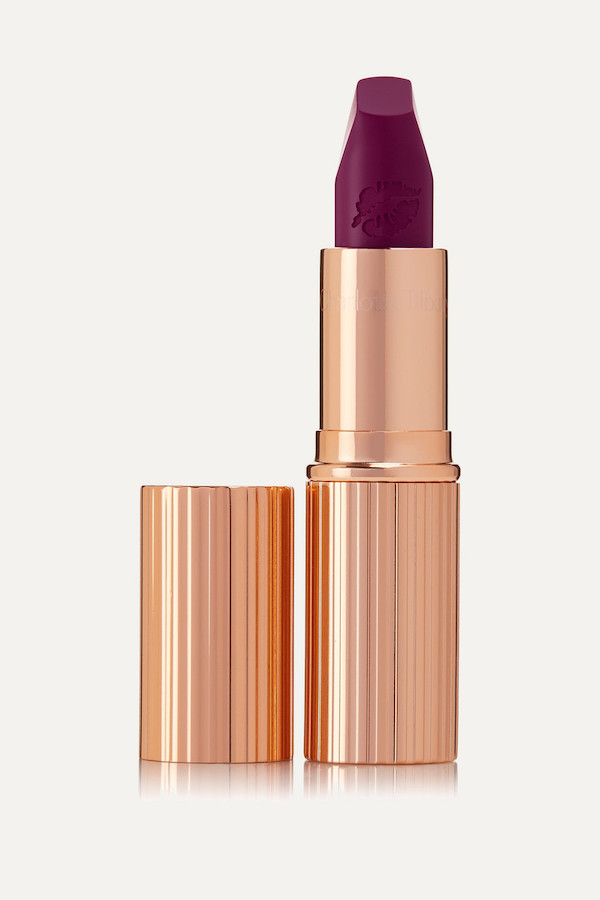 Along with her lipstick photo, Hudgens pulled out all the stops to celebrate her Thursday this week. She also posted a series thirst traps of herself. There was one where she's draped over an old TV in a sheer bodysuit, black pumps, and glam jewelry. Another with a leopard-print, satiny robe and the caption "Mig raines, usually stem from being dehydrated. Get this girl a drankkk #thirstythursday." And finally, Hudgens posted a third photo with her arm in the water that just said "quenched." Love.
Shop the rest of the famous women-inspired shades from Charlotte Tilbury's Hot Lips Lipstick collection here. If Hudgens keeps this self-love energy going, we wouldn't be surprised to see a "Very Vanessa" shade before long.