Vanessa Hudgens wore *all* the bows at the Billboard Music Awards last night, stole our hearts
In case you missed it, Vanessa Hudgens co-hosted the 2017 Billboard Music Awards with Ludacris last night and showed off some skills we didn't she had (read: she rapped). She also had her fair share of outfit changes, each of them as fun and quirky as the next, but there was one dress in particular that keeps making it to the top of everyone's Best Dressed list: the floor-length blush Marchesa gown.
Being the fashion lover that she is, Hudgens wore this uniquely feminine ensemble with the greatest of ease. She wore a pair of strappy silver sandals, minimal jewelry, and her hair in a simple wavy bob. The whole look suited her perfectly—flirty, classy, and polished.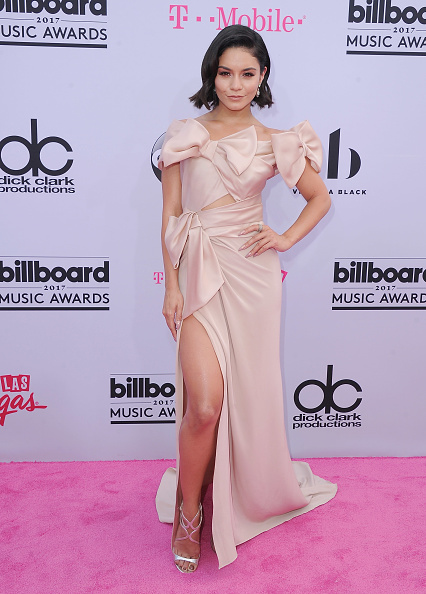 If someone were to explain this dress verbally to you before you saw it, you might think, "Um, no, a dress should not have that many bows." But the way the way they're strategically placed on her collarbone, shoulder, and hip make it seem elegant and not at all over-the-top.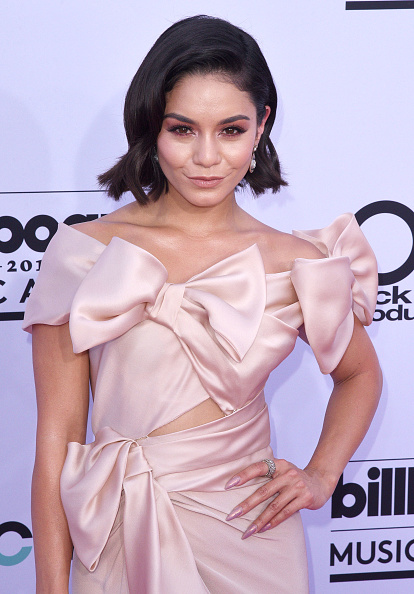 While we're at it, we need to talk about her nails. They're a pinkish color that almost identically match the color of her dress. Even Hudgens's on-trend monochromatic makeup resembled the gown. She rocked a deep pink on her eyelids and a subtle, more nude pink on her cheekbones—all topped off with a pinky nude lip.
But just when you think the Marchesa dress was a little too girly, Hudgens showed off the thigh-high slit that added just the right amount of sexy.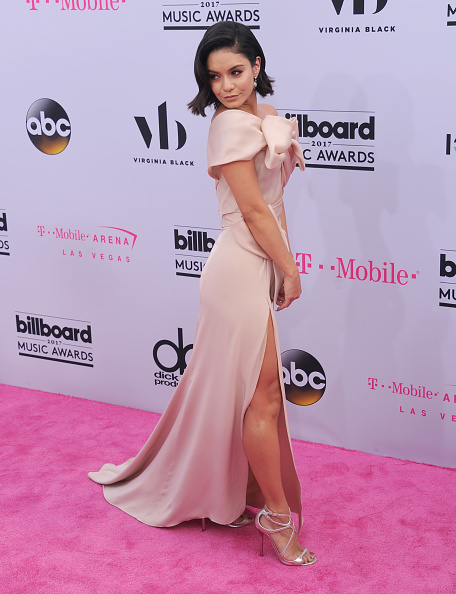 Throughout the course of the night, Hudgens went through eight different outfit changes, although it did seem like there were more. This one definitely stands out as a favorite, but we did also love the deep V-neck red gown she rocked when she took a pic with icon Celine Dion. This was the number she wore to Drake's after-party.
There was even a moment when Hudgens paid tribute to Cher by recreating one of her most iconic outfits.
Looks like a lot of fun was had by the multi-talented Vanessa Hudgens.