Vanessa Carlton covered Robyn's "Call Your Girlfriend," and all other music can go home now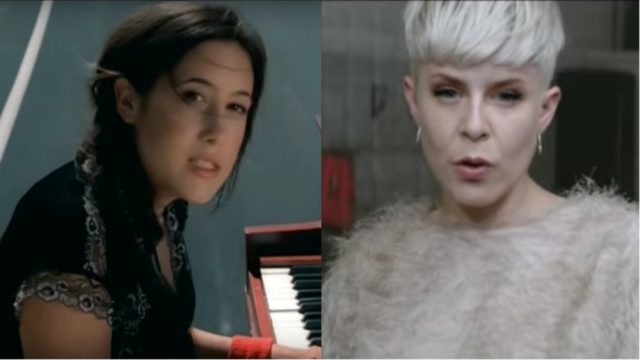 Leave it to Vanessa Carlton to make Robyn's electro-pop hit "Call Your Girlfriend" even cooler. (Um, it's Robyn, we didn't know it could *get* any cooler.) The "A Thousand Miles" singer has a way of surprising us after all these years and her latest release is no exception. Paired with an amazing retro series of photos and footage in its just-dropped video, the dressed-down version of the song is the first in Vanessa Carlton's new series of monthly covers.
And, honestly, she kicked things off with a bang. Or, maybe more appropriately, with an old-school twirl.
Carlton announced a few weeks ago that she'd be releasing one cover song a month for the next six months. Her take on "Call Your Girlfriend," Robyn's 2010 anthem, was released last week, but the accompanying video dropped on Wednesday, March 28th, via Billboard. In it, director Patrick McPheron pulled together a variety of vintage images to serve as the backdrop, from cartoon shots of cupid's arrows to delightfully precious dance numbers.
"I love the juxtaposition of this video....how prim and proper these couples are set against a song about betrayal, Carlton told Billboard. "It's very Patrick.
Back in the spring of last year, the rapper Cam'ron sampled — what else? — "A Thousand Miles" in his track "10,000 Miles," and Carlton was all about it. Now we just need Robyn to cover "Ordinary Day" and we'll have a full-fledged music swapping party on our hands!
https://www.youtube.com/watch?v=Sbwsj4ng-bQ?feature=oembed
https://www.youtube.com/watch?v=Nv644ipg2Ss?feature=oembed
Of course, we know one artist Vanessa Carlton will likely not be up for working with: Chris Brown.
On International Women's Day earlier this month, the singer called out Brown on social media for sharing "A Thousand Miles" on his channels — something Carlton was *not* cool with considering Brown's history with domestic violence against women.
Carlton is, clearly, a woman with a powerful voice in more ways than one. And if this is the cover she's starting off her series with, we've got a lot to look forward to in the coming months. Now, if you'll excuse us, we've got some serious rocking out to do.