A Valentine's Day gift guide for queer women, because heteronormativity is boring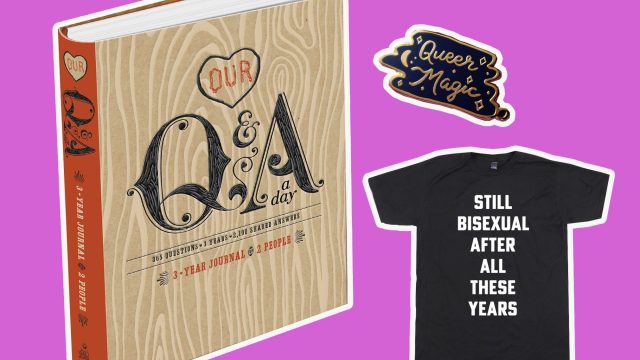 Ever since my fiancée and I started celebrating Valentine's Day (we originally opted out because our anniversary is in January anyway), I've struggled: Do I get her a gift? If I do, what should I get?
Valentine's Day is often thought of as a flowers-and-chocolates occasion, and while I do love a good bag of chocolate-covered Oreos, I'm not as into giving flowers unless it's a surprise. (And let's face it, there's nothing less surprising than flowers on V-Day.)
Whether you're shopping for a romantic partner, your best friend, that cute queer lady you met at speed dating, or someone you just started seeing who you want to impress, we've got you covered with a Valentine's Day gift guide for all the queer women in your life.
1Queer Magic enamel pin
You could be just starting your first gay AF enamel pin collection or you could be an old pro. Either way, queer magic is here for you.
2Artemis Marvel + Moon Candle
I've given my fiancée a Marvel + and Moon candle for the last couple of occasions, and I'd highly recommend this one for Valentine's Day.
3I Think I Am In Friend-Love With You by Yumi Sakugawa
Give this one to your best friend, because she's gonna cry. In a good way.
4What I Love About You journal
Again, make her cry. It's cheesy, yes, but in a way that feels very Valentine's Day.
5Still Bisexual tee
Your proud bi bestie or partner needs this, and you probably do too.
6We Are Okay by Nina LaCour
For anyone who has ever fallen in love with a friend and it didn't work out in perfect rom-com fashion. Or anyone who has experienced grief or been a confused college freshman.
7They/Them pronoun pin
An ideal gift for your fave genderqueer or nonbinary cutie.
8I Like Girls morse code necklace
If she's into saying it with and without words, you gotta give her this necklace.
9The L Word Chart Card
Have her open this and include a date inside to marathon rewatch The L Word. If you're both so over it, it can be a fun hate-watch.
10Radical Indigenous Queer Feminist T-shirt
This one speaks for itself, and it's both a declaration and an affirmation.
11Loquita chocolate body pudding
Make a DIY self-care spa day out of it if you want. Who couldn't use more face masks and talking about their feelings?
12Freedom throw pillow
If she loves home decor that makes a powerful statement, you know she needs this ASAP.
13Lavender & chamomile loose leaf tea
If your girl's into tea—mine is!—then she'll love this, especially if she's still mourning the loss of her local Teavana.
14Asexual pride planet cross stitch pattern
If you cross stitch, make it for her. If she cross stitches, get her the pattern and the supplies.
15Asexual Badass tote bag
Being good to the environment does, in fact, make you a badass.
16Let's Get One Thing Straight tote bag
What queer lady wouldn't appreciate this pun?
17Queer and Disabled T-shirt
It's cute, proud, and to the point. Just like the person you're giving it to.
18Our Q&A a Day: 3-Year Journal for 2 People
My fiancée and I got this last Valentine's, so we're in our second year and loving it. The best part? It's totally gender-neutral so anyone can use it.
19Wrangler x MC denim jacket
Is it 2019 or 1999? She doesn't care and she needs you to get her this jean jacket (or maybe you'll be adding it to your own list).
20Nesting bowl and measuring cup set
If she's a cooking aficionado, this rainbow nesting bowl and measuring cup set is the queer kitchen item she needs.
21Radical Transfeminism zine
Bring back queer zine culture, you know you wanna.
22Take My Wife: Season 1
Complete with an offer to binge-watch the entire season together, this one's a winner.