Sip your way to romantic bliss with these Valentine's Day drinks & pink cocktail recipes
With Valentine's Day coming up, or even more importantly, Galentine's Day, it's time to set your menu. Whether you're celebrating St. Valentine or your fave gals, it's the perfect opportunity to try some new recipes. Valentine's Day drinks recipes, that is.
With these Valentine's Day drinks and pink cocktails, you and your significant other or BFFs will have a perfectly festive function. It will also be totally Instagramable, but of course that's not the point, right?
Whether you want pink cocktails to pretty up the event or red cocktails that show your heartfelt love for someone, we've got you covered. Also, if you're more into celebrating with bubbly, we'll also recommend a few champagne cocktail recipes to make your party extra fancy. Because everyone knows that even $5 champagne can jazz up an event.
While it's great to veg out on the couch, eating days' worth of chocolate while watching rom-coms alone on V-Day, you may as well make a party of it. Valentine's Day tends to get a bad rep as a holiday made to make single people feel bad. Really, it can be just as fun with your fellow single ladies and lads. All you need is a themed bevvy to make the holiday fun for everyone, so go ahead and give these Valentine's Day cocktails a shot.
Pink Cocktails
Pink cocktails are perfect for a Galentine's Day celebration. They're also perfect for pretty much any celebratory event based purely on their adorable appearance. If you want something other than a classic pink lady cocktail, check out these options.
Rosé Sangria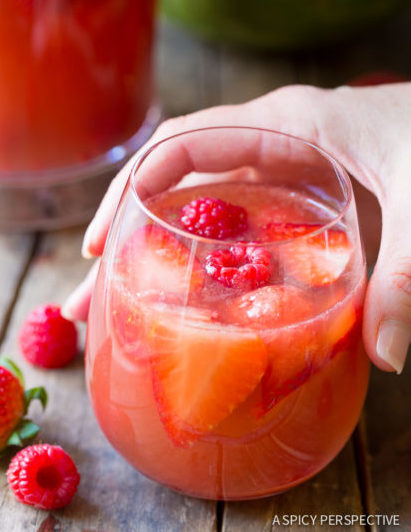 You'll need: rosé, grapefruit juice, burbon, honey, chambord (raspberry liqueur), watermelon, strawberries, and raspberries.
This pink cocktail will be the perfect sweet treat to pair with your mountain of chocolate. Check out the full recipe on A Spicy Perspective's blog.
Rosemary Grapefruit Sparkling Cocktails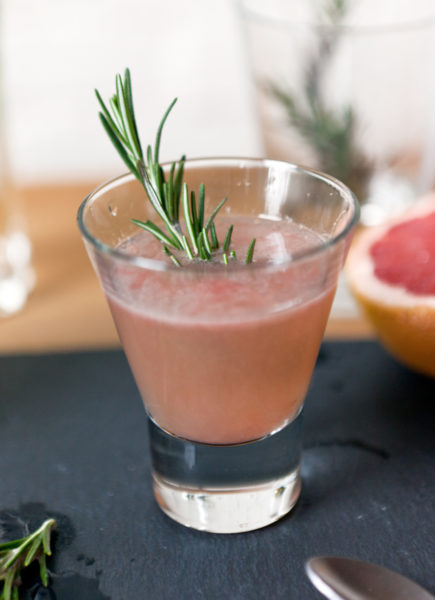 You'll need: St-Germain, Prosecco, grapefruits, and fresh rosemary sprigs.
This pretty Valentine's Day drink will taste like a sweet citrusy surprise! Check out the full recipe on A Better Happier St. Sebastian.
Blackberry Bramble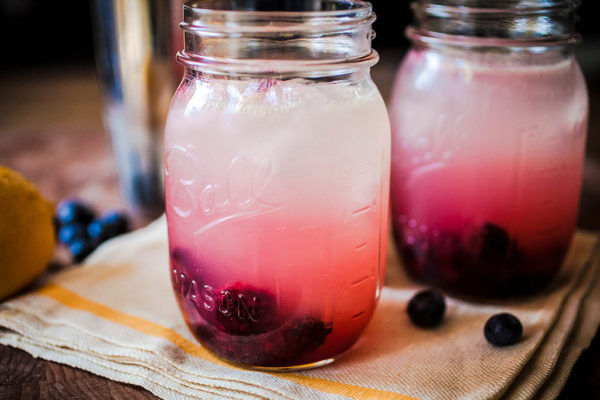 You'll need: blackberries/blueberries/raspberries, granulated sugar, whole cloves, gin, simple syrup, club soda, and lemon juice.
It may take a lot of ingredients, but this Valentine's Day cocktail recipe from Crepes of Wrath has the most beautiful pink gradient ever.
Plum Ginger Whiskey Sour
You'll need: bourbon, plum syrup, fresh lemon juice, ginger juice, egg white, plums, candied ginger.
Talk about a decadent drink! You can also find this recipe on A Spicy Perspective.
Red Cocktails
What says L-O-V-E better than a red cocktail? Whether it's your bleeding heart you want to symbolize or your undying love for someone, these drinks are perfect for V-Day.
Red and Black Cocktail
You'll need: granulated sugar, coarsely ground black pepper, strawberries, lime juice, and blanco tequila.
If those red cocktail ingredients don't necessarily sound like they'll go together, trust us, they do. Check out the full recipe on the Smitten Kitchen blog.
There Will Be Blood (Oranges)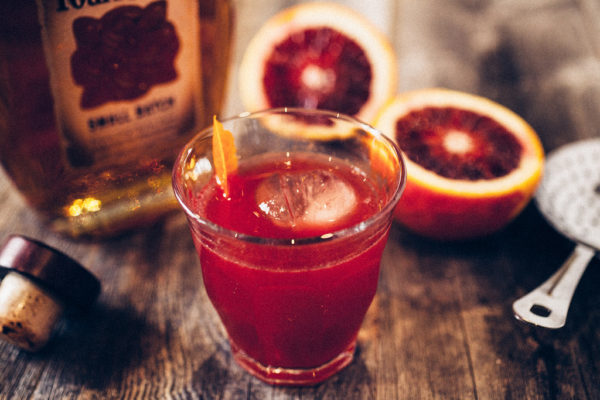 You'll need: bourbon, Lillet Blanc, a blood orange, Angostura bitters, and orange bitters.
Since blood oranges are in season, you may as well use 'em. Check out the full recipe for this Valentine's Day drink on The Crepes of Wrath.
Spicy Jalapeño & Watermelon Margarita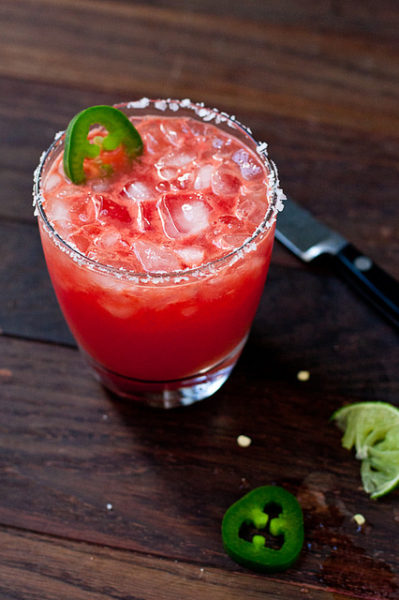 You'll need: silver tequila, fresh jalapeño, margarita mix, chilled watermelon cubes, orange liqueur, and jalapeño tequila.
If you want to spice up your night, this red cocktail recipe from The Brewer and the Baker is perfect.
Cranberry Thyme Gin and Tonic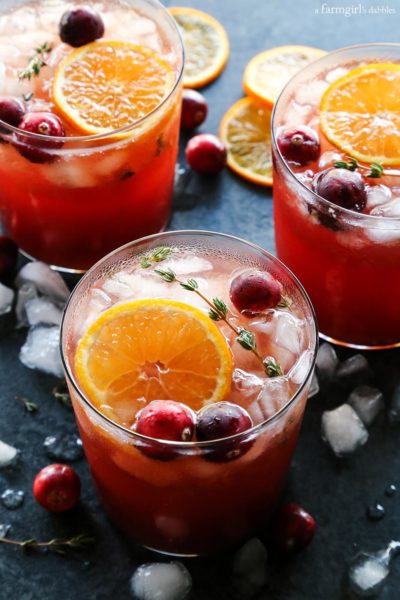 You'll need: pure cranberry juice, gin, orange juice, fresh thyme, simple syrup, and tonic water.
This red cocktail recipe adds a fruity twist to an old classic. You can find the recipe from A Farm Girl Dabbles.
Champagne Cocktails
For a good celebration, all you need is a little bit of bubbly. Some of these Valentine's Day drinks may happen to come out as pink champagne cocktails, and some might look a bit lighter — it all depends on how heavy your champagne pour happens to be.
Pomegranate Champagne Cocktail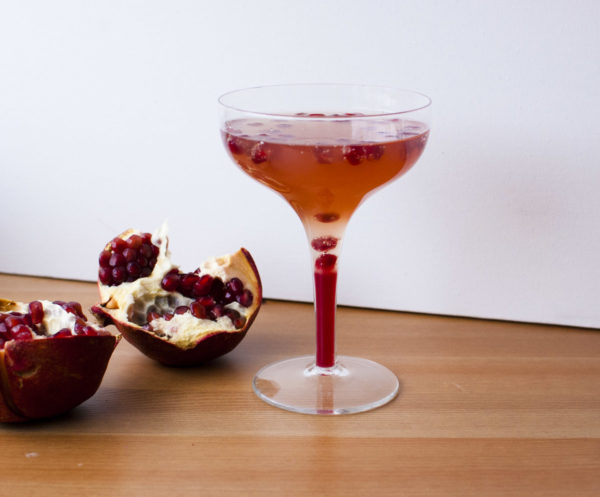 You'll need: fresh pomegranates and champagne.
Sounds easy enough, right? It will be — if you know how to juice a pomegranate. Check out this champagne cocktail how-to on the Fo Reals Life blog.
Apple Cider Mimosas
You'll need: apple cider and champagne!
This one's easy, and it's the perfect Valentine's Day drink if you're looking for something tart and bubbly.
Holiday Champagne Punch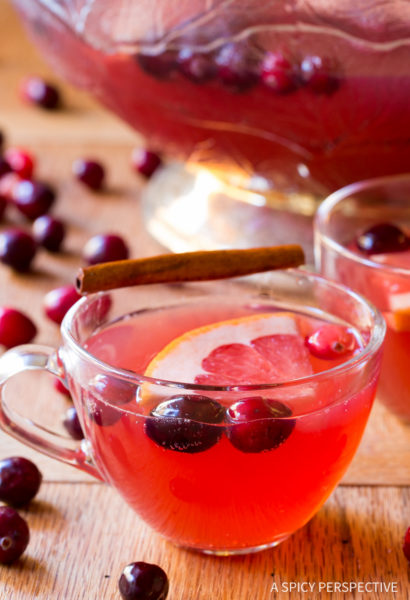 You'll need: champagne, ginger beer, cranberry juice, ruby red grapefruit juice, and optional spiced rum.
For garnish, feel free to use fresh cranberries, grapefruit slices, or cinnamon sticks. If you're hosting a party, this recipe from A Spicy Perspective would be a wonderful V-Day treat.
Now go forth and have a great Valentine's day
We hope you have a beautiful day full of gorgeous Valentine's Day drinks.