15 Valentine's Day cookie recipes that are almost too cute to eat…almost
Looking for an inexpensive Valentine's Day gift this year that isn't a cheesy card? This Valentine's Day, skip the heart-shaped box of chocolates and instead give your Valentine something scrumptious and less cliché: some warm, homemade Valentine's Day cookies.
Not only are DIY V-Day cookies super sweet and fun to bake, they're also waaaay more yummy than a box of mystery chocolates. Valentine's cookies make the perfect Galentine's Day gift, too. Really, they're perfect for any partner, friend, bestie, or coworker in your life.
You don't need to be an expert baker to whip up a batch. We've rounded up 15 quick and easy Valentine's Day cookie recipes from some of our favorite food blogs that don't take a culinary degree to master. Between all of the sugar cookie, heart-shaped and chocolate varieties, there's bound to be a recipe that calls to you.
So whether you decide to box them up to give as a gift or eat them yourself on Valentine's Day with a mug of boozy red velvet hot chocolate, Valentine's Day cookies are sure to be a hit.
Heart-shaped cookies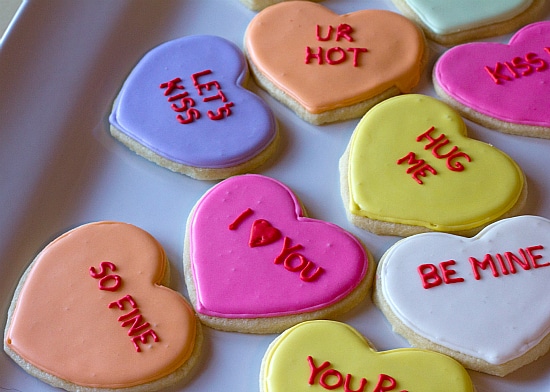 Conversation Heart Sugar Cookies: Remember those conversation heart candies you loved as a kid? Make a grown-up version of them with this recipe from Brown Eyed Baker.
Chocolate Dipped Strawberry Spritz Cookies: These cookies from Bake Love Gift are the trifecta of Valentine's Day cookies: they're heart-shaped, pink, and dipped in chocolate!
Heartbreak Cookies: Looking for a cheeky cookie that's more anti-Valentine's Day themed? This cookie recipe from A Cozy Kitchen is perfect for Galentine's Day or for that friend who recently went through a breakup.
Heart Cookie Tree: For the ambitious bakers out there, this heart tree cut-out cookie recipe from A Spicy Perspective is the Instagram-ready dessert that will impress your Valentine (and your social media following).
Raspberry Shortbread Heart Cookie With A Raspberry Cream Cheese Marshmallow Dip: This recipe from A Farm Girl's Table had us at "raspberry cream cheese marshmallow." Yum!
Pink and red-colored cookies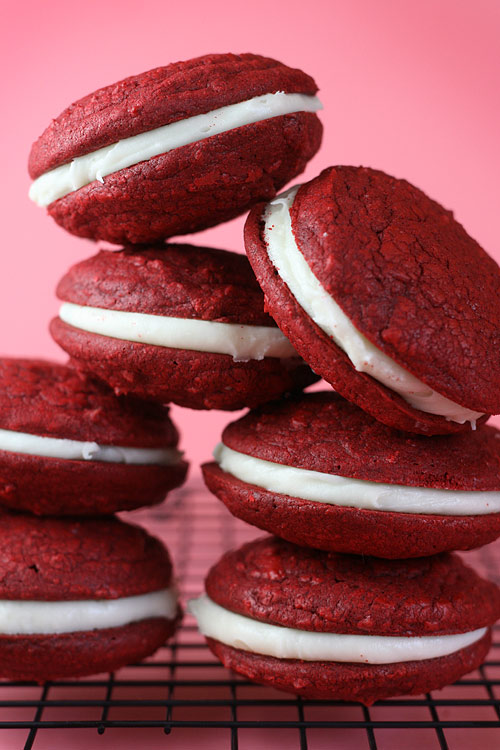 Red Velvet Cookie Sandwiches: Is there a better holiday to eat red velvet cookies than on Valentine's Day? We don't think so. Plus, this cake-y cookie recipe from Bakerella.com is easy to make.
Chewy Nutella Sugar Cookies: Nutella fanatics, this cookie recipe from the Crepes of Wrath is for you!
Red Hot Sugar Cookies: With batter that includes Red Hot candy pieces, this recipe from Confessions of a Cookbook Queen isn't your typical sugar cookie.
Red Velvet Blossoms: Hershey's Kisses are the perennial Valentine's Day candy, so combining them with red velvet cookies, as Dessert Now Dinner Later has done in this recipe, is obviously the best idea ever.
Valentine Italian Cookies: If you love buttery Italian cookies, you'll love this Valentine's Day twist on the traditional recipe from Bake Love Gives.
Chocolate Valentine's Day cookies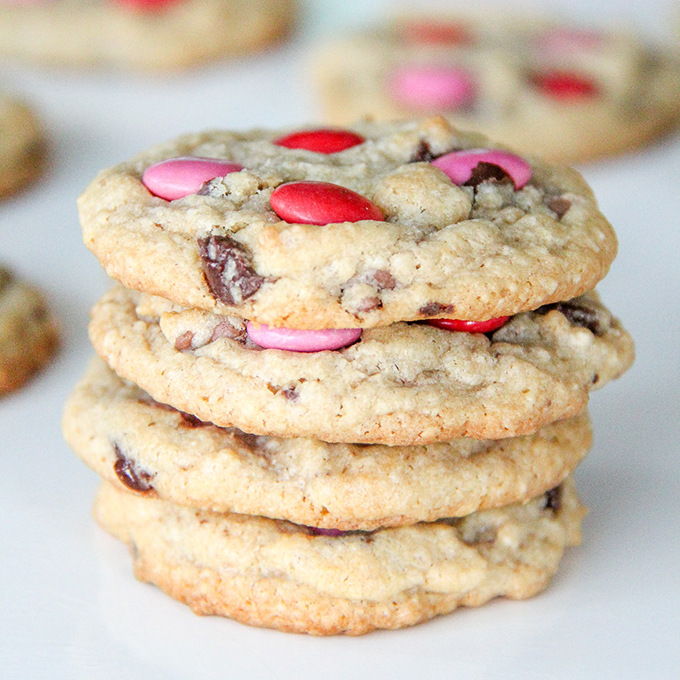 Valentine's Day Chocolate Chip Cookies: All you need to do to Valentine-ify chocolate chip cookies is add red and pink-colored chips. This recipe from A Pretty Life in the Suburbs makes for a super-soft and chewy cookie, thanks to the addition of ground oats and an extra egg yolk.
Homemade Oreos: Skip the commercial kind and make your own Oreo-style cookies, complete with pink-colored cream, courtesy of this recipe from My Baking Addiction.
Soft Chocolate Sugar Cookies: Strawberry frosting elevates these chocolate sugar cookies from Cook Nourish Bliss to the next level.
Melt Your Heart Marshmallow Cookies: Chocolate hearts and marshmallows? Your Valentine's stomach is going to explode with happiness once they get a taste of this cookie recipe from Your Cup of Cake.
Dove Heart Peanut Blossoms: Why choose between chocolate candy or cookies when you can have them both with this peanut butter chocolate cookie recipe from Bake Love Give.
Happy baking.