This high school valedictorian bravely revealed her undocumented status in her graduation speech
Larissa Martinez held a 4.95 GPA and took 17 AP classes throughout her high school career, so her place as valedictorian of McKinney Boyd High School's class of 2016 was most certainly well-earned. That's exactly why she took the opportunity to give a speech that busted all stereotypes about undocumented immigrants.
"Many of you see me standing up here and assume that my life must be pretty great. My parents must be very proud," Larissa said during the school's graduation ceremony in McKinney, Texas on June 3rd. "Nevertheless, I think it's important to note that those are only half truths. Those are the expectations. My reality has been quite different."
Larissa explained that on July 11th, it will have been six years since she and her mother moved to McKinney from Mexico City — where she was born in raised — to get away from her abusive and alcoholic father. "[I was] a girl. . . who had to depend on her mother's strength," she said. "A girl whose only dream was to somehow become an American."
At age 12, Larissa moved to the United States and faced a whole new culture, often being considered by others to be less intelligent because of her background. She had to raise her younger sister while her mom was at work. "School became my safe haven, because despite not having internet, a washing machine, or even my own bed, I always had knowledge at my fingertips thanks to the library at my school. . . I realized that may be the only way I might be able to help my family," she said.
And then, she shocked the audience by telling them her deepest secret: She and her family are undocumented immigrants.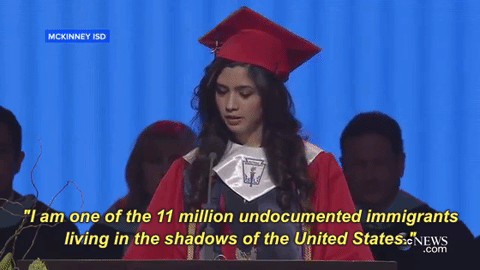 Larissa acknowledged the controversial nature of this admission, but told the crowd that there's one fact everyone needs to remember most of all:
Larissa received thunderous applause and a standing ovation for her raw, real, important speech, and the clip has started to go viral, circulating all over social media.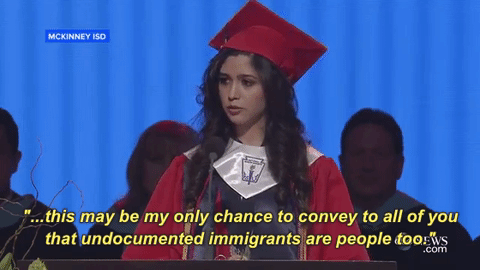 "I knew from about the third week of her freshman year that she was special," history teacher Scott Martin, who has shared a close bond with Larissa during her high school career and knew of her undocumented status, told KRLD. "I noticed how high her GPA was even in that third week. And then I got to know her as a person."
Larissa has a full-ride scholarship to Yale, and she hopes to enter their pre-med program and become a neurosurgeon. We have a feeling she'll let *nothing* stop in her way of that, and we're so, so happy she took the amazing opportunity to start a conversation — because undocumented immigrants are people, too. https://www.youtube.com/watch?v=