Val Kilmer just gave an update on his cancer status, and it looks like everyone got it totally wrong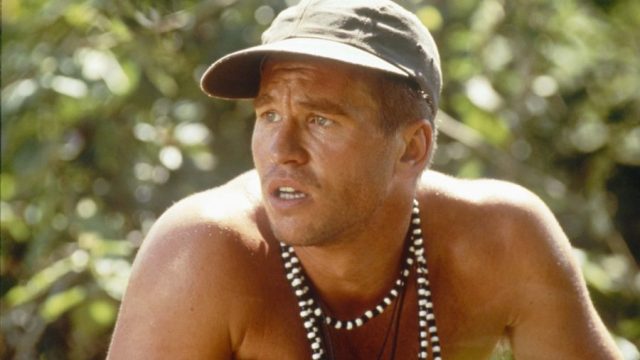 Apparently, all those rumors about Val Kilmer having oral cancer may be just that: rumors! Kilmer recently cleared the air with an update on his supposed cancer status yesterday. If you'll remember, the cancer diagnosis topic was brought up in an interview with Michael Douglas. Douglas mentioned Kilmer had been "dealing with exactly what I had" leading all to believe the worst. Though, it appears Kilmer's throat issues weren't cancerous and while we're breathing a sigh of relief, the Ghost of Darkness star penned an explanation on Facebook to clarify.
"I love Michael Douglas but he is misinformed. The last time I spoke to him was almost two years ago, when I asked him for a referral for a specialist to get a diagnosis for a lump in my throat, which prevented me from continuing a tour of my play CITIZEN TWAIN. I ended up using a team at UCLA and have no cancer whatsoever. I still have a swollen tongue and am rehabbing steadily."
While we see cause for concern, it appears the problems have been fixed. In fact, instead of battling major health probs, it seems he's been really busy! He goes on to say,
"I've made 3 films in the last year, one of which I directed and am presenting as a personal appearance introducing it and then answering questions after. Come see me live and happy and in person in Westwood next week if you think I'm fibbing!! I've done 3 Q and A's so far and am having the best time. The film is called CINEMA TWAIN and is a recording of my play. I'm right proud of the performance and the writing, altho editing Mark Twain is pure joy! What a lover of life and humanity. Naturally I'm also drawn to him because of his unlikely devotion to Mrs. Eddy, the genius discoverer and founder of my faith, Christian Science."
If that isn't enough to convince you, he continues, going further into why he hasn't spoken much on the topic.
"Some fans have mistakenly thought my silence about my personal issues meant that somehow I wasn't being responsible to my health, because of my reliance on prayer and Love. Nothing could be further from the truth. Altho I am very grateful for all the support from around the world, when people found out I had a physical challenge. I hope this puts to rest any further concerns about my health by publications that have no respect for the truth. Whatever led Michael Douglas to speculate about my health, he's a loving and devoted friend to a privileged group of talent people around the world, and I'm sure he meant no harm.
Friends look out for friends so we totally see Douglas's place in all this this. However, Kilmer isn't finished explaining just how well he's doing!
"Being healthy and having the respect of my peers and love from my family, friends, peers and fans is a DAILY source of inspiration, for which I am so grateful, you have no idea. I work VERY hard at my craft, and being appreciated since I was a little boy for being able to give this gift, has literally made my life."
He concluded with,
"Thank you all. And I've only just begun, now that I'm finally telling stories that I've written and produced the way my vision intends them. God bless you all and I hope to see you in Westwood on the 10th and 17th at the Landmark. Yahoo! "Apparently there is nothing that cannot happen today…" Mark Twain"
Regardless, we're happy to hear Kilmer is cancer-free!