USC president Max Nikias officially stepped down amid the campus sex abuse scandal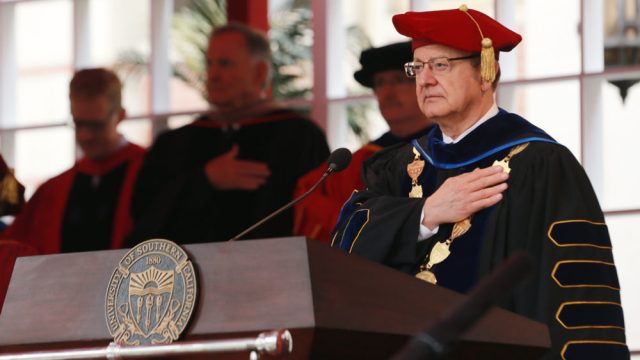 On May 21st, five women filed lawsuits against the University of Southern California, stating that they had been sexually assaulted by George Tyndall, a former gynecologist in the school's health center. And the number of women claiming Tyndall abused them continues to grow. As of May 30th, 52 women had accused the former gynecologist of sexual assault.
CNN reports that the Los Angeles Police Department is investigating these 52 complaints, which span from 1990 to 2016—Tyndall's entire time at USC. Authorities estimate the disgraced doctor saw as many as 10,000 patients during that time, meaning even more allegations could surface against him. In a press conference on May 29th, Police Captain William Hayes said the LAPD would determine whether Tyndall's actions constitute criminal conduct.
"Some of the stuff that has been reported thus far appears to be administrative within the University of Southern California and not a criminal matter," he clarified.
He urged any other victims of Tyndall to reach out to the LAPD.
According to the Los Angeles Times, 27 of the 52 complainants have brought suit against USC for Tyndall's actions. The Times also reports that more than 400 people have called a university hotline since the charges against him first broke.
The allegations against Tyndall include groping patients, performing vaginal exams without gloves, and making vulgar comments. In addition to pervasive sexual abuse, he is also accused of making racist remarks toward international students.
More than 380 faculty members demanded the resignation of USC President Max Nikias after it came to light that he had either ignored—or potentially even covered up—complaints against Tyndall. Nikias complied and announced he planned to step down in May. On Tuesday, August 8th, he officially left his position.
It's both devastating and enraging to know that Tyndall abused students for so long at—and was potentially enabled by—an institution these students undoubtedly trusted. As always, we stand with each and every victim who has come forward to share their story. We're hoping they see (long overdue) justice.