Usain Bolt rapped against James Corden and it was completely epic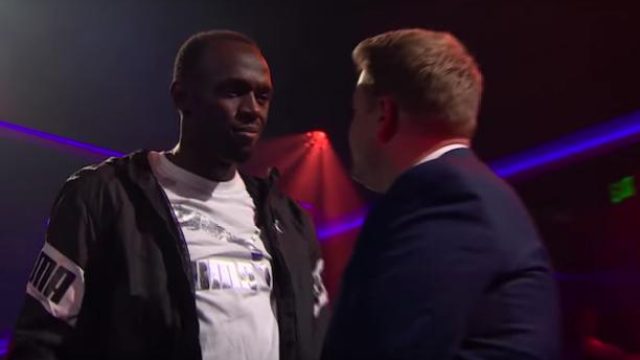 Late-night TV is the top-notch time slot for entertaining us. Everything from carpool karaoke with the likes of Gwen Stefani and Lady Gaga singing in the front seat of a moving vehicle to Usain Bolt rapping against James Corden on the rap battle of the century are part of our nightly indulgences! TV's beloved musical host, Corden went against the world's fastest man — Bolt — in a head-to-head, old school battle. With Corden laying down lines like"After all those races you won in Brazil, you're about to lose to a man standing still," it was hard not to root for him! But then, when Bolt came right back with a sucker punch line like, "I run my race in 10 seconds — you last that long in bed," we couldn't decide who should win!
There's just too much comedy gold in this one battle, it will be hard to top. If you've never seen The Late Late Show With James Corden, check out Corden's battle with Usain in the video below. You're welcome.
https://www.youtube.com/watch?v=eQGgtVN0ZcI?feature=oembed
Between the ripping off "a career people only care about every four years" from Corden, to Bolt's "I can't believe you entered this battle to be a winner, you only can outrun me if someone yells 'dinner" comeback was gold (as in, like the gold medals he wore around his neck!)
It's clear they both brought their A-games and they both obviously crushed it. Rapping against the world's fastest man is no easy feat but Corden rose to the challenge fearlessly. However it was Bolt's final game-ender that did it, saying
"I have nine gold medals, last time I checked - I have one for every time that you had sex."
Talk about a serious #micdrop not to be outdone!