The U.S. Olympic Committee wants to dismantle USA Gymnastics after the Larry Nassar sex abuse scandal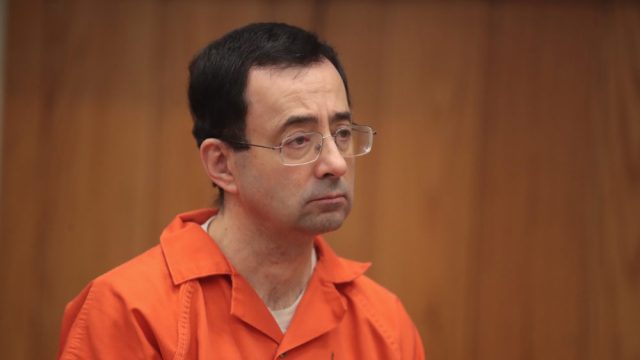 In January, former USA Gymnastics doctor Larry Nassar was sentenced to life in prison for sexual assault after hearing testimony from more than 150 of his victims. After Nassar's years of abuse came to light, the USA Gymnastics board came under fire for enabling his actions, and members of the board were even forced to resign. And now the U.S. Olympic Committee (USOC) is currently trying to revoke USA Gymnastics's status as the sport's national governing body.
On November 5th, USOC CEO Sarah Hirshland penned an open letter to the gymnastics community announcing that the USOC has begun the process of de-certifying USA Gymnastics and that it has given the organization the alternative of voluntarily giving up its certification. In her letter, Hirshland wrote to gymnasts, "You deserve better."
"You might be asking why now?" Hirshland's letter read. "The short answer is that we believe the challenges facing the organization are simply more than it is capable of overcoming in its current form."
Hirshland wrote that the first step in the process was to file a complaint, which the USOC has already done. Next, a review panel will hold a hearing to reach a determination about whether or not to remove USA Gymnastics's designation. If USA Gymnastics loses its certification, it will dissolve, and a new governing body will be established.
Hirshland wrote that training and competition will continue as usual until the review panel reaches its decision. But she admitted that the USOC was still formulating a plan for what will happen if USA Gymnastics is dismantled.
"The clearest answer I can provide is that gymnastics as a sport will remain a bedrock for the Olympic community in the United States," she wrote. 
USA Gymnastics wrote in a November 5th statement that it was "evaluating the best path forward for our athletes, professional members, the organization and staff." The organization also noted that the current board "inherited an organization in crisis" in June.
According to CNN, two USA Gymnastics presidents have resigned in the past two months. Meanwhile, Steve Penny, the former head of the organization, has been arrested for allegedly removing documents connected to Nassar's abuse. And a former USA Gymnastics trainer has been charged with sexually assaulting a child in Texas.
On Twitter, Olympian Aly Raisman wrote that she felt this was a "significant step forward."
Athletes deserve to feel safe while training, and both Nassar's abuse and the way it was handled were unacceptable. We'll be monitoring this story as it develops.