We tried Urban Decay's new lipstick app and here's what we thought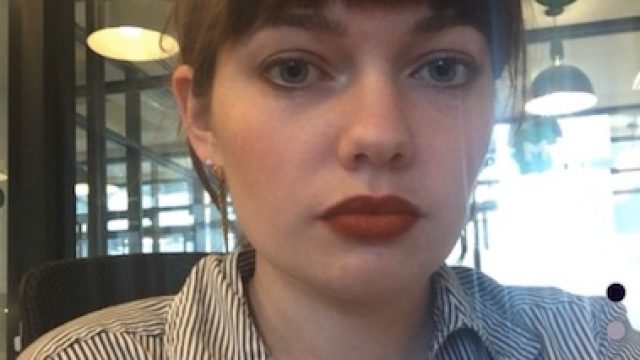 Makeup gurus have had a lot of great news lately thanks to Urban Decay. First, the makeup company launched a whopping 100 new lipsticks as part of their new Vice line, with plenty of gorgeous hues infused with Vitamin C. But because we're not made of money, how are we able to choose from all these lovely shades? Well, luckily, it's 2016, and Urban Decay came up with an ultra smart way to shop for lipsticks on your phone — the Vice Lipstick app, which is basically Tinder for lipsticks. The HelloGiggles team tried it out, and our minds are pretty much blown.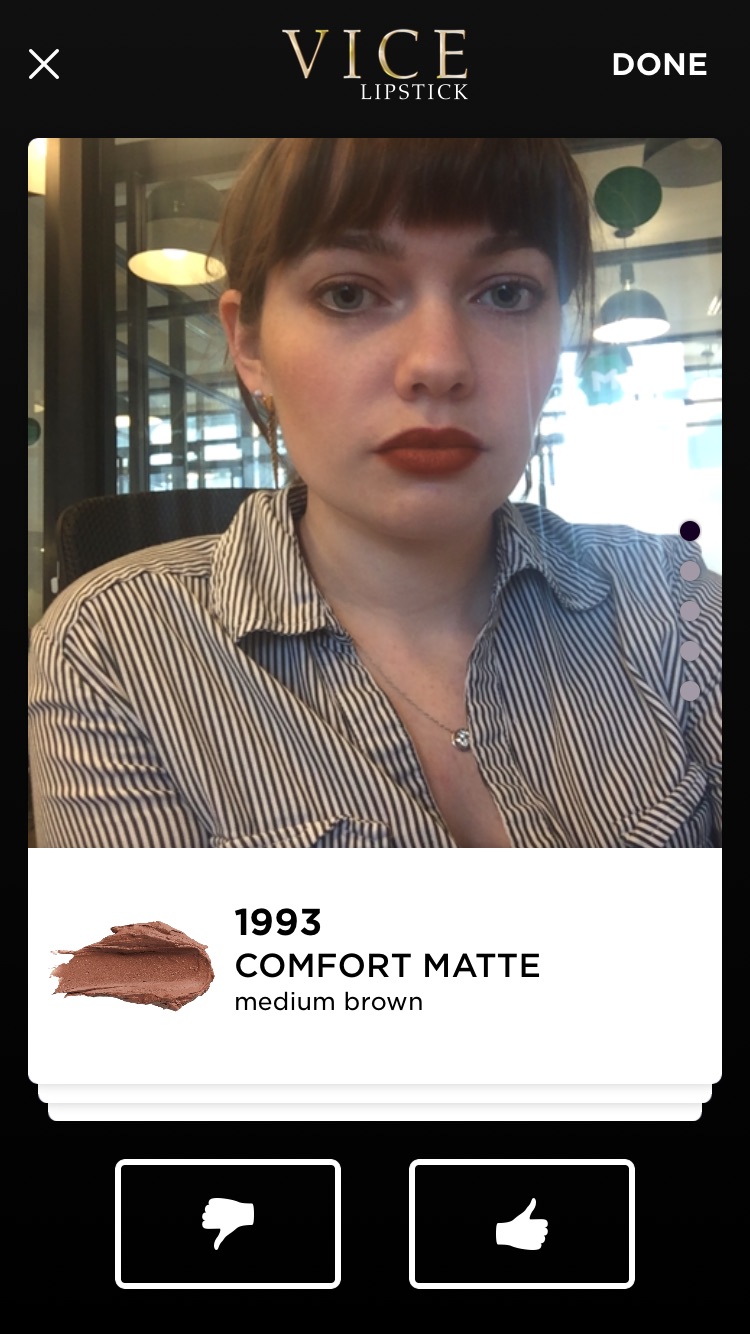 The premise is simple — you take a selfie putting your lovely lips on display and the app will edit your lips to show what you'd look like with each of the different shades. You can swipe left or right — just like Tinder — and at the end, the app will show you all the shades you liked.
"This app is seriously the coolest ever and super easy to use," said HelloGiggles staff writer, Marie Lodi. "I loved how all the shades you like are saved so you can simply refer to them when you're ready to shop."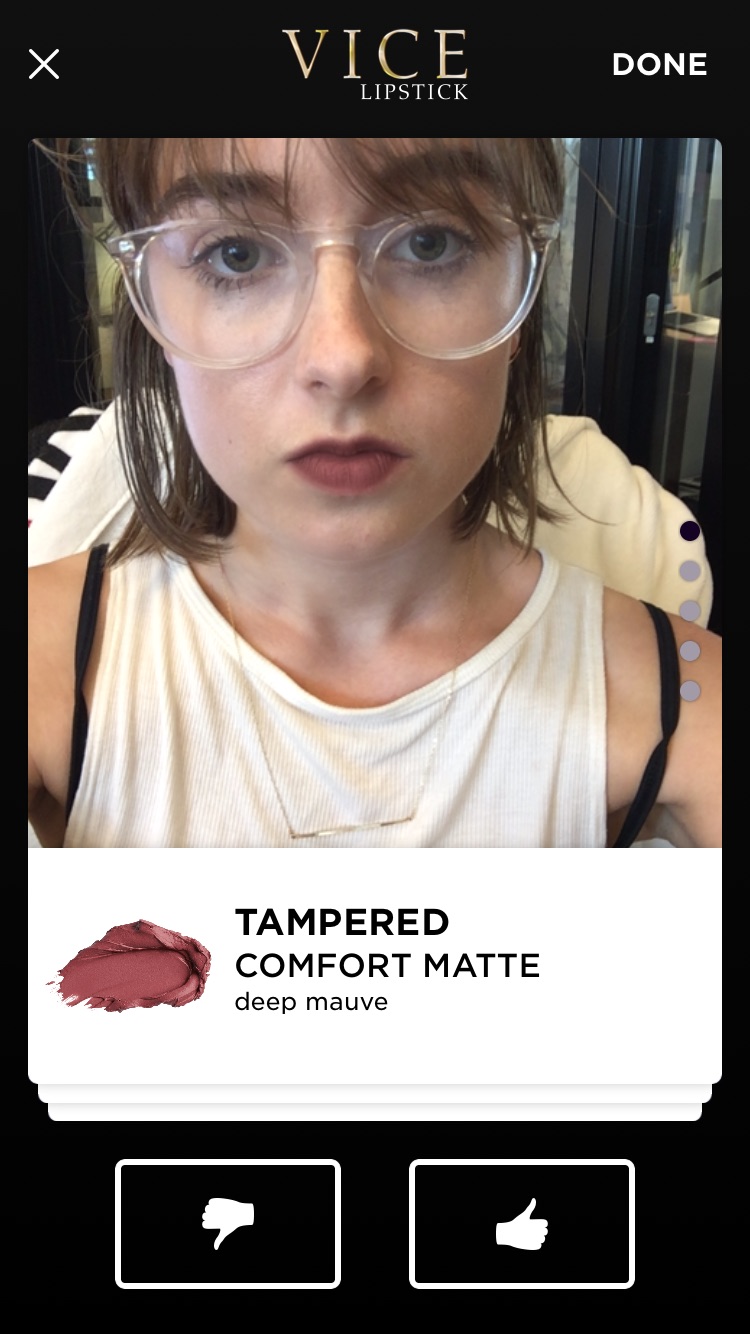 A major benefit of the app is allowing you to try out lipsticks on your *face* instead of on your skin — and straight from your home, without all the messy clean-up. "I think it's so much more effective than swatching on your hand, because you can actually see what it looks like against your skin tone and coloring," said staff writer Kathryn Lindsay.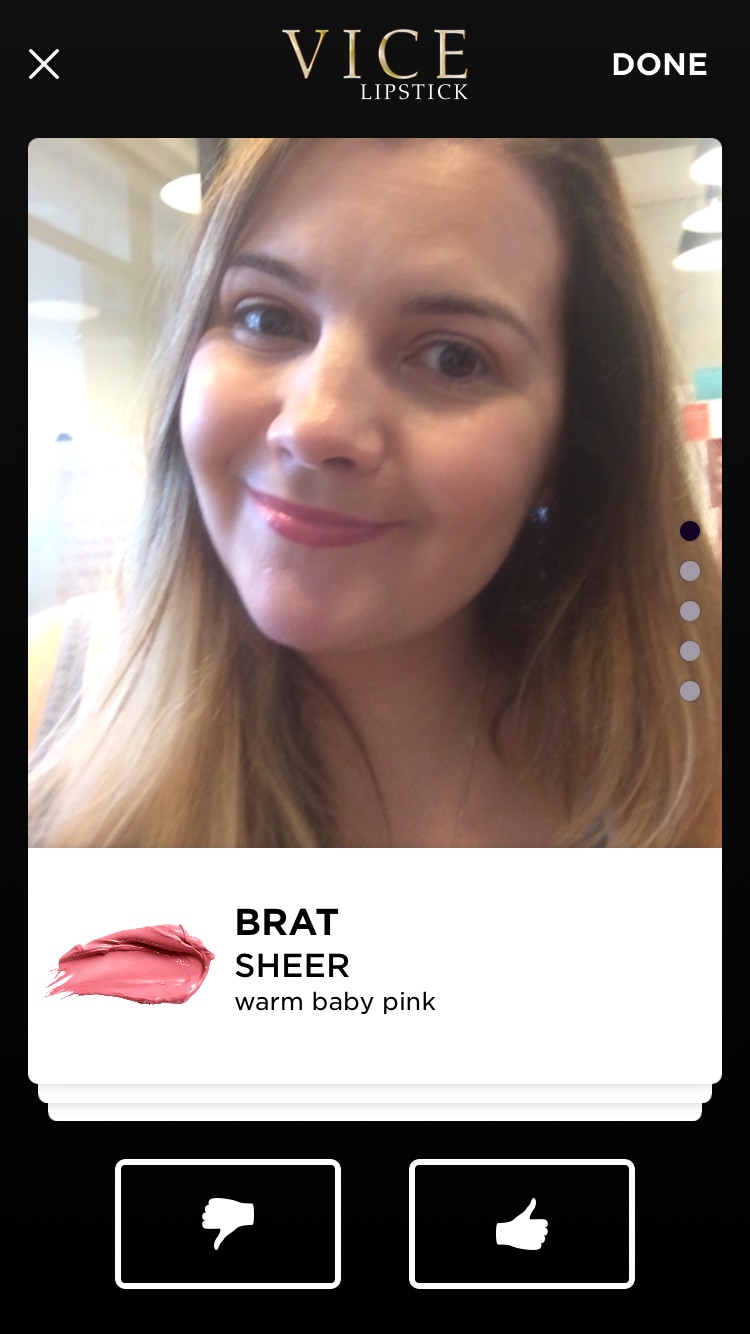 "I never try on lipstick in stores because sharing germs grosses me out, so I usually buy a 'safe' color, like berry or hot pink, and hope for the best," said HelloGiggles news editor Jessica Wakeman. "So the app let me see how I would look in a bunch of colors that I never would have tried on before."
Marie and Kathryn agreed that the app encouraged them to go out of their comfort-zones when it comes to lipstick. "As expected, I swiped left on many of the browns and neutrals, but surprisingly chose a lot of new colors for my saved shades," Marie said.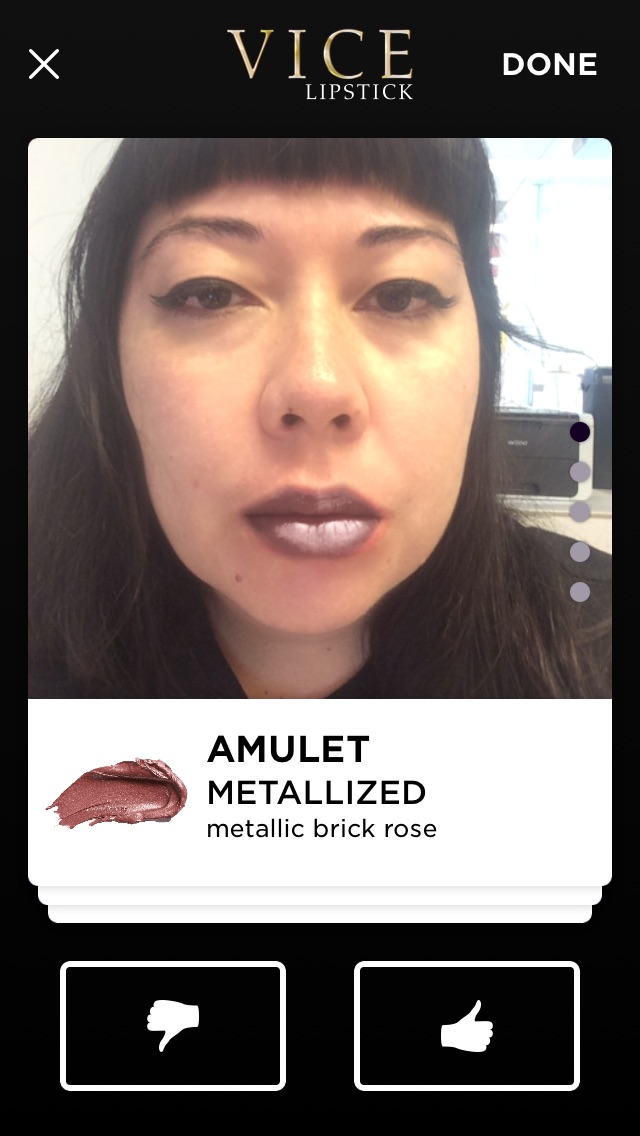 "I was surprised by liking colors I never would have normally picked, and also by disliking colors I know I would have normally gravitated towards," Kathryn added.
The only problem anyone could find with the app: a slight tendency for the color to not be accurately applied to the lips. "[Sometimes] brighter colors didn't stay in the lines of my lips, and sometimes they wouldn't entirely fill up one side of them, because my lips aren't symmetrical," Kathryn said.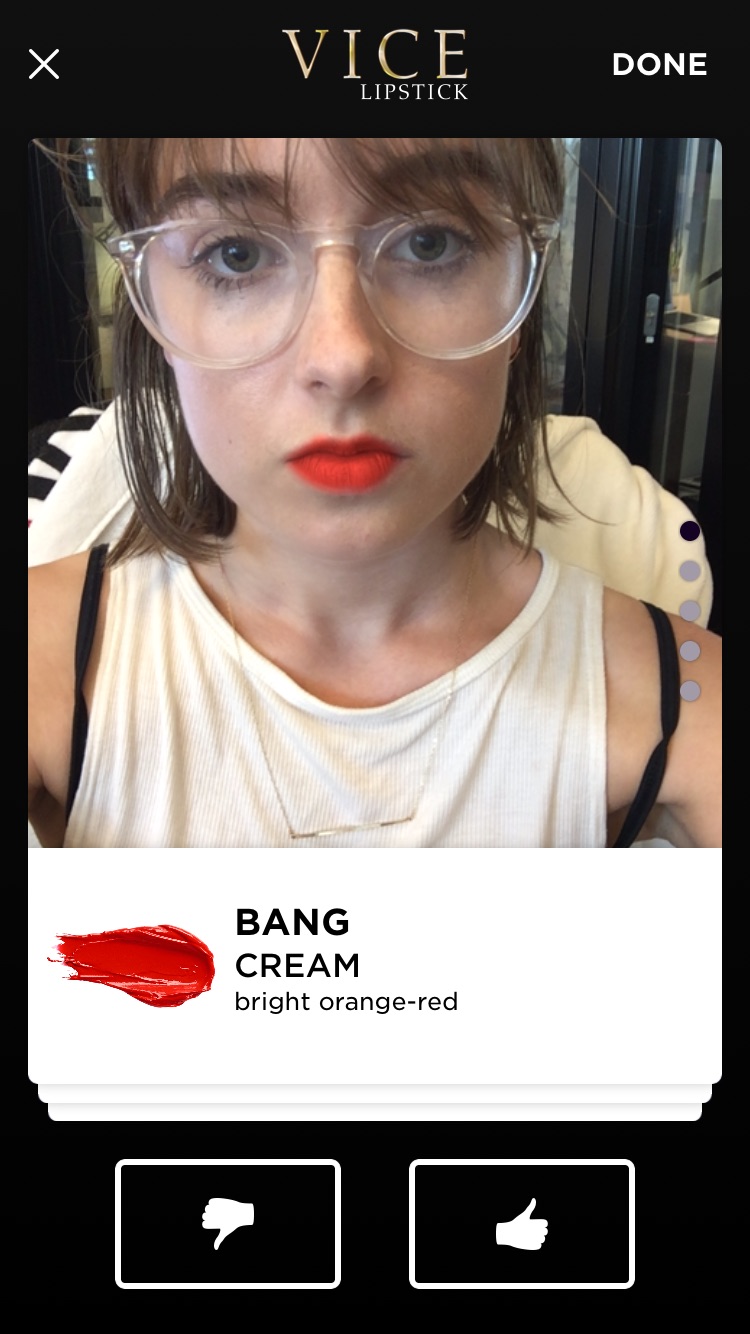 The app also allows you to view each shade you liked most so you can purchase it easily.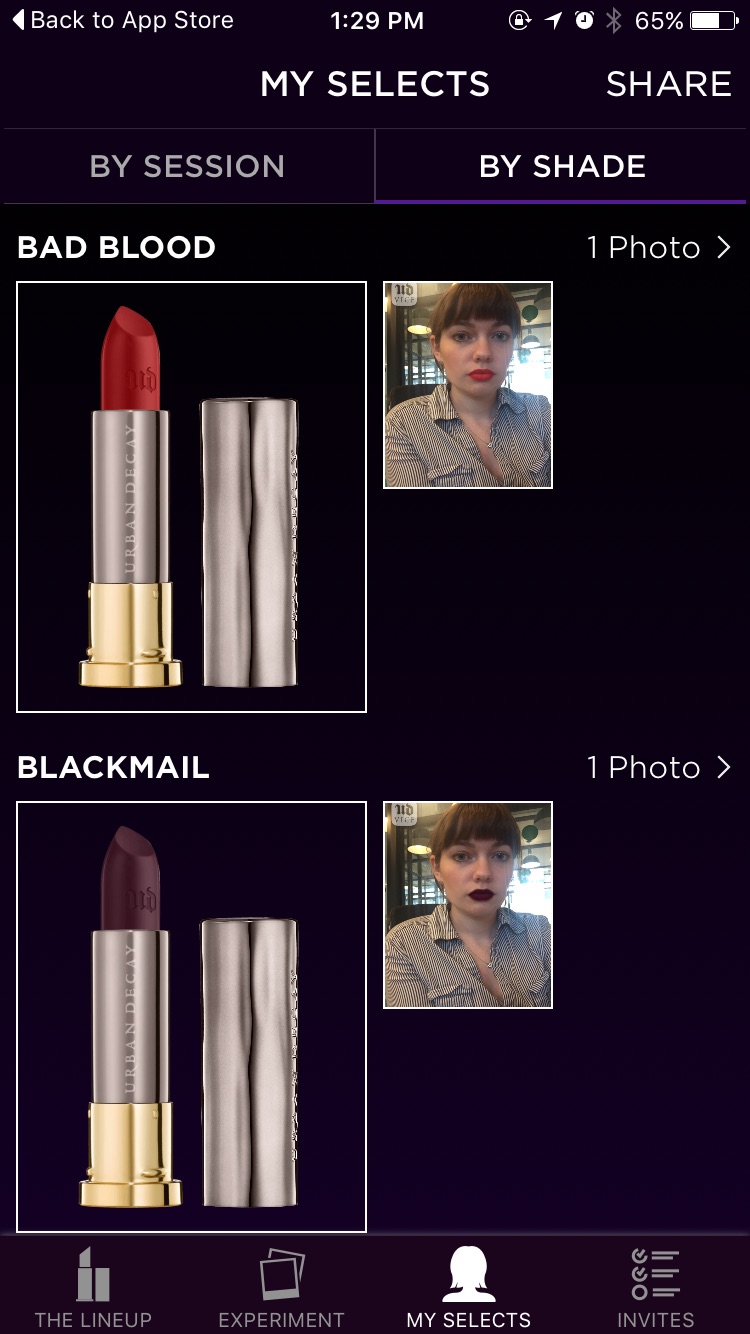 This "Tinder for lipsticks" is *extra* dangerous. . . for your wallet, that is. Several people on the HelloGiggles staff found lipsticks we want to buy. You can download it for free on the Apple store here.