Urban Decay is releasing a liquid version of their Moondust shadows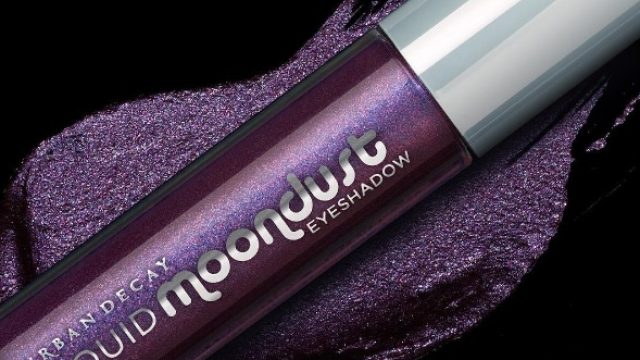 If you love glittery eye shadow, you're in for a great surprise. And if you HATE glitter eye shadow, you're still gonna want to hear this. It looks like Urban Decay is coming out with a liquefied version of their popular Moondust eyeshadows, and they're calling it Liquid Moondust. Insert all the heart eyes emojis here!
The brand originally launched the Moondust formula a few years ago, and have been quietly expanding the shade range ever since. There are currently a total of 23 singles: 11 shades that you can find wherever Urban Decay is sold, such as Ulta or Sephora, and 12 shades that are exclusive to UrbanDecay.com and their flagship locations. Every single shade is a tiny galaxy of super sparkly makeup goodness and they were such a hit, UD launched the customer-requested Moondust Palette, which just came out and has eight new exclusive shades, including a super pretty rose-gold color. That's a whole lotta sparkle, and every color has a richly pigmented color payoff and easy-to-apply formula.
However, that wasn't enough, and even at their best, the wrong application might still lead to some fall out from these colors. That's why we're totally freaking out over the liquid version. As we said above, even if you hate glitter eye shadow, the liquid version is totally going to change your mind.
Because the glitter is already within the formula, once the liquid dries down, the glitter will stay put and you don't have to worry about it ending up all over your face, clothes, or furniture. It also makes it easier to use in more places—the neutral colors can easily double as highlighters, and you can use them everywhere from your brow bone to your collarbone!
So far, we know the liquid version will be available in eight shades, and they'll retail for $22 each.  The product is said to be smudge-proof, and will be available with a wand applicator.
An official release date hasn't been announced yet, but we're guessing they'll be out sometime before Halloween—just in time for holiday season, when even the biggest glitter-hater you know makes room in her makeup bag for some festive sparkle.