Urban Decay released their own version of lip kits​, and they are beyond gorgeous​
Grab your wallets, and alert the group chat because Urban Decay now has lip kits, and they've put their own edgy, gorgeous spin on the popular trend.
Kylie Jenner is not the only lip kit peddler on the market. The rock-n-roll cosmetics line has been killing the lipstick game for over 20 years, so, of course, they're on top of things when it comes to the trending topics of the beauty world.
The Ultimate Pair combines Urban Decay's popular Vice Lipstick and 24/7 Glide-On Lip Pencil in a sleek and sexy set.
There are four different sets currently available, in some of the line's best-selling and fiercest shades. Firebird & Jilted combines a deep fuchsia cream lipstick with a deep fuchsia-pink liner. Ex-Girlfriend & Naked2 (which sounds like a total "It's Complicated" situation, tbh) includes a sheer-shimmer pinkish nude lipstick and a similar shade of lip pencil.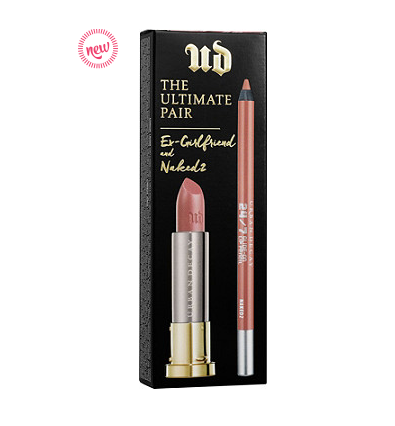 Blackmail (a dark burgundy) and Bad Blood (a comfort matte finish rich red) include both lipstick and liner in the same color. We've got to get these kits on our lips!
"You know it used to be mad love…" Actually, it's still mad love. UD's Bad Blood is so badass.
The set is a bargain! For just $22, you get a full sized lipstick and lipliner. The products retail for $17 and $20 respectively, so it's definitely a deep discount.
Blackmail is seriously vampy.
We're predicting they'll be pretty popular, and we can't wait until Urban Decay releases more sets in different colors!
Check out Urban Decay's The Ultimate Pair lip kits for $22 each on Ulta.com.