An honest review of Urban Decay's sold-out Naked Cherry collection
It was just a month ago that we were mourning the loss of Urban Decay's first Naked eyeshadow palette. After eight years and $1 billion in sales, the brand broke the news that they would discontinue the eye palette that started it all.
However, Urban Decay just dropped its Naked Cherry Eyeshadow Palette, which includes 12 berry-colored shadows in matte and metallic finishes. They also created an eight-piece collection to go with the palette, and it's all inspired by cherries.
The makeup products include three lipsticks, a highlighter and blush palette, a cherry-scented setting spray, and two eyeliner pencils. The full collection launched on Urban Decay's site in late September, but it looks like most items are sold out. Luckily, you can scoop up these goodies on Sephora's site on October 5th and in-stores October 26th.
Urban Decay sent me most of the products from the collection to test out.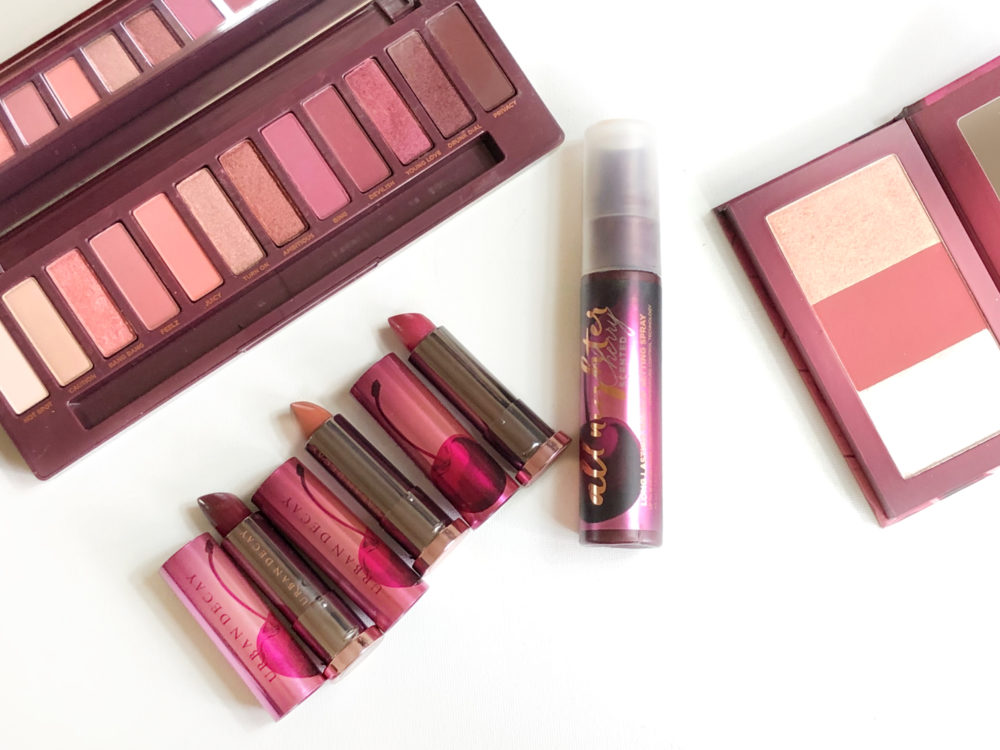 I received the eyeshadow palette, all three lipsticks, the setting spray, and the highlighter and blush palette. I didn't get the eyeliner pencils. These burgundy shades and pink tones are my go-tos this time of year, so I was super excited to play around with this collection.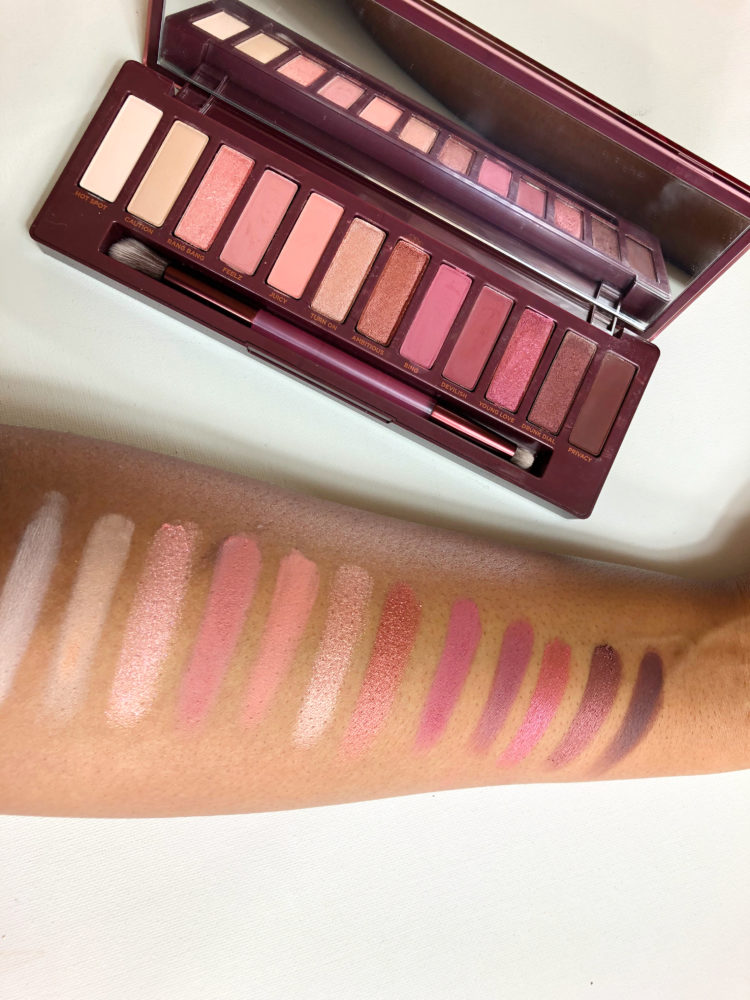 The eyeshadows are beautiful and very pigmented, featuring pinks, berries, and rich plums in matte and metallic finishes. I noticed that when my fingers were wet after using a makeup wipe, the metallic shades applied beautifully. So if you want your eyes to pop, it's best to apply the shimmer finishes with a wet brush or finger.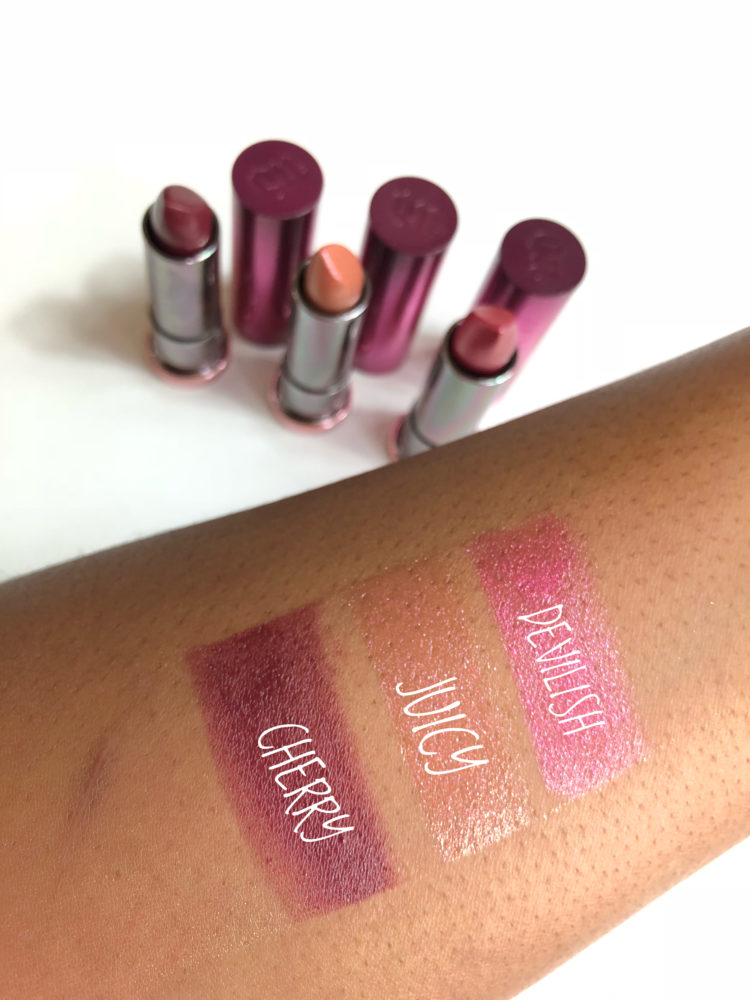 Cherry is a creamy wine color. Juicy, a peachy-pink, and Devilish, a fuchsia, come in shimmer finishes.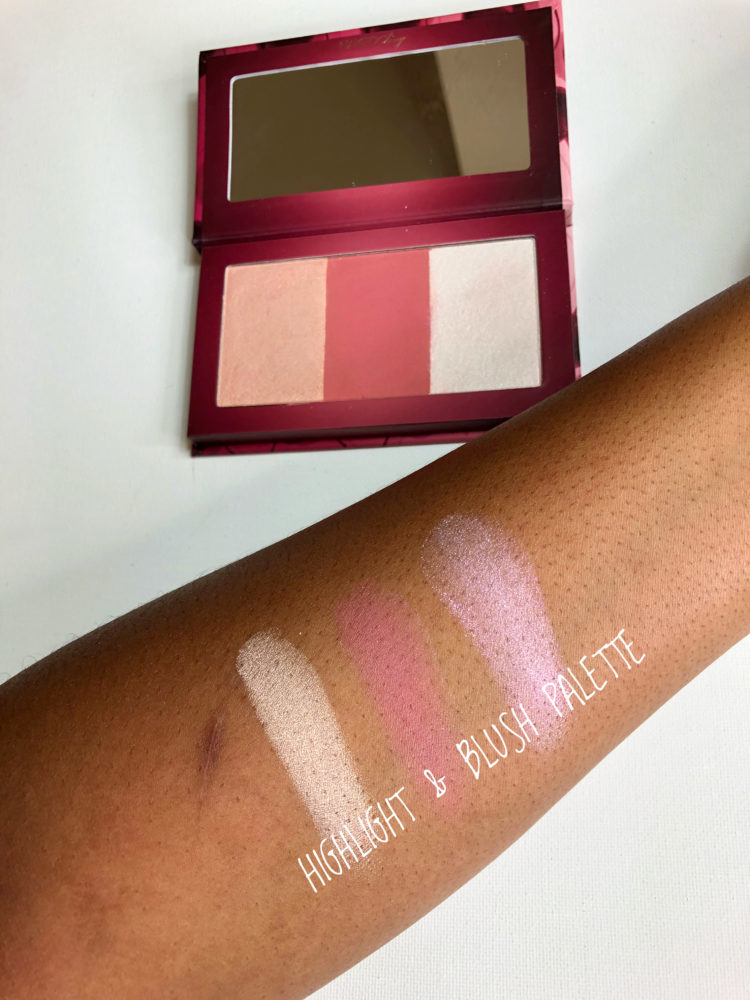 At first, I wasn't too sure about this cheek palette but it definitely looks better on a finished face. The first highlighter I swatched is a subtle champagne shade. The blush, in my opinion, would look great on most complexions since it comes in a pinkish violet color. The last highlighter I swatched (or Complexion Topper as UD calls it) is a holographic baby pink. You can also mix all three cheek products to create your own personalized shade.
The look I created using the collection
These burgundy tones scream fall, and I'm totally here for it.
My final thoughts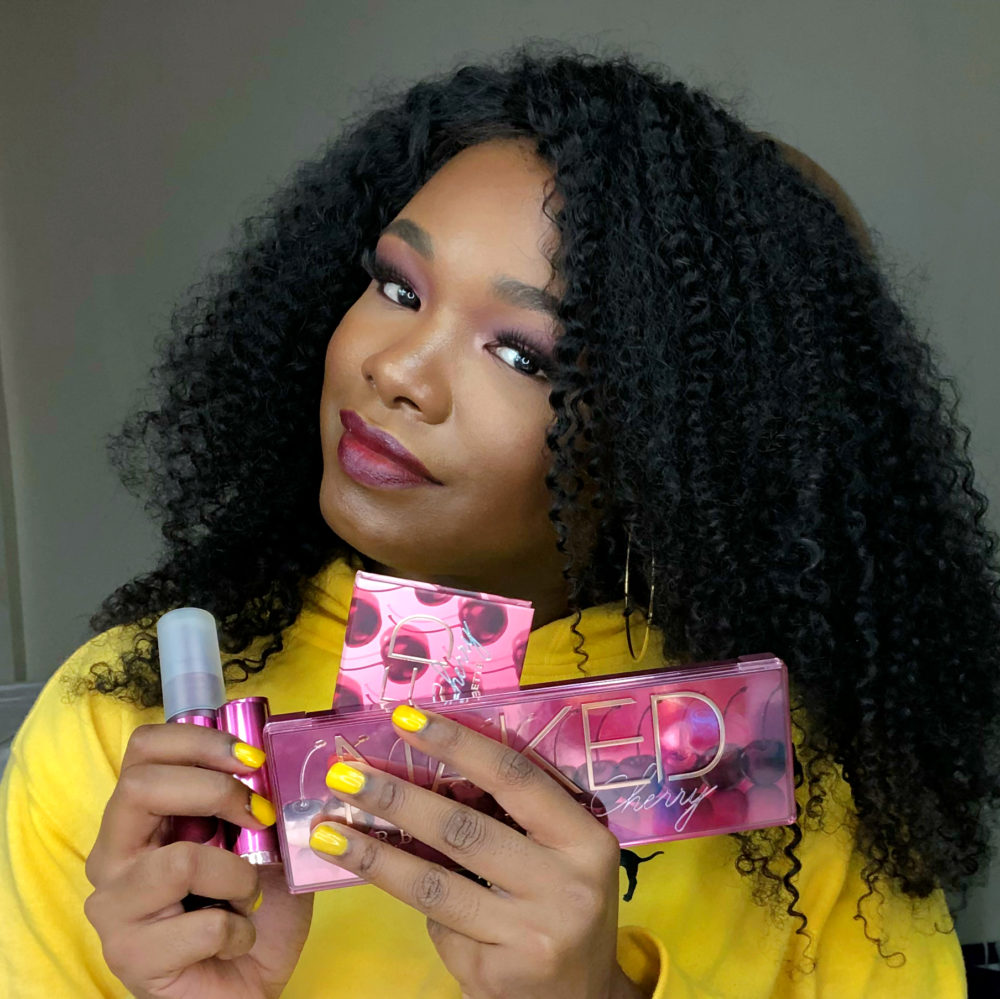 *Three snaps in a circle.* I never purchased any Urban Decay Naked palettes before this (shocking, I know), and I'm starting to think about what I may have missed out on. The eyeshadow palette is, hands down, my favorite product from the collection. The color payoff is great, and it has minimal fallout. The color scheme is appropriate for this time of year, but it's also flattering on me, if I must say so myself.
My second favorite item from the line is the Cherry lipstick. Although it is a cream finish, the color lasts almost as if it were a matte. Even after eating, drinking, and talking for hours, my lipstick was still intact. This shade will be a go-to for me until spring comes back around. The cherry-scented All Nighter Setting Spray ($15) was a nice touch to the collection. I love when a brand reinvents a best-seller without changing the formula completely. The scent is faint, but delightful nonetheless.
My least favorite item is the Highlight & Blush Palette. I don't hate it, though. I have so many products like it that it doesn't stand out to me. I would have loved to try the eyeliners, Black Market and Love Drug. I've tried Urban Decay's 24 /7 Glide-On Pencils in the past and their formula is absolutely amazing.
If you're looking for some new makeup, especially for the fall, the Urban Decay Naked Cherry collection is perfect. You can shop the products on Urban Decay's site.