Uranus is moving into Taurus for the first time in 76 years, and yes, we are scared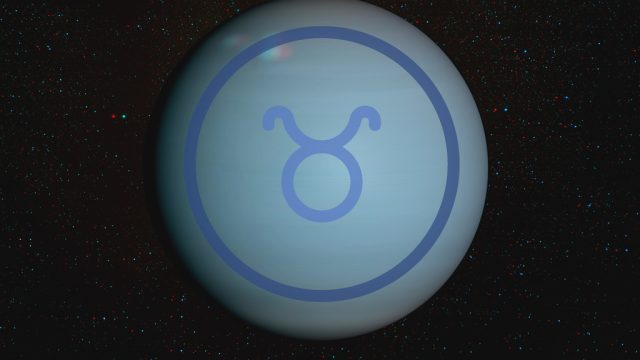 Don't let those "anus" jokes fool you — Uranus is a powerful planet. Uranus is the planet of revolution and the unexpected, and on May 15th, it's leaving fiery Aries after eight years and entering stable, risk-averse Taurus. It will remain here until July 2026. Yep, the Universe is a-changin'. Now you're probably wondering: Okay, but what does it mean when we have Uranus in Taurus?
First, let's look at what Uranus is all about. It's the planet of change, innovation, and magic, so not surprisingly, it also represents technology, astronomy, and astrology. It means transformational shifts in our lives, as well as changes in the world at large. It's a mover and a shaker kind of planet.
Meanwhile, Taurus rules our personal values, material goods, finances, food, and the environment. It's also the one sign that hates change. Like, really hates it. Taurus likes stability, security, and feeling safe. So you can imagine how unsettling it is that we now have the planet of surprise suddenly knocking on Taurus's door after 76 years.
Ruh-roh.
The last time Uranus stopped in Taurus was back in 1934. It stayed there until 1942.
Quick history lesson: What was going on back then? If you were on Jeopardy!, you might say: "What is the Great Depression and the Second World War?" Which would be correct.
Uranus in Taurus likes to stir the pot about our issues surrounding stability, security, and comfort. This could refer to finances and assets, our literal safety, and/or our core values and ways of being — whatever makes you feel safe and attached, whether it's a belief system or how you behave in certain situations in order to feel safe and comfortable.
On a global level, we might bear witnesses to huge upheavals in the financial sector. Could Bitcoin or another form of cryptocurrency become the next big thing for real? Maybe! We're in for a new wave of economic innovation that could bring women to the forefront. Was it a coincidence that the Fearless Girl statue was moved opposite the "Charging Bull" (ahem Taurus) sculpture outside the New York Stock Exchange? Probably not!
Taurus is also connected to food and the environment (it is an Earth sign, after all), so expect further exploration and innovation on how we farm food more sustainably. You might also look at how your own diet can change and how you too can be a better environmentalist. Do we all go vegan? Maybe!
If anything, remember this: Uranus may mean freedom, but Taurus keeps us grounded.
We will experience many changes and shifts in the aforementioned areas for the next eight years, but these changes will also stem from a place of authenticity and practicality. We're getting honest with ourselves and our future, while also being smart and informed about the choices and changes we make.
We can expect the unexpected for the next few years, but we can also count on our ability to handle it.