Snapchat released brand new glasses, and the updated features are cool AF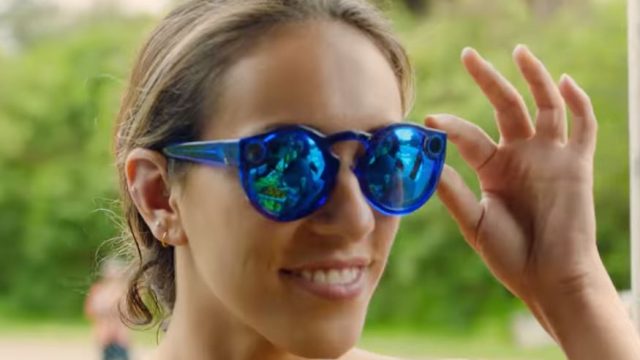 Even after Snapchat rolled out an update that was controversial (to say the least), the app has remained one of the most popular ways to send pictures and videos to your friends. But Snap Inc., the company behind Snapchat, appears to be trying to break out of that mold. Today, April 26th, Snap released a brand new version of Spectacles — aka "Snapchat glasses" — and this time around, they have some awesome features.
The first Spectacles debuted in February 2017, but despite the hype, the new wearable camera failed to take off. According to Tech Crunch, less than 1 percent of Snapchat users bought the first version of the smart glasses. But in the second iteration, out today, April 26th, improvements to the hardware could be game-changing.
Aesthetically speaking, the new "Snapchat glasses" no longer have the signature yellow circle on each side, and the frames have been slimmed down to make them more wearable. The new smart glasses are also available in black, red, and blue, making them look more like an actual accessory. And new lenses also make these glasses resemble slick, mirrored sunglasses.
But the biggest updates aren't cosmetic. In addition to recording short videos, you can also now take still photos with your Spectacles. On top of this, Snap announced on its website that the new product is water-resistant, making these frames a cool beach-side accessory. Videos taken via Spectacles will now automatically be recorded in high definition as well.
Snap's ad for the new Spectacles highlights some of these features.
https://www.youtube.com/watch?v=Qpbyj-hz05s?start=6&feature=oembed
Here's what the originals looked like, for comparison.
At $150 a pair, the new Spectacles are slightly more expensive than the originals. Currently, you can buy them online at Spectacles.com.
Only time will tell if Snapchat glasses will become the next trend. But in the meantime, we'll be keeping an eye on the second version of Spectacles — and maybe even trying them out for ourselves.