The first trailer for "UnREAL" Season 3 is here, and the guys are bringing the drama — and abs, abs, abs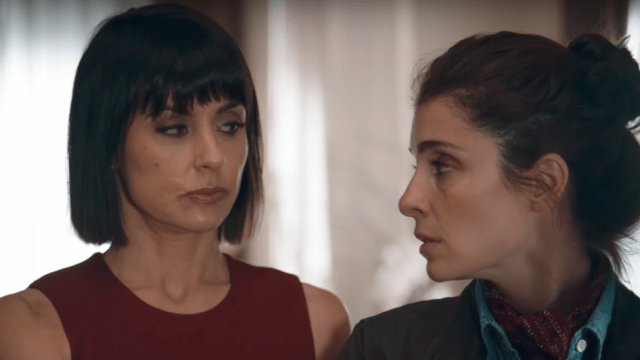 And bachelorette makes three. UnREAL's lady boss duo will have a third fierce female joining their ranks in the show's third season, and the trailer is giving us our first look at her. Unlike other contestants producers Rachel (Shiri Appleby) and Quinn (Constance Zimmer) have dealt with on the show within a show, it appears that Serena Wolcott (Caitlin FitzGerald) won't be so easy to manipulate.
Lifetime's series about the making of a Bachelor-style reality show revealed back in November that the upcoming season would switch things up.
Season 3 of UnREAL will have men vying for the affection of a female contestant on Everlasting for a change, whereas the previous two seasons had it the other way around. Naturally, the twist will introduce a whole new layer of delicious faux-reality TV drama — drama that's on full display (as are abs, abs, abs) in the new teaser.
https://www.youtube.com/watch?v=z3wK578Jk3I?feature=oembed
For starters, bachelorette Serena — a Silicon Valley tech mogul described as "hot, sexy, smart, but single" — will likely throw off the power balance Rachel and Quinn have established on the show. As she tells her potential suitors: "From this moment forward, the only rules are the rules that I make."
Then, of course, there'll also be the standard house drama that we've grown to expect and love: fistfights, stolen-away romantic moments, drunken antics, etc. Not to mention, one altercation involves a dude cutting off another dude's man bun.
So this will definitely be a fun new direction for the series to explore.
While the show's ladies elevate their conflicts to stealthy-showrunner-level, we'll get to see the men pitted against each other this time. And from what Quinn has to say (with an eye-roll), we can expect things to get pretty intense: "I thought women were dramatic."
In other words, somebody pass the popcorn. UnREAL Season 3 debuts February 26th.