Uniqlo's new modest collection is for those on the hunt for affordable fashion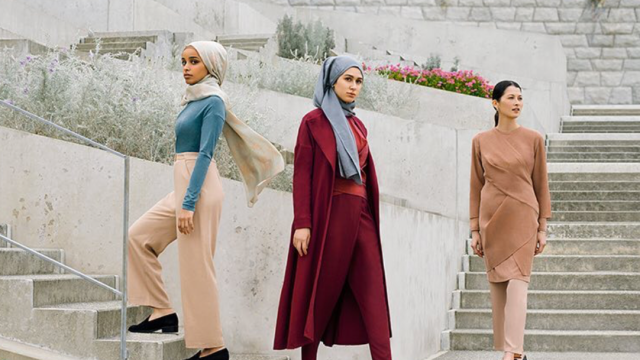 There is not one type of empowerment. For some, showing off skin is empowering. For others, modesty is empowering. When it comes to fashion as a form of empowerment, it's all up to the wearer — but it's also up to retailers to offer all sides of the spectrum. That's why we're so excited that Uniqlo's latest modest fashion collection is here. Not only are the basics cute with clean cuts and great colors, but they're also affordable.
Hana Tajima, the U.K. born and Japan-based designer is at the helm of Uniqlo's collection, called LifeWear, which includes the Fall/Winter line that just launched online and in stores.
https://www.youtube.com/watch?v=HnHG1kw_23U?feature=oembed
The collection features sleek silhouettes that allow you to mix and match with ease. Think sweaters, dresses, and coats with interesting draping and tucking, giving the neutral and jewel tone-heavy collection a twist. Belted coats, maxi-length vests, hijabs, and wrapped drop-croch pants are all included in the collection, which ranges from $4.90 for headwear to $49.90 for outerwear.
According to Instagram, the Uniqlo collection is inspired by tactile fabrics, sculptural folds, and gentle, subtle shapes; motifs that are present in each and every piece.
Since the brand is committed to comfort, you know that you'll feel as good as you'll look in these pieces.
Whether or not you're looking for a pair of wide-legged pants or a new inner hijab, this collection has a stylish solution to any modest style you need. While many high street retailers may not cater to this niche, we're happy that the tides are finally turning and brands like Uniqlo are stepping up to fill the gap.
When the clothes are this good, who can complain?