Unilever Is Pulling These Popular Dry Shampoos Off Shelves Nationwide
Potentially high levels of the human carcinogen Benzene could cause you some major health problems.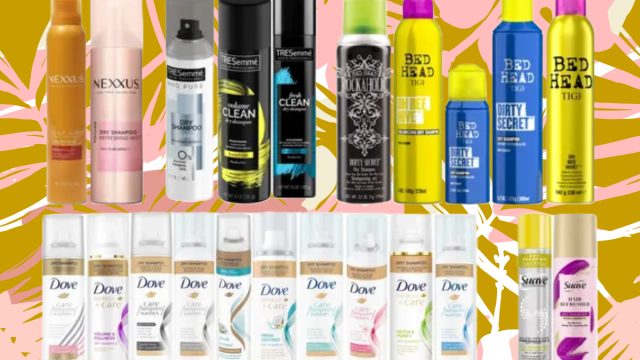 Check your beauty cabinets, dry shampoo fans. Your favorite brand could contain a harmful carcinogen that's been linked to leukemia, cancer, blood disorders, and more.
Lifestyle conglomerate Unilever, which represents beauty brands like Dove and Suave, announced a voluntary recall on Oct. 18 for its dry shampoo products purchased in the U.S. and Canada prior to October 2021.
According to an official statement by the company, the recall includes select dry shampoo aerosol products under Dove, Nexxus, Suave, TIGI (Rockaholic and Bed Head), and TRESemmé. These bottles were readily available on shelves at your local drugstore and are believed to contain "potentially elevated levels of benzene," the recall states.
"Benzene is classified as a human carcinogen," Unilever adds. "Exposure to benzene can occur by inhalation, orally, and through the skin and it can result in cancers including leukemia and blood cancer of the bone marrow and blood disorders which can be life-threatening."
According to The New York Times and data from the FDA, this is the latest consumer goods recall this year involving benzene. Hand sanitizer, sunscreen, and spray deodorant have all been part of previous recalls due to the presence of the chemical.
Unilever also claims that "Benzene is ubiquitous in the environment" and "humans around the world have daily exposures to it indoors and outdoors from multiple sources."
That doesn't mean the company feels its dry shampoos are totally fit for use, however. The announcement continues:
"Unilever U.S. is recalling these products out of an abundance of caution. Unilever has received no reports of adverse events to date relating to this recall."
RELATED: Your Bra Could be Causing These 3 Serious Health Concerns, New Study Says
Stores have been instructed to remove any existing products from their shelves.
If you're worried and wondering if your bad hair day secret weapon is part of the pull, you can easily check the consumer UPC code and see if it's part of the official list.
If you are using one of the products listed, stop using it immediately and apply for a reimbursement on the Unilever site.
If you're looking to go benzene-free for good (or at least when it comes to your dry shampoo stash), brands like Crown Affair and Vegamour offer alternatives you can order online.
Rahua Voluminous Dry Shampoo and BE FREE Scalp Refresh are also benzene-free for remedying your bedhead needs.
If you want to go real natural, you can even try using cocoa powder, cinnamon, arrowroot powder, and plain old baking soda. You'll feel great and also smell good too.
Kat is a born and raised New Yorker exploring the world as she writes, eats, and everything in between.
Read more