These magical unicorn shoes are so beautifully over-the-top, you're going to need a pair ~immediately~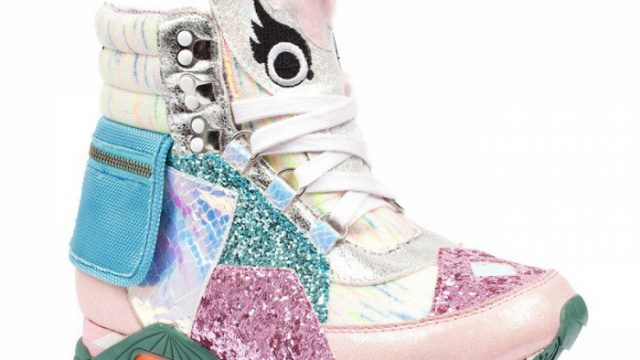 There are unicorn lovers, and then there are die-hard, hardcore, still-hold-out-hope-they-might-actually-exist unicorn lovers. These unicorn shoes are for people in the latter category.
While we've seen a plethora of unicorn themed products pop up on the scene—from Margot Robbie's epic unicorn dress to unicorn-inspired runway makeup—this is by far the most outrageous item we've even seen this glorious mythical creature manifest. And we're already obsessed with it. Allow us to introduce Irregular Choice's Candy Damsel unicorn shoes. They include: pink and blue glitter patches, iridescent patterns, light-up soles, a high-top cut, a side zipper pouch (which is sadly non-functioning), mascara-ed unicorn eyes, fluffy little ears and, of course, a unicorn horn.
Wowza!
With this much craftsmanship and copious amounts of glitter, you would be right to guess that these unicorn shoes don't come cheap. However, they won't totally break the bank at $163 a pop. ~Real~ unicorn lovers will see their investment value, obviously.
Apparently, wearers totally dig these crazy kicks, too. They're actually already sold out in several sizes, and one happy customer left behind a glowing review, reading: "These are my [favorite] shoes! They are so adorable and so comfy, didn't need breaking in at all! I love how unique and fun they are and they light up too! OMG amazing."
We concur: OMG amazing is right on, sister!
While the unicorn trend isn't exactly new, these kicks are a whole new level of magically inventive. And we can totally see them taking off as Instagram's next big viral trend. Because really, who can resist a pair of funky unicorn shoes?
Clearly, not us!