Feast your eyes on the new mermaid brushes from Unicorn Lashes, because they are beyond magical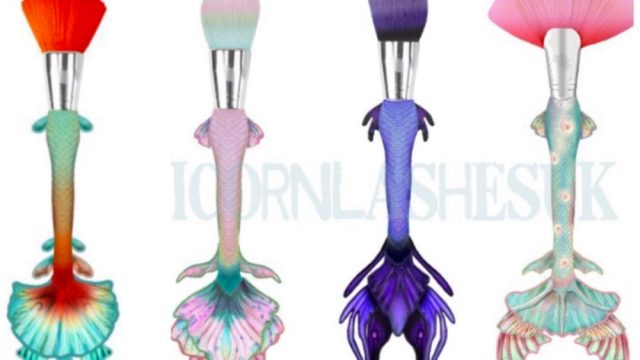 If you've been waiting as (im)patiently for a sneak peek of Unicorn Lashes' new mermaid brushes, you're not alone, we are here right with you. Since we first laid eyes on Unicorn Lashes' original mermaid brushes, we were ready for more bristling multi-colored beauty.
Finally, after months of teasers, we have an updated look at the newest mermaid brushes from Unicorn Lashes, and the designs are as decadent and whimsical as you would hope. We can't wait to get our hands (or fins) on these new lush-colored makeup brushes, particularly now that we've seen the updated designs.
These brushes look like they would only exist in a fictional world full of magic-infused whirlpools and mermaid heroines.
https://www.instagram.com/p/BVF0Ueygh0O
They still haven't named them or announced prices! We are on the edge of our seats, drowning in suspense. Those fins are absolutely stunning.
It's been quite a ride watching the designs evolve for the latest batch of mermaid brushes.
https://www.instagram.com/p/BRiuUrkgy_D
Honestly, it's been a long few months waiting for final designs.
We had full faith that these brushes would turn out gorgeous, but they've still managed to exceed our expectations!
Now we'll just have to wait a little bit longer for pricing and names.
Hopefully not too long though, now that we're pumped up.