You can now buy "unicorn bread," so your digestive system can also be trendy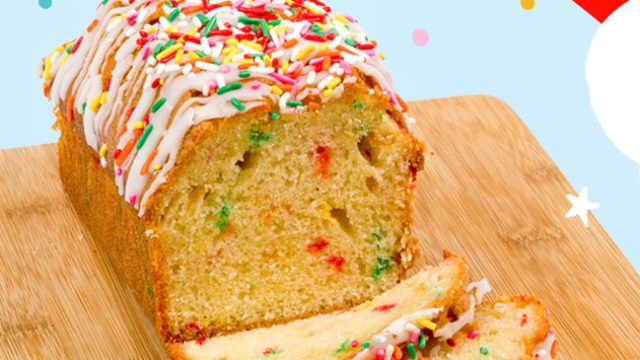 Each day, it becomes more apparent that the unicorn food trend isn't going anywhere any time soon. The latest addition to the colorful list? Unicorn Bread. Yes, it's true. You can now buy something called Unicorn Bread, which is as pretty as it sounds, and probably just as delicious, too.
This new Unicorn Bread was created by a bakery in Arizona called Bakehouse Bread Company. It's an aesthetically pleasing bread that will remind you of one of these mythical creatures. The bread itself is speckled with colorful sprinkles, with a white glaze on top, and even more sprinkles. The description is much more magical than that: according to the bakery's Facebook page, it's "flavored with vanilla and unicorn sparkles." Sparkles! Much better than sprinkles. It actually kind of looks like the bread version of Funfetti cake, which isn't something I thought I needed in my life, but now is something I know I need in my life.
Unfortunately for me, and probably most of you, this Unicorn Bread is hard to track down. It's only available for a limited time, and is only being sold in a limited number of stores. The Bakehouse Bread Company Facebook page says that the Unicorn Bread is available at Kroger stores throughout the month of April. That means it's going to be sold out fast, so you better get out there and start shopping if you want to try it out. (Unicorn toast, anyone?)
In fact, even though the Facebook post has only been up a few days, many stores are already selling out. In one Facebook comment, the bakery wrote, "Some of our shipments have been delayed by the warehouse and other stores have already sold out, so be sure to call your Kroger store and ask their Bakery Manager if it's in stock before you head in!"
Oh, and if you have any allergies, you'll want to check out the ingredient label before you dig in (if you manage to find the bread).
Luckily, the bakery posted the list of Unicorn Bread ingredients online:
If you need to try to find this, we don't blame you. You can check out the Kroger's store locator to find out where there's a store near you, and then I would suggest following the bakery's advice and calling the stores to see if they have the bread before heading out. Let's hope this magical bread becomes more of a staple.