This underwater view of animals drinking from a bucket is oddly fascinating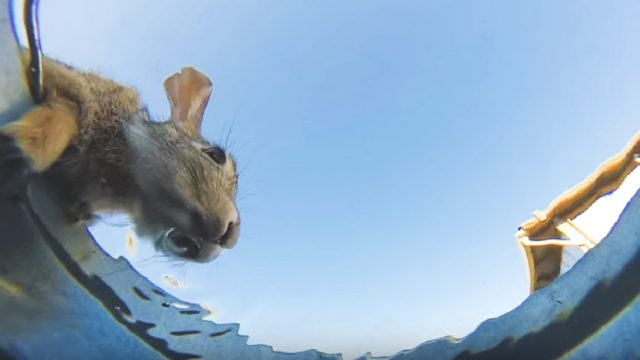 Before now, we'd never devoted much time to watching random creatures guzzling H₂O, but some super creative human knew the world needed to see animals drinking water, filmed from the bottom of a bucket.
It's not quite as creep-tastic as, say, seeing a king cobra drinking from a water bottle, but The Field Lab's one minute and 50 second video titled "thebucket" is still worth the watch. Maybe it's because the temps are warming up, but something about seeing animals quench their thirst is naturally fascinating, kind of like watching two cats share a drink, or seeing wild animals shamelessly devour a glass of wine.
So, the most hypnotizing drinking video of all time opens with an underwater view of bees swimming in the liquid*. Then a couple of birds perch on the rim of the bucket from a few quick swallows. Then out of nowhere, a rabbit approaches the bucket, and the cuteness overload is officially too much to handle.
https://www.youtube.com/watch?v=WIo9ROTi7a4?feature=oembed
In addition to the birds and the bees (and the rabbit), the other eager water-sippers included a pair of chickens (the amount of backwash was just, ugh…) a burro and a stubborn steer with a filthy nose that was being a wee bit stuffy about sipping on film.
Well, that was *totally* random, but we have to thank the internet for showing us how refreshing it can be to view life through a different lens.
*Not to worry animal lovers: As noted in the video description, the swimming bees were rescued.