21 wedding dresses under $200 that will make your exes' heads turn
With wedding season just around the corner, it seems like the perfect time to peruse some of this year's most beautiful wedding dresses. And while the choice to buy a wedding dress can be extremely stressful and mind-bogglingly expensive, you'll be happy to know that there are plenty of adorable wedding looks at a relatively low price point. You don't need to break the bank to find something that suits your personal style, and you can even snag the most popular wedding dress style of the year for under $200.
Some of our favorite go-to affordable shops have their own wedding collections, including H&M's new line of wedding dresses, making it easier than ever to choose an affordable wedding dress. So whether you're looking to find a dress based on the latest trend or want to match your wedding dress style to your zodiac sign, you've got plenty of options. And we've made it even easier for you by rounding up some truly lovely styles.
Just in time for wedding season, here are 21 cute wedding dresses under $200.
1ModCloth Through the Bluebells A-Line Dress in Cream Lace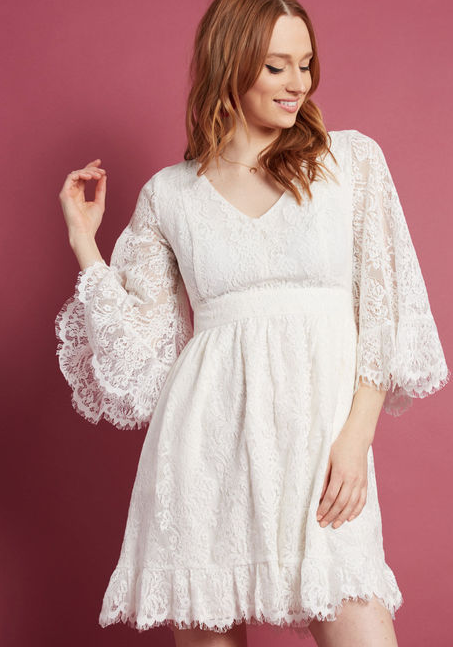 Have you ever seen anything more heavenly than these angel sleeves?
2H&M Long Sleeveless Dress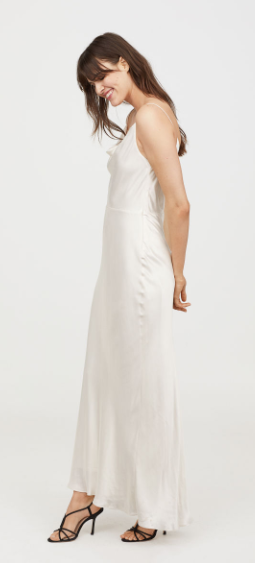 The narrow straps and draping silhouette give this slip dress an updated sexy feel.
3ASOS Edition Curve Bridal Lace Long Sleeve Crop Top Maxi Dress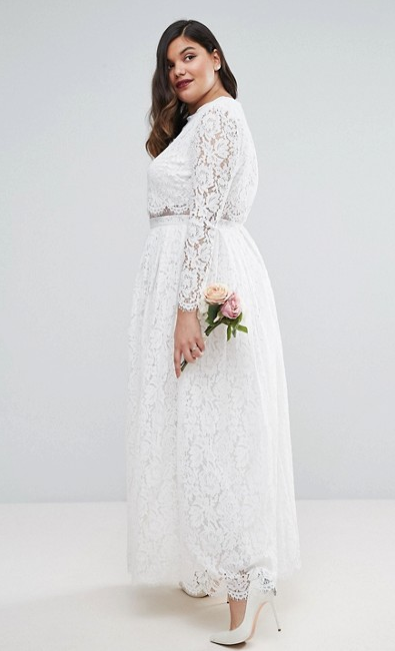 The lined lace and round neck are a classic juxtaposition to the modern and flirty cropped overlay top.
4ModCloth Romantic Revelries Maxi Dress in White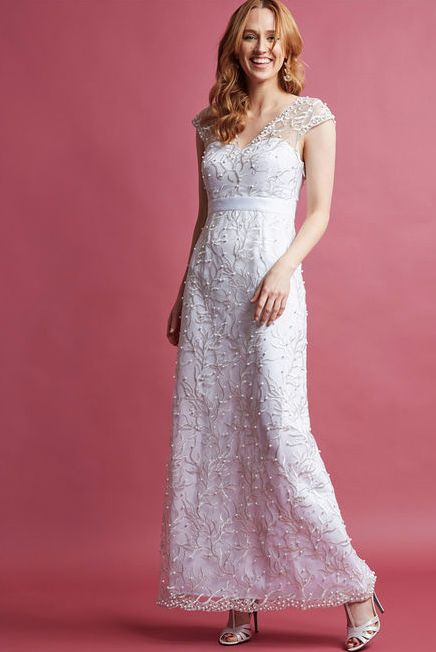 ModCloth is clearly upping its wedding dress game, and these sheer cap-sleeves and vine embroidery give this dress a touch of magic.
5Liv Eyelet Dress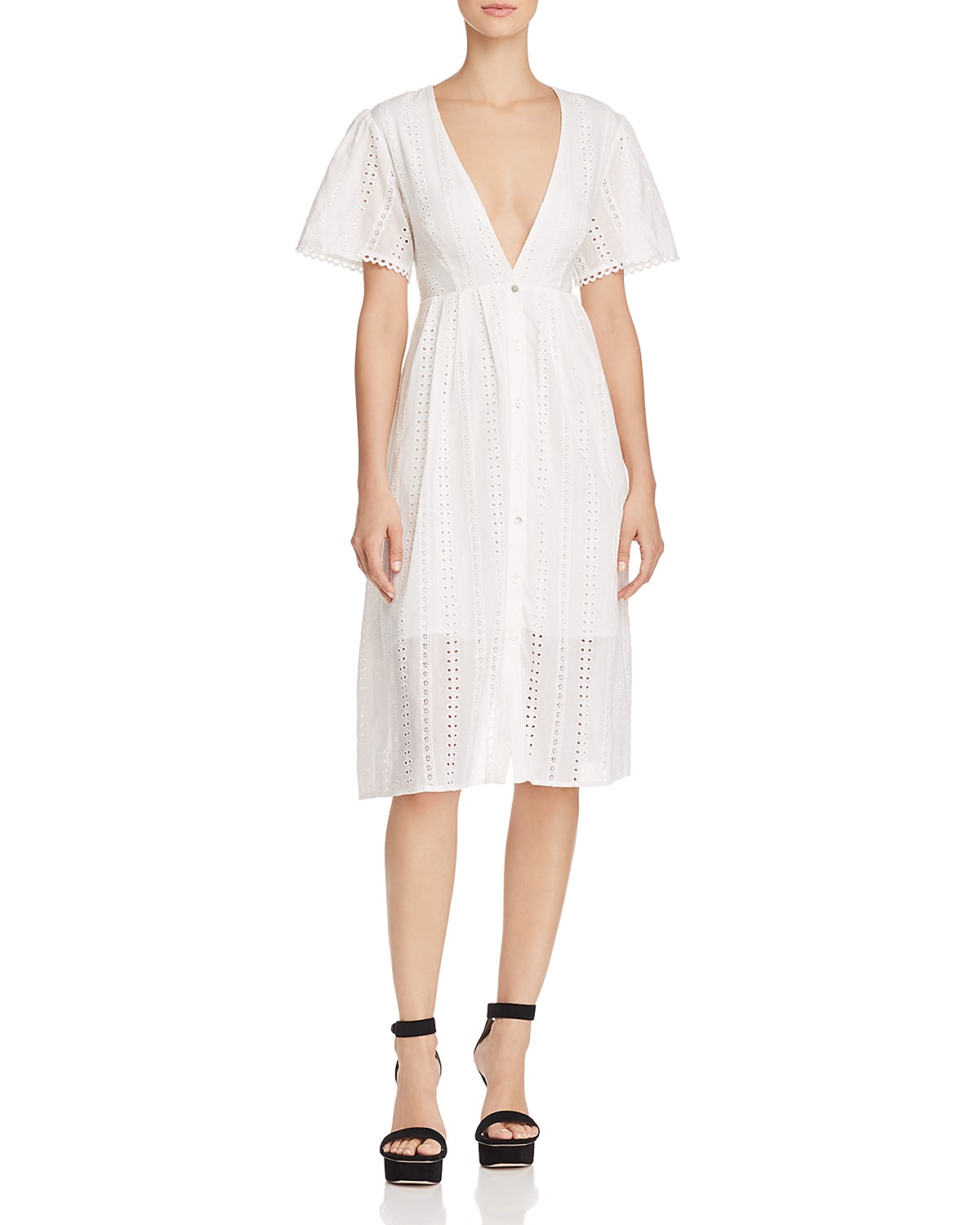 The short sleeves, eyelet lace, and back tie give this sunny daytime dress a sweet and happy feel. Perfect for a casual beach wedding, don't you think?
6H&M Ruffle-trim Mesh Dress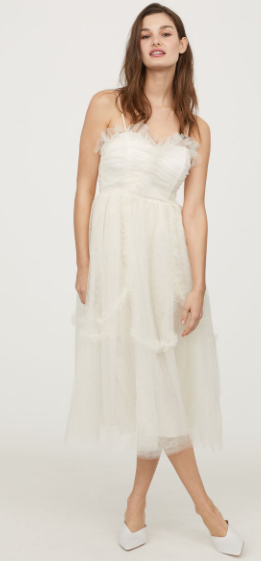 The draped mesh gives this dress an ethereal, dream-like feel.
7Revolve Fairview Gown
A timeless silhouette that will still be in style for years to come.
8ASOS Edition Wedding Maxi Dress in Soft Jacquard with Flutter Sleeve
You'd almost never guess this was ASOS because the jacquard floral design and high neck gives it an elevated and elegant flair. And since high necks are on trend this wedding season, you'll fit right in.
9BHLDN Katrine Dress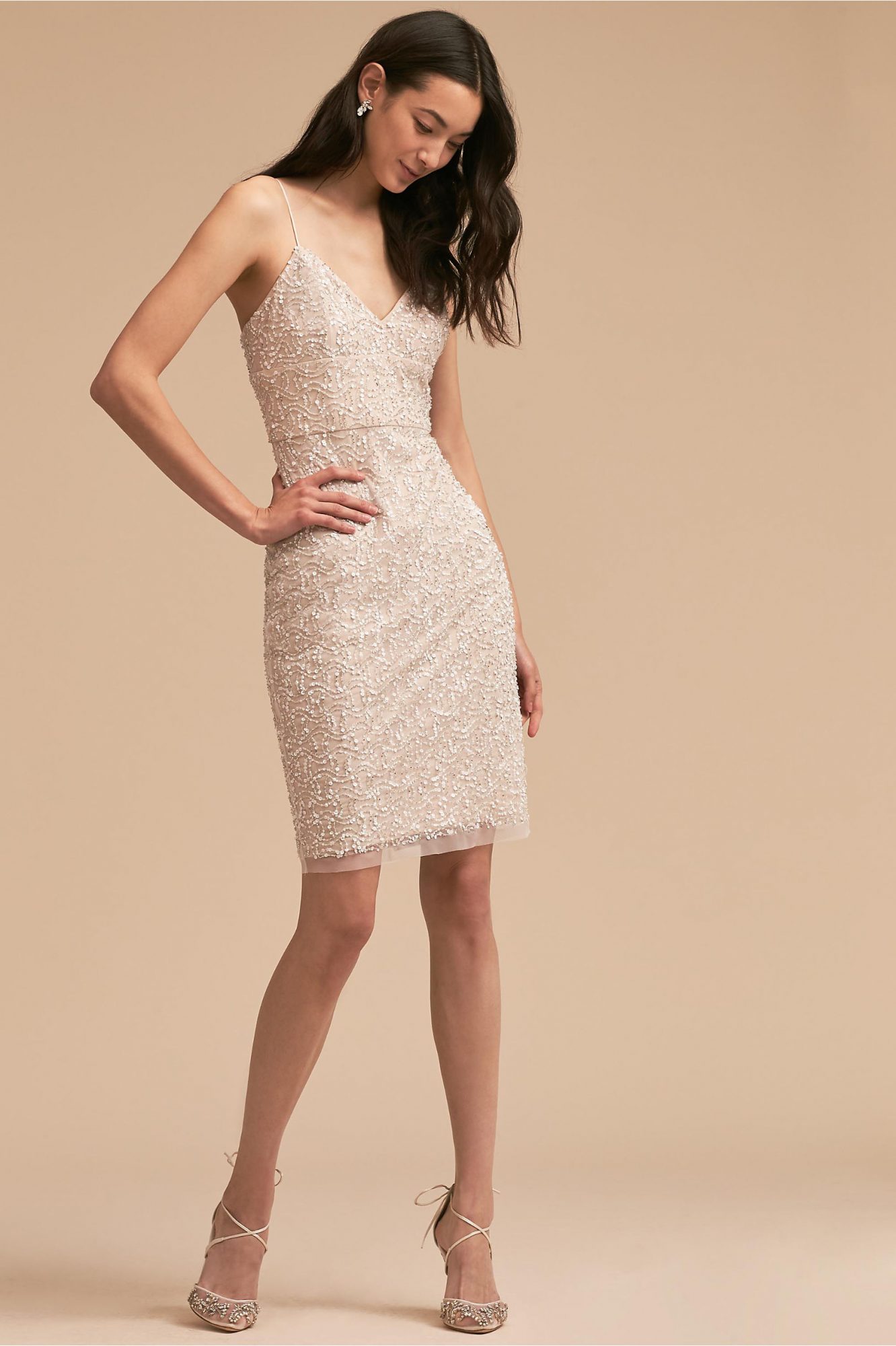 Feeling like you need a sequin dress? This number is perfect for either a second wedding dress or for the big celebration depending on your wedding's vibe.
10ModCloth Retro Moment A-Line Dress in Cream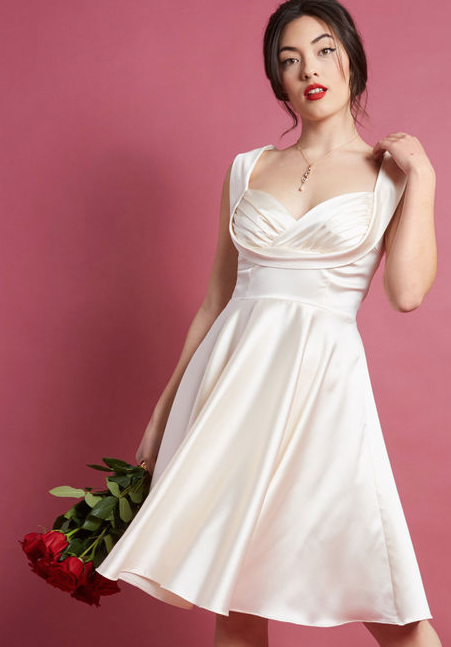 This incredibly romantic, vintage-inspired dress will make you feel like Marilyn Monroe.
11Vero Moda Lace Ruffle Maxi Dress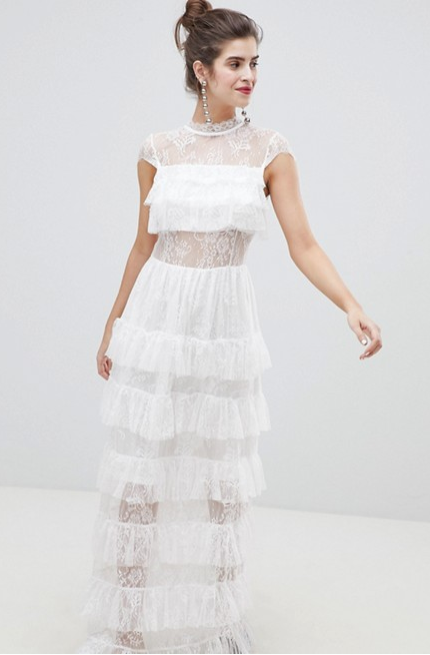 This partially lined, cap-sleeved dress has a lovely ruffle design that we can't take our eyes off of.
12H&M Long Lace Dress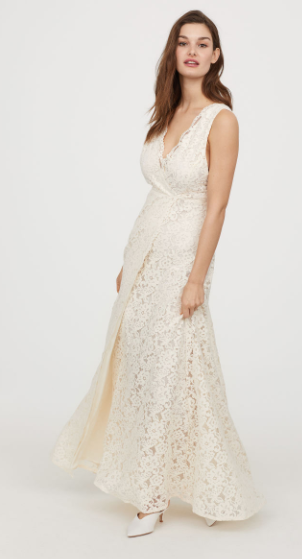 A classic, long lace dress. You can't go wrong.
13ModCloth Chi Chi London Gilded Grace Lace Dress in Blush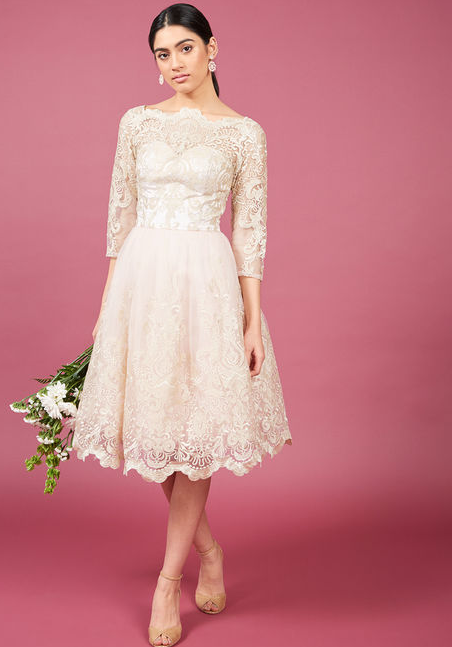 We love this sweet blush pink dress. The metallic gold sheen and layers of tulle is an absolute dream.
14BHLDN Noche Dress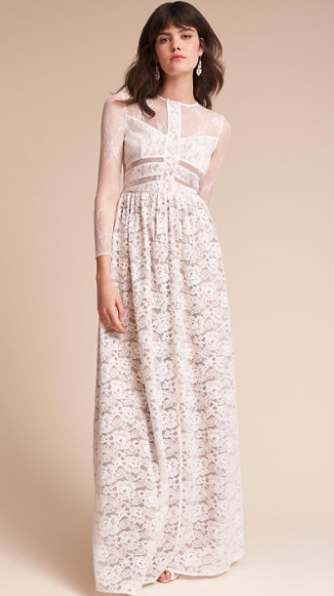 This illusion bodice and long-sleeved gown is romantic yet edgy with its cut-out design.
15ModCloth Faith in Flawlessness Maxi Dress in Ivory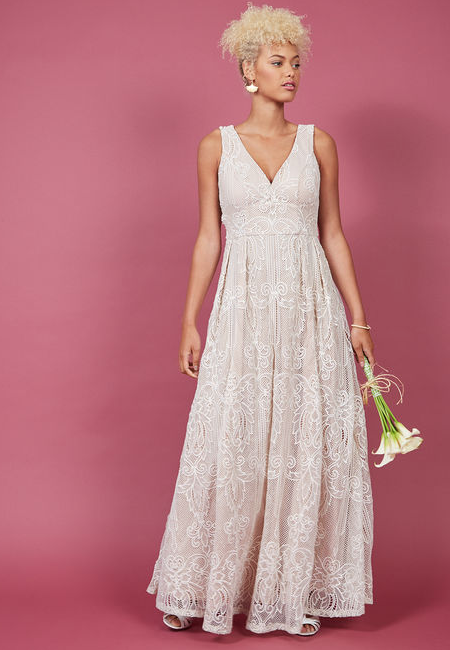 The detailing on this sophisticated dress makes this gown more magical.
16Y.A.S. High Neck Lace Midi Dress with Asymmetric Hem
This cheeky dress is as romantic as it comes.
17Macy's Adrianna Papell Ruched Embellished Gown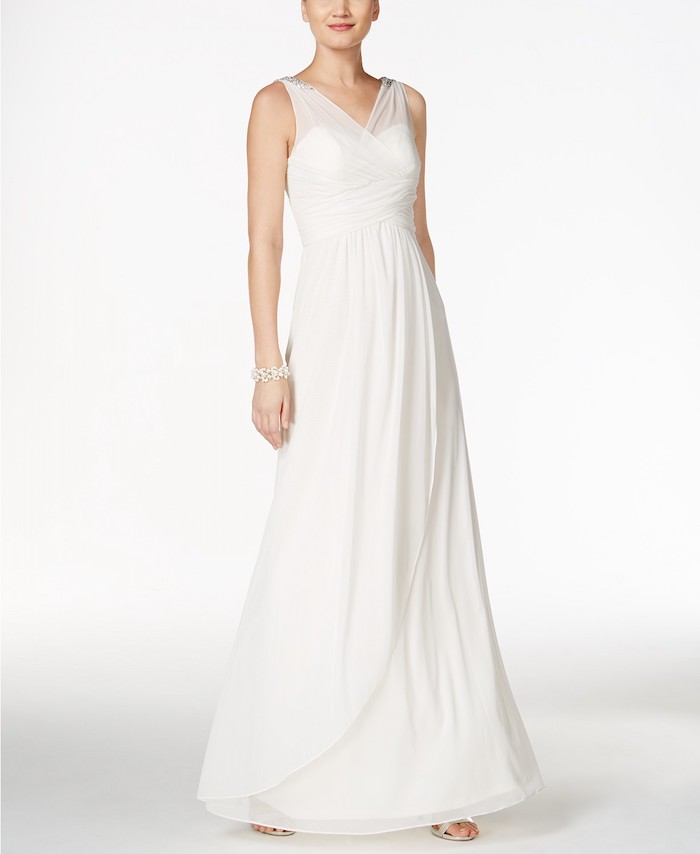 Play up your hairdo and jewelry to complement this classic silhouette.
18Nordstrom FoxieDox Cecilia Lace Sheath Gown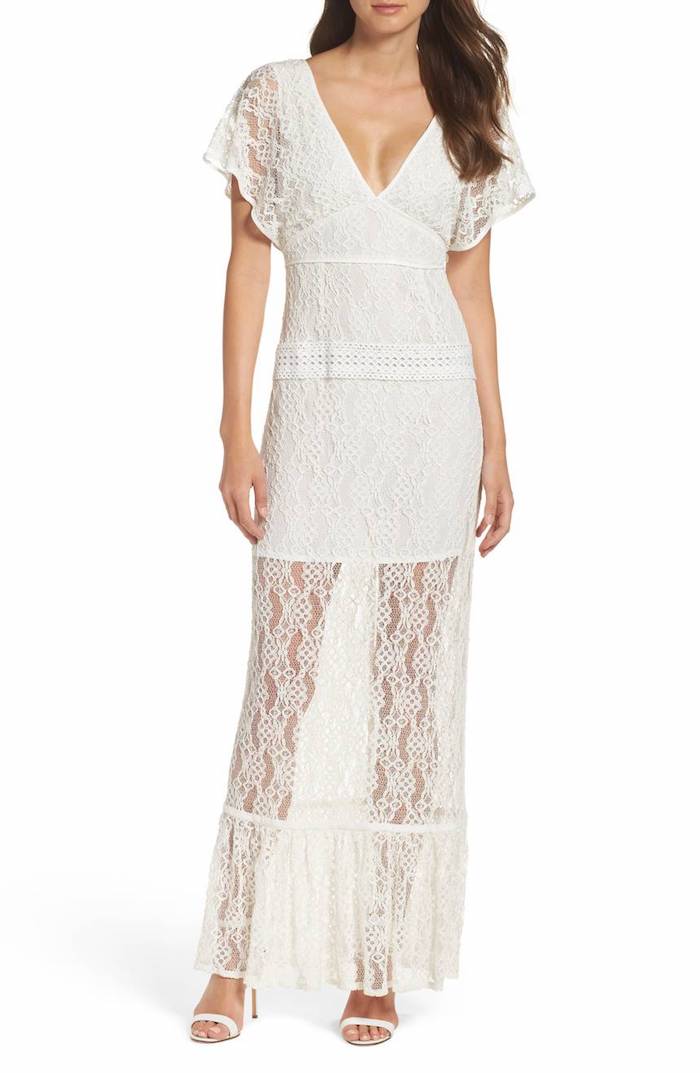 This sweet wedding dress will give you a timeless silhouette.
19Jarlo Bardot Maxi Dress with Thigh Split and Train Detail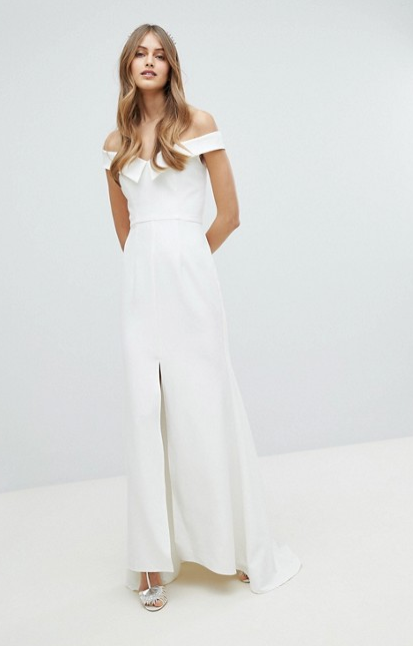 The Bardot neckline makes this sultry dress even sexier than you thought possible.
20ModCloth Fabulous Fit and Flare Dress with Pockets in White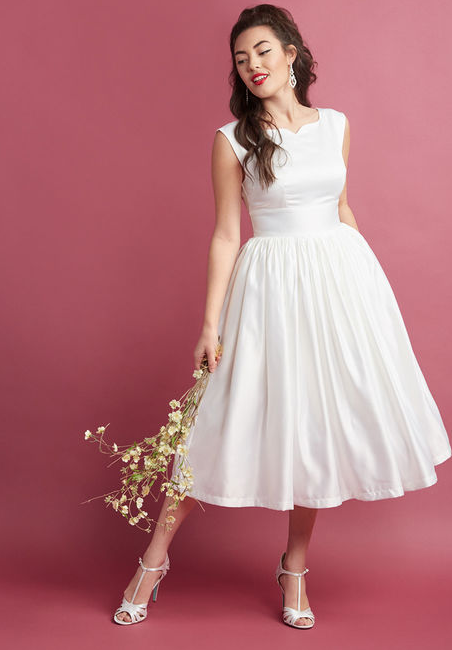 This satin midi channels some of our favorite vintage dresses. Plus, pockets.
21Macy's Adrianna Papell Beaded A-Line Gown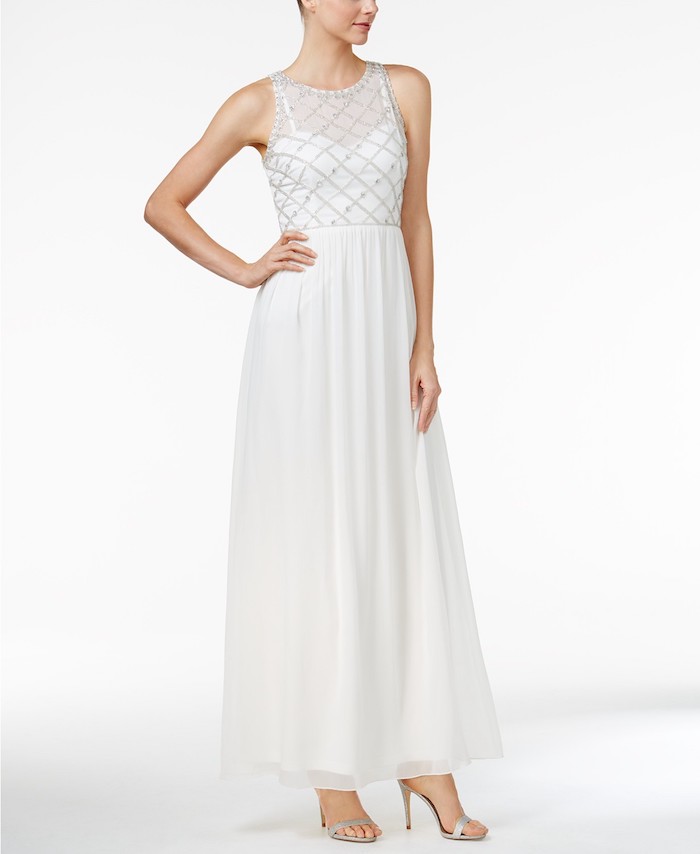 The diamond beads at the top add an extra dose of glamour to this gown.
Happy wedding shopping!