Under-10k weddings: A Vegas chapel elopement that cost less than $1,400
The average cost of an American wedding is more than $30,000. For many of us, that's an impossible sum—and it overshadows what should be one of the happiest times in our lives. But it doesn't have to be that way. Getting married can cost as little as the price of a marriage license from city hall or a Vegas wedding! So we're celebrating those affordable weddings, those Under-$10k Weddings—because a beautiful wedding should be accessible to everyone who wants one.
I met my husband, Jesse, at a friend's DJ night in 2010, when I was 27 and he was 23. Every other single person there was blackout drunk, so we just started talking to each other. I thought he was cute, but I was trying this new thing where I didn't instantly throw myself at every cute boy who crossed my path, so we just started hanging out as friends. 
For the first few months, I thought, "Wow, we're just getting to know each other without any drama or hooking up. How cool and mature of me. Gaby, you're growing up into a wonderful young woman." And then by month four of being friends, I thought, "I AM IN LOVE WITH THIS MAN AND IF HE DOES NOT MAKE A MOVE SOON, I AM LEAVING SOCIETY AND STARTING A NEW LIFE IN THE SEWERS, NINJA TURTLE-STYLE." So I invited him to my birthday party, demanded that he kiss me, and we've been together ever since.
I had never planned on getting married, or even living with anyone—I thought it would be more bohemian and Stevie Nicks-like just to "take lovers." But three years into our relationship, our housing situations shifted, and Jesse and I had to move in together. I quickly realized that the issue hadn't been that I was too artsy for commitment; I just had really low self-esteem and didn't think any man could love me after he heard me fart. But Jesse did.
And after a few years of living together, I thought, "Screw it. We might as well get on each other's insurance," so we decided to get married.
(I should note that Jesse is way more mature than me, and wanted to get married essentially the entire time I was figuring this out).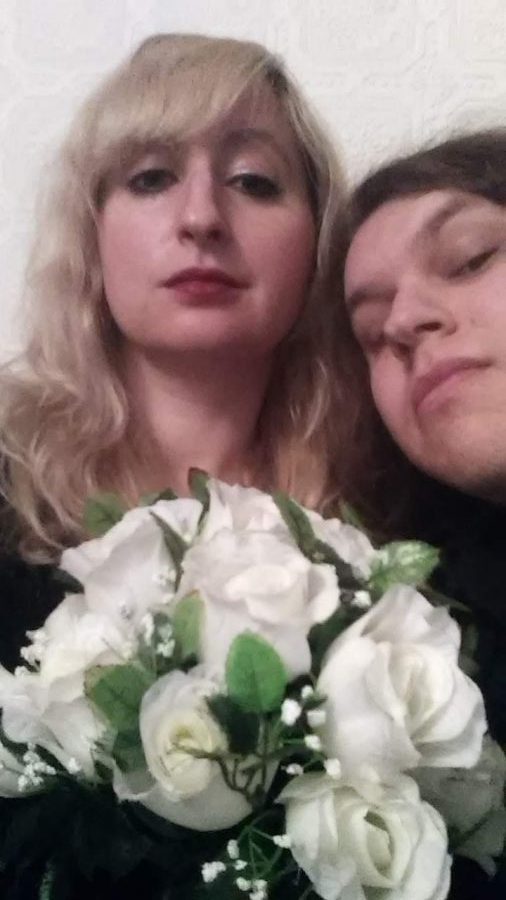 We briefly and vaguely entertained more traditional wedding ideas. But I'm not close with most of my family, we don't have a ton of money, and I was creeped out by the idea of a bunch of people just staring at us while some guy talked about how in love we were. We considered a city hall wedding, but ended up deciding that if we were going to go to the trouble of actually doing this, we might as well create a really weird, cool memory. So we thought: Why not run off to Vegas?
So that's exactly what we did. I'd been to Vegas many times in the past, but my husband-to-be hadn't, so it required a little salesmanship on my part (I eventually convinced him by showing him the Neon Museum). We live in New York City, so getting there was a bit of a haul, but we found cheap plane tickets and a good deal on a nice hotel room. We took three days off from work, and we were on our way.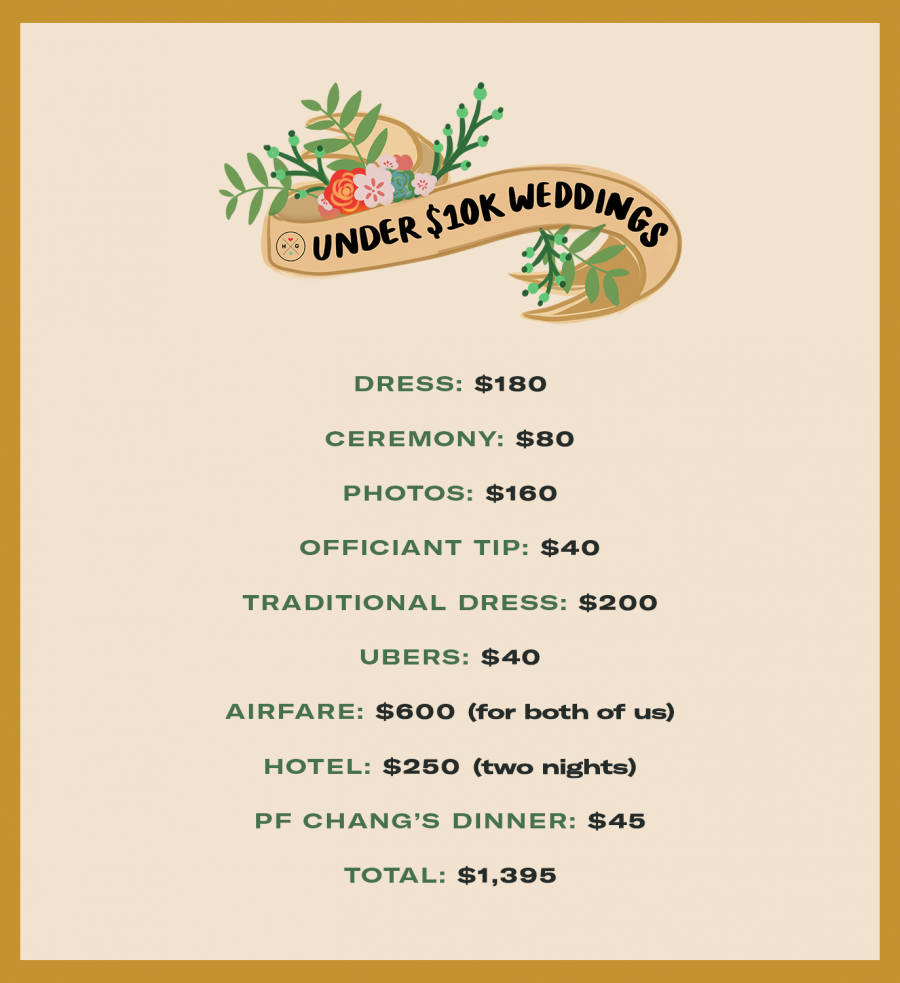 How much the wedding cost us 
The actual wedding ceremony only cost about $80—we picked a pretty bare-bones package, since neither of us had any real specifications about how the ceremony should go. 
The chapel we picked didn't let us take any of our own photos, though (I snuck in these selfies). Instead, they have a staff photographer who takes pictures during the ceremony, and then you have the option of buying them at the end—you know, like the photos they sell at the end of Splash Mountain. We bought them because, as it turns out, we weren't unconventional enough to want zero photos of our wedding day. The photos did end up costing $160. 
So when you factor that in, plus the $40 tip to the officiant and the $20 Uber rides there and back, I guess the whole ceremony came to $320. 
What it was like to plan a wedding in Vegas
It was easy. Since Vegas has a whole industry devoted to eloping, you just have to Google some chapels, see which feels best, buy a package online, and you're set. 
Our biggest planning decision was: Are we gonna get married by an Elvis impersonator? We ended up going with a regular officiant, since every Elvis wedding package we could find involved Elvis singing a song to you during the ceremony. I didn't think I had any specific wedding daydreams until I read that and thought, "Hmmm, I guess my one wedding daydream is to not have Elvis awkwardly sing 'Love Me Tender' directly into my face while I am stone-cold sober."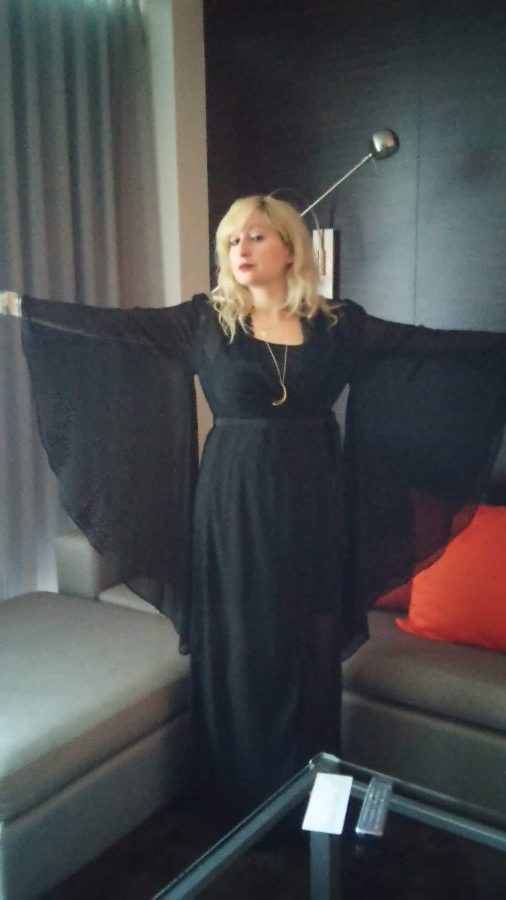 How I picked my dress
I went through about a dozen dress options, just looking at them by myself—it felt weird to get any friends involved in picking out a wedding dress they'd never actually see in action. I tried out a bunch of dresses I already owned, logged hours at my neighborhood vintage stores, and bought a white jumpsuit from Forever 21, too—but I ultimately ended up deciding on a chiffon robe (?!?) that was part of Nasty Gal's collaboration with Courtney Love.
I'd never imagined myself wearing a traditional wedding gown (due to the price as much as the style), but I did want to wear something I wouldn't wear in my normal life to show that the day really was special, even if it didn't look like other people's special days. The dress was around $200, which was more than I would typically spend on a single item of clothing. But I figured if you can't splurge on a wedding dress, what can you splurge on? The second it arrived in the mail, I knew it was the one.
How the actual day went down
The day flew by—though, if I'm being totally honest, for about 32 hours before the wedding, I was beset by anxiety diarrhea and vague urges to run away, like a voice in my head would just yell, "Run away to the mountains!" I didn't have cold feet or second thoughts, I was just…feeling weird about doing something so grown-up. 
So, especially for this reason, I was glad that the ceremony was quick. We got to the chapel, and no one else was in the entire building except a receptionist, a manager, a photographer, and the officiant. We waited around in the "bride room" for about 10 minutes, and then got called out to the garden, where they have ceremonies on nice days. We hadn't picked a song to walk out to because we thought it was more punk to not have music? But then they just started playing Etta James's "At Last," which is probably the least punk option on earth. The officiant talked for about three minutes and said all the regular stuff—we hadn't personalized anything about the ceremony, which I had, again, thought was punk, but I am now realizing it was probably just us being lazy? We kissed and then, bam, we were married and my bowels calmed down.
Then, the Uber driver who picked us up was so charmed that we had just gotten married, he kept demanding that Siri play wedding music. 
What we agreed we didn't need at our wedding
I guess we agreed to cut almost everything because we didn't want it! Guests, dancing, a wedding song—we cut pretty much everything except the dress and the basic ceremony itself.
I would also just like to give this heads-up to any would-be elopers: Eloping is super romantic and I wouldn't change a thing about it, but you WILL essentially be cutting wedding presents out of your life. No one wants to buy you a melon baller or a Dutch oven out of the goodness of their heart; they're doing that to repay you for the eight glasses of pinot they had at your reception.
We agreed there wasn't much worth splurging on 
The cheapness of it was actually part of the fun for me! It's like when you get a beautiful dress at a great discount, and can't stop telling everyone, "Oh, this? I got it ON SALE."
The most fun things we remember from the day 
Once the ceremony was over, I felt like a weight was lifted off my shoulders, and I was ready to just be goofy and have dumb fun (Las Vegas is a great place to act like an idiot, FYI). Once we got back to our hotel and changed out of our wedding clothes, we went immediately to the PF Chang's located in a nearby ornate casino. It was just such a silly moment—to be at your own wedding ceremony one second, and then to be eating Dynamite Shrimp next to tourists there to see Britney Spears: Piece of Me Live the next. I really loved it.
What people should consider before eloping in Vegas
Talk to your families beforehand. They may be supportive about your elopement or they may be pissed, but it's really easiest to deal with it upfront (even if it feels like it might be easier to deal with it afterwards). Ours were annoyed, but eventually calmed down. That's probably the only part of eloping that involves any traditional wedding stress. Everything else is just about you two, your love, and your Dynamite Shrimp.