"Unbreakable Kimmy Schmidt" renewed by Netflix: What's going to happen in Season 4?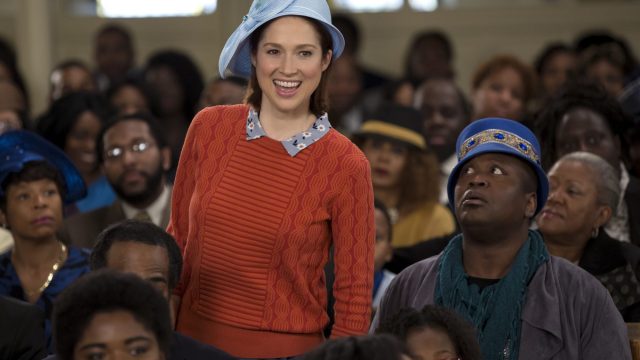 Time to pour yourself a glass of pinot noir! Netflix has renewed Unbreakable Kimmy Schmidt for Season 4.
Tina Fey's quirky comedy features Ellie Kemper as Kimmy, a woman who's starting her life over after being kidnapped and held captive in a bunker for most of her formative years. Kimmy never got a chance to actually grow up, so she's navigating the complicated world of being an adult under her unusual circumstances.
In Season 3, she started going to college and finally tried to divorce her former captor, the unhinged reverend played by Jon Hamm, who forced her into marriage.  She even developed feelings for *gasp* another future reverend (but he's not looking to start a cult, at least not as far as we know).
So, what's to follow in Season 4?
Well, not much is known at this time, but we'd like to see a whole lot more of Kimmy's new love interest, and we're crossing our fingers that Titus and Mikey work things out for real. Could there be a cuter couple than these two?
A major story arc could also be gentrification. Throughout Season 3, Lillian was fighting to keep a Whole Foods-type grocery store out of the neighborhood. We're guessing this is just the beginning, and gentrification will continue to cause a large conflict in Season 4.
We're also hoping Titus takes every opportunity to channel Queen Bey once again. Wasn't his Lemonade dress fantastic?
The show has been nominated for a whopping 11 Emmys for its first two seasons. Kemper even landed a nomination for Outstanding Lead Actress in a Comedy Series, and Tituss Burgess, who plays the self-absorbed, musically inclined Titus Andromedon, landed a nom for Outstanding Supporting Actor. Plus, everything Fey touches is gold.
So, we definitely didn't have any fear that Season 3 would be the end of this show. But, it's nice to have official confirmation of another season.
All three seasons of Unbreakable Kimmy Schmidt are currently streaming on Netflix, so what are you waiting for? Binge away in time for Season 4!