Ulta Beauty shared a sneak peek of Urban Decay's new Nocturnal collection and it's gorgeous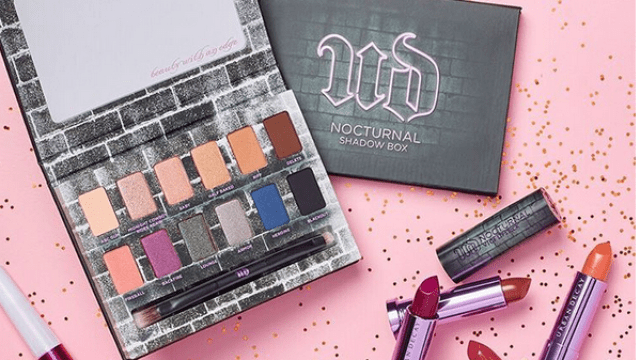 Window shopping a rainbow's worth of makeup shades can be one of the most visually satisfying activities! Ulta Beauty shared a sneak peek into Urban Decay's new Nocturnal palette, which includes 12 luxurious shades of eyeshadow (for every possible mood) and four brand new Vice lipstick shades. Now you can kick off 2017 with a full arsenal of moonlit makeup looks to properly express the glamorous insomniac living inside of you.
If you're going to regularly dance your way into the early morning hours, this collection will only amplify your sleepless persona! You'll have endless options to don one of the many generous shades provided in the Nocturnal Shadowbox.
Also, the name Nocturnal Shadowbox definitely sounds like a villainous creature from a lost Harry Potter book.
Maybe when you apply it to your eyelids you gain bat-like flying abilities.
The Nocturnal Collection will be available exclusively through Ulta Beauty starting January 15th! So you have time to gather your dollars and set your eyes on what you want the most. You can snag the collection in Ulta stores starting January 22nd!
The four new shades of Urban Decay's new Vice lipsticks include: Lawbreaker (a light chocolate brown), Nonsense (a soft pink), Fireball (a creamsicle orange), and Backstab (a rich raspberry).
Now you have yet another desire to keep you up at night, staring out the window longingly as you wait for these colors to drop.