UK brand Missguided just dropped their first, gorgeous beauty collection
While a lot of UK brands have expanded their empires and fanbases to include the rest of the world (cough cough, Topshop, Boots), UK online-only retailer Missguided hadn't really been on my radar, but consider my head turned:
With the arrival of cult beauty brand Glossier in the makeup game, it seems like everyone has taken notice of the phenomenon of #glossierpink, but that's where the similarities between them and Missguided's warm pink designs end. While there's everything from eyeshadow to this amazing cat eye mask, can we hear it for this literally Instagram-referencing contour kit that looks like it could double as a cool clutch?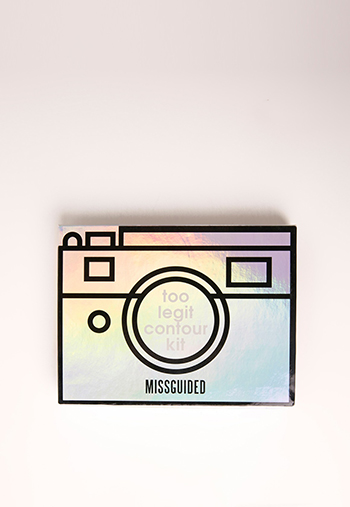 In a nod toward Lush, one of the most covetable beauty brands in the world, Missguided also offers up these adorable Saturn-shaped bath bombs, replete with pun packaging: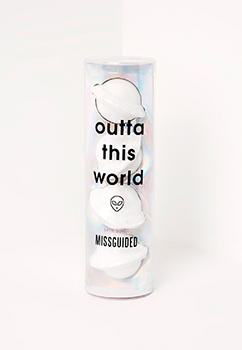 But if I'm gonna be honest, the coolest piece of the collection has to be this UNICORN LIP GLOSS GIFT BAG. The gloss itself is a pleasing peachy coral, but. The bag. This is the kind of bag you find an excuse to wear — to work, to after-work drinks, to brunch, to sleep. (Kidding… kind of.)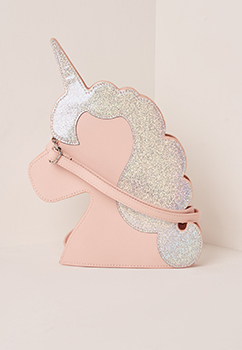 Luckily for those of us on a beauty budget (aka… probably all of us), the most expensive line in the US Missguided line is said unicorn bag and its gloss, at a total cost of $34.00, which is totally reasonable. But I say US Missguided line, because as the brand's of UK origin, you lucky folks across the pond get a few more pound-based options.
On Missguided's UK site page, there are a few items that would cost you a pretty penny to get shipped to the States. Like, what do we have to do to get this sparkly nail kit available here?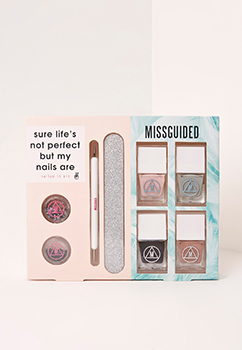 While we (okay, maybe just I) love that unicorn gift bag, why wouldn't it come with these jewel bath bomb and UNICORN BUBBLES set?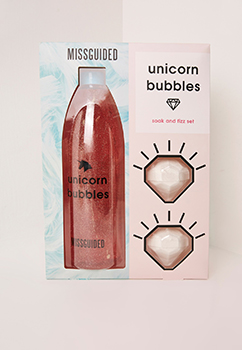 And last but certainly not least, what'll it take for them to put this gift set that includes MERMAID LOTION on the US site?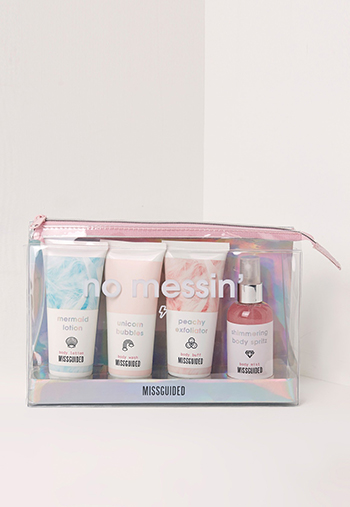 Missguided has shot an arrow through our hearts, and the beauty world just got a new pastel-hued player.