Ugly Christmas Sweater nails are a thing and we are cracking up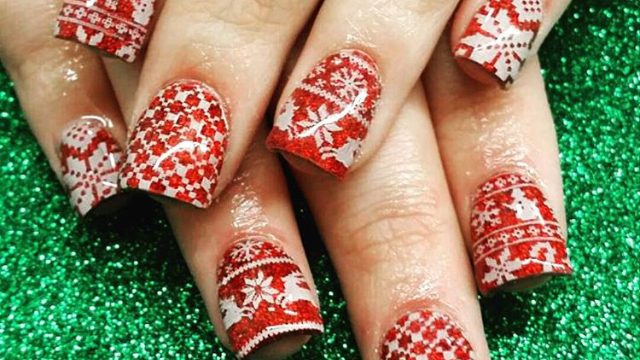 We love fancy holiday dresses and warm winter PJs, but our favorite seasonal swag has to be our ugly Christmas sweaters. They put the "fun" in functional when the temperature starts to drop, and they're always hilarious.
But sometimes a sweater is hard to pull off. Especially when you've been planning your adorable velvet outfit for weeks. Or when you live in a state like California and it's still just a little too hot for wool.
Well, good news, friends! Ugly Christmas sweaters aren't just about outerwear anymore. (Although this Drake Christmas sweater is always appropriate.) Now, you can rock these funny, festive designs another way: on your nails.
Wait, what? Ugly Christmas Sweater nails?
OMG, yes. Whoever came up with this idea, we love you. They're SO fun and cute — just check out these designs!
We never would've thought of wearing our sweaters on our nails, but these are brilliant.
Want 'em for yourself? Order some holiday nail vinyls from stores like Twinkled T for as low as $4.
https://www.instagram.com/p/BMBPQe0AQEy
If you're more of a DIY type of gal, YouTube mani guru Simply Nailogical has just the tutorial. She's also rocking an absolutely incredible nail-themed ugly Christmas sweater to match!
https://www.youtube.com/watch?v=VjNRY_4VSjs?feature=oembed
This holiday, jingle bells won't be the only thing rocking. Our nails will also be perfectly on point!