Ugg and Teva just combined forces on the ugliest shoe ever, but it's kind of awesome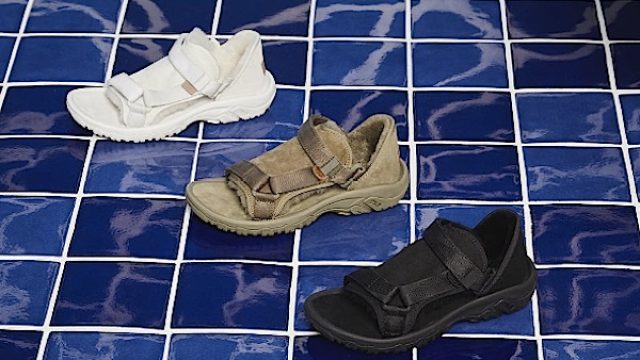 In what undeniably marks a historically ugly fashion partnership, Ugg and Teva have collaborated on a new shoe and it's impossible to know how to feel. Boasting a combination of function and fashion, the brands copulated their ugliness in order to birth the Teva x UGG Sandals which combine the signature tread rubber soles of Tevas with the sheepskin horror of UGGs.
It's difficult to tell if they're purely ugly shoes, or ugly enough to be cute?!
According to Women's Wear Daily, there are two styles — the regular sandal, which goes for $175, and a mid-calf style, priced at $225 — that are available on both brand's websites, as well as certain retailers. So not only are they not the most ~sexy~ shoes we've ever seen, they're pricey, too!
Still, there's something almost emotionally endearing about this collaboration — it feels like watching two high school underdogs attempt to form a band in order to transcend their low social status. Conceptually, I'm here for it. However, the Teva x UGG shoes themselves feel both predictably and appropriately ugly. How WILL they work with anything in our closets?!
It's a line of shoes that requires model levels of hotness and confidence to pull off.
They DO look super comfortable though, and it's hard to not root for these two often-mocked brands out of a sense of underdog loyalty.
If nothing else, the fact that these brands were able to fuse the ugliest aspects of sheepskin and rubber is pretty laudable!
Rarely do I see the fashion world unabashedly embrace uncoolness and non-chic ugliness in such an overt way, and to that I raise my glass in appreciation!
Then again, that model almost convinces me that they aren't THAT ugly.