The U.S. women's soccer team completely smashed this record—because women know how to get it done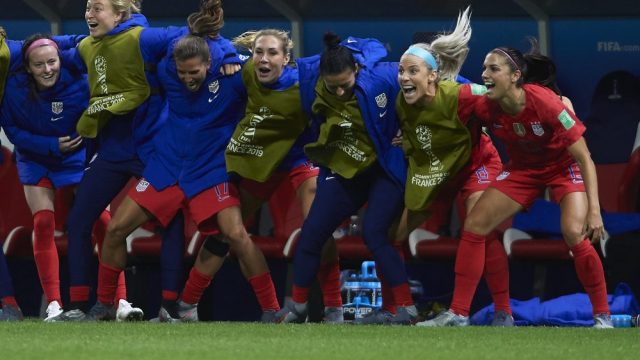 In the world of sports, men's teams typically get way more attention than women's teams—despite the fact that many female athletes are seriously amazing. Take the U.S. women's soccer team, for example. The 2019 FIFA Women's World Cup has officially started, and the U.S. Women's National Team is already crushing it.
NPR reports that the U.S. women's soccer team defeated Thailand 13-0 in its first match of the tournament on June 11th, shattering a FIFA record for the largest margin of victory in a World Cup game.
To put things in perspective, no World Cup team—men's or women's—had ever scored 13 goals in a game before.
Forward Alex Morgan scored five of those goals, tying Michelle Akers' 1991 record for individual goals scored in a single World Cup game.
As Today.com points out, some have accused the U.S. athletes of poor sportsmanship because of the way they celebrated goals during the match, but the players and their coach have defended themselves. The Thailand team's coach, Nuengruethai Sathongwien, told The New York Times that she was grateful to the U.S. team members who had consoled some of the Thai athletes.
"They saw our players were disappointed and let down, so they wanted to encourage us to keep fighting," Sathongwien said. "So thank you very much for that."
According to CBS News, the U.S. women's team is ranked number one in the world, and they are the defending champions. The team has qualified for every World Cup since it formed in 1991 and has won three. But despite the team's undeniable talent, the team members earn considerably less than athletes on the U.S. men's team. In March, the U.S. women's soccer team even sued the U.S. Soccer Federation (USSF) over this wage gap, alleging "institutionalized gender discrimination." Before the lawsuit, the team had filed a complaint in 2016 with the Equal Employment Opportunity Commission.
It's clear that the U.S. women's soccer team is incredible, so why are they still having to fight for pay equality? We're applauding their amazing performance in the first round of the World Cup, and we hope that the USSF is taking notes.