Tyra Banks got real about her nose job, and we're all about her honesty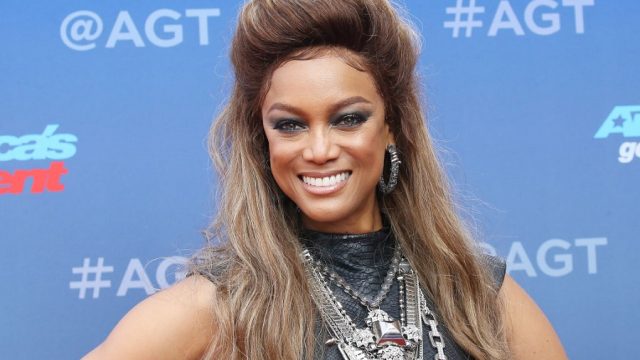 Humans come in all shapes and sizes, and — for better or worse — we also all come with our own sets of insecurities. Top Model Tyra Banks opened up about getting a nose job early in her career, and why she'll never apologize for it.
Banks has been promoting body positivity for years. Not only has she dropped a lot of the stereotypical model qualifications — like height, weight, and age — from America's Next Top Model, but she's handled scrutiny about her own body like a pro. It's been over a decade since she famously clapped back at journalists who called her "Thigh-ra Banks" after photos of her in a one-piece swimsuit surfaced (she literally told the paparazzi to "kiss my fat ass." SLAY).
And because of Banks's body-positive outlook, some might also assume that she has negative views on plastic surgery, since many out there still conflate "all-natural" with the body positive and inclusivity movements, when they really aren't the same.
"I had bones in my nose that were growing and itching," she said to People. "I could breathe fine, but I added cosmetic surgery. I admit it! Fake hair and I did my nose. I feel I have a responsibility to tell the truth."
Banks doesn't necessarily think plastic surgery is right for everyone, but she doesn't judge people who do decide to get work done. In her eyes, it's similar to wearing makeup in order to boost your self-confidence.
"If you like your natural self, don't worry about it," she noted. "But if you feel insecure about something…I have a magic bag of beauty tricks to make you who you want to be. Permanent or temporary, I do not judge that."
Banks noted that, in general, she thinks women judge each other a little too much. What's right for one person may not be right for someone else, and we should spend our energies supporting one another. Banks also said that there's often a rigid dichotomy between "natural" and "made up," and that people should feel more free to jump between the two and just have fun with it.
"You want a hair weave? Fine. You want permanent eyebrows? Fine. We as women need to stop judging," she said.
Hear, hear. We're glad Banks is opening up about this all-too-often taboo topic. It's a solid reminder to judge less and love more!