Tyra Banks is coming back to "America's Next Top Model"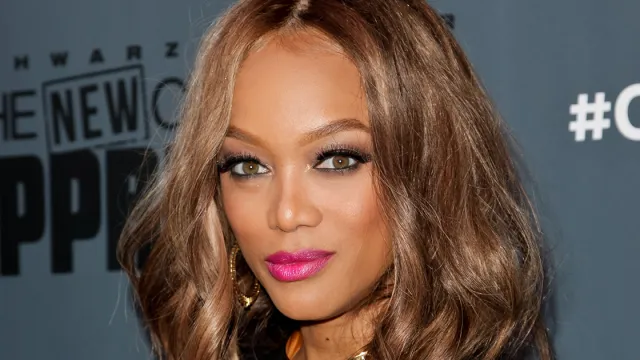 She wants to be on top, which is why Tyra Banks is returning to America's Next Top Model as the show's top judge.
The last season of America's Next Top Model saw veteran model turned TV mogul Tyra Banks step down as the show's head judge. Instead, pop singer, model, and actor Rita Ora took her place.
Banks has since taken a role on America's Got Talent, where she'll be replacing Nick Cannon as the host, and tbh we can't wait to see the smizing that'll inevitably happen. Tyra's larger-than-life personality is sure to make for entertaining viewing, that's for certain.
Well, it seems that Tyra Banks is going to be one busy lady this year, as it's just been revealed that model is returning to the judging panel of America's Next Top Model, too!
After holding the job down for one season after the show moved to VH1, Rita Ora has decided to leave the popular franchise, leaving the door open for Tyra to reclaim her rightful throne.
Banks, who also serves as the show's executive producer and creator, sent out a flurry of messages on social media announcing the news.
"I missed my ANTM baby so Mama's back!" she wrote.
TyTy also shared a hilarious video, which she captioned, "Cray Mama's Back." 
Speaking about the decision to bring Tyra back, one of the show's executive producers, Ken Mok, said that the makeup mogul had always felt like "the heart and soul of the franchise." 
"[Tyra Banks'] absence was deeply felt by our fiercely loyal fans who missed their Queen of the Smize," he said. "We'd like to thank Rita Ora for being a great partner and total pro. She infused this new iteration of ANTM with passion and creativity and we wish her nothing but the best in her future endeavors."
https://twitter.com/udfredirect/status/842497262802554881
Tyra will take the place as head judge for the show's 24th cycle, which is expected to begin filming this summer. Meanwhile, the 23rd cycle of America's Next Top Model recently finished, with 20-year-old India Gants being crowned the winner.
It's good to have you back, Tyra!