This two-toned mascara tutorial will make your eyes look huge!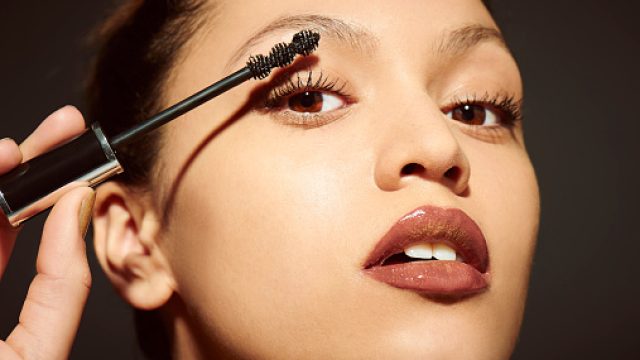 Have you ever wanted to make your lashes pop, but don't know how? Well, we've got you covered!
We found an easy tutorial that will take your eyelashes from blah to pow in two easy steps. Seriously, even if you're not a makeup wizard, you can handle this tutorial and your lashes will look fabulous. The best part is that it only requires two products.
Thanks to The Beauty Department you too can have two-toned eyelashes in a matter of minutes. The fun part is that you get to use colored mascara, and the even better news is you only need mascara. Yep, no liner, no shadow, just mascara. So how does it work?
You simply do the same two steps twice and you'll be a beauty lash queen in no time.
Step 1: Coat your lashes with the colored mascara. Beauty guru, Amy Nadine, who contributes to The Beauty Department, opted for blue in her guide and we love the color choice.
*Make sure to coat both the top and bottom lashes fully with the color.
Step 2: Pull out your trusty black mascara and apply it to the outer two-thirds of your lashes, leaving the base blue.
Step 3: Repeat on both top and bottom lashes on both eyes. Technically this isn't a third step, but we added it just in case you only did the top lashes the first time around!

To really make your eyes pop, match your colored mascara as closely as possible to your real eye color. For blue-eyed ladies, rock a blue color, while green-eyed beauties should use green. If you have brown eyes Nadine suggests using any color, even purple because they all compliment brown.
Test out this easily lash tutorial and tell us how yours came out in the comments!