These two runners helped each other after falling, and they're both our Olympic heroes
The Olympics are an intense competition, and sometimes, it's easy to lose sight of the greater importance of the Games. The Olympics aren't about one country being the best out of all the others, but instead, they're about athletes from all over the world coming together in a show of unity as well as some healthy athletic competition. Nobody exhibited that true spirit of the Olympics more than Abbey D'agostino of the USA and Nikki Hamblin of New Zealand yesterday during their Track and Field prelim race.
Abbey D'agostino and Nikki Hamblin were both contestants in the Women's 5,000-meters.
But disaster struck, as Hamblin went down and D'agostino went down with her.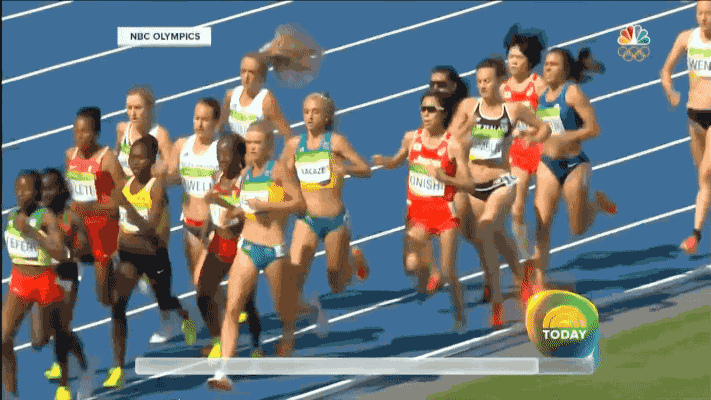 There can't possibly be anything more devastating than a fall during such an important event in the Olympics. As you can see, Abbey clips the back of Nikki's foot, Nikki stumbles and falls, and then Abbey trips over her. There are a lot of reactions that you can have if you're a runner in this situation. You can be upset at the other runner for tripping you up. You can shrug it off and just get back to running. But what Abbey chose to do is such an amazing display of sportsmanship that she is absolutely one of our heroes at these Olympics.
Abbey turned to help her fellow competitor up, and that gesture totally melted our hearts.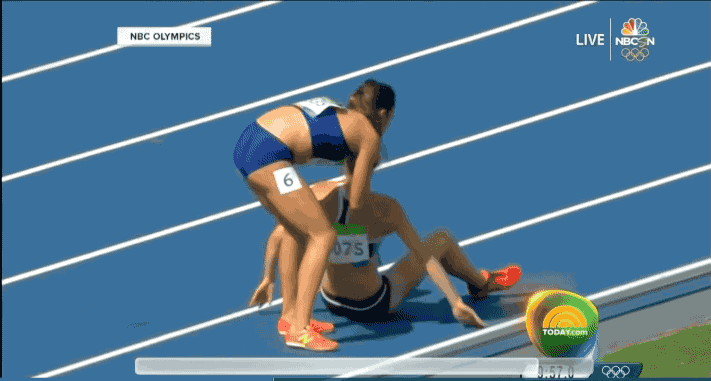 Nikki told the LA Times, "Then suddenly, there's this hand on my shoulder [and D'Agostino saying], 'Get up, get up, we have to finish this.' And I'm like, 'Yup, yup, you're right. This is the Olympic Games. We have to finish this."
Nikki continued, "I'm so grateful for Abbey for doing that for me. That girl is the Olympic spirit right there. I've never met her before. I've never met this girl before, and isn't that just so amazing?"
It is amazing, and we are so proud and inspired to see Abbey helping her competitor and showing her Olympic spirit.
That's not where their story ended, either. As they started to get back on track, it was Abbey who thought she might not make it.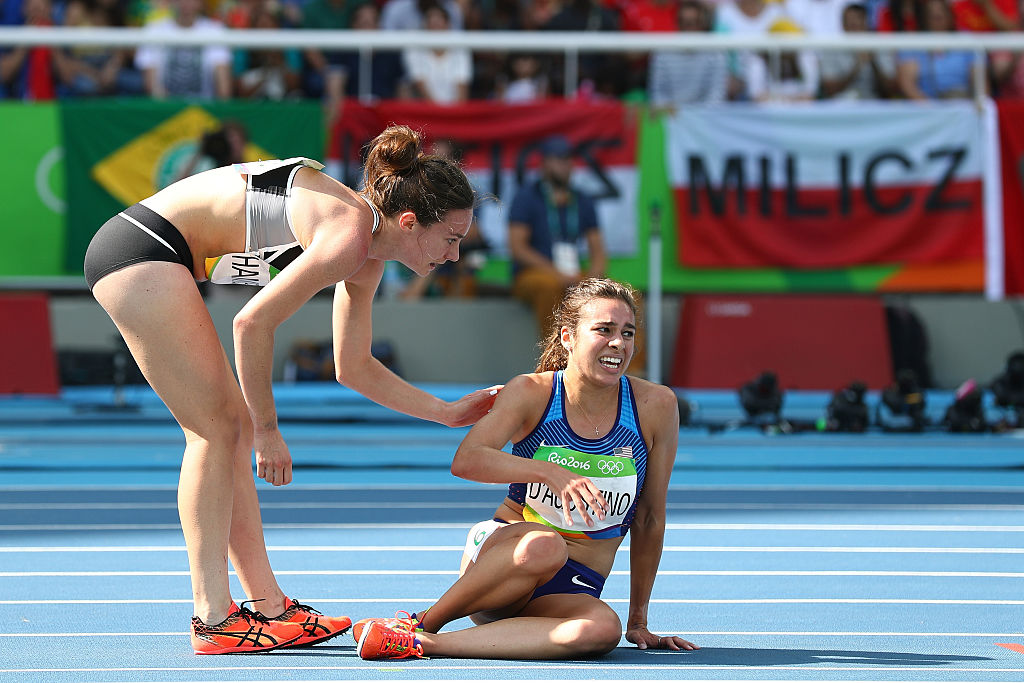 Abbey's knee was hurt, and her new pal Nikki stayed behind to make sure that she too got back up. Both racers managed to make it the entire mile that was left and make it across the finish line.
After the race, the new BFFs embraced, and then Nikki made sure that Abbey got a wheelchair.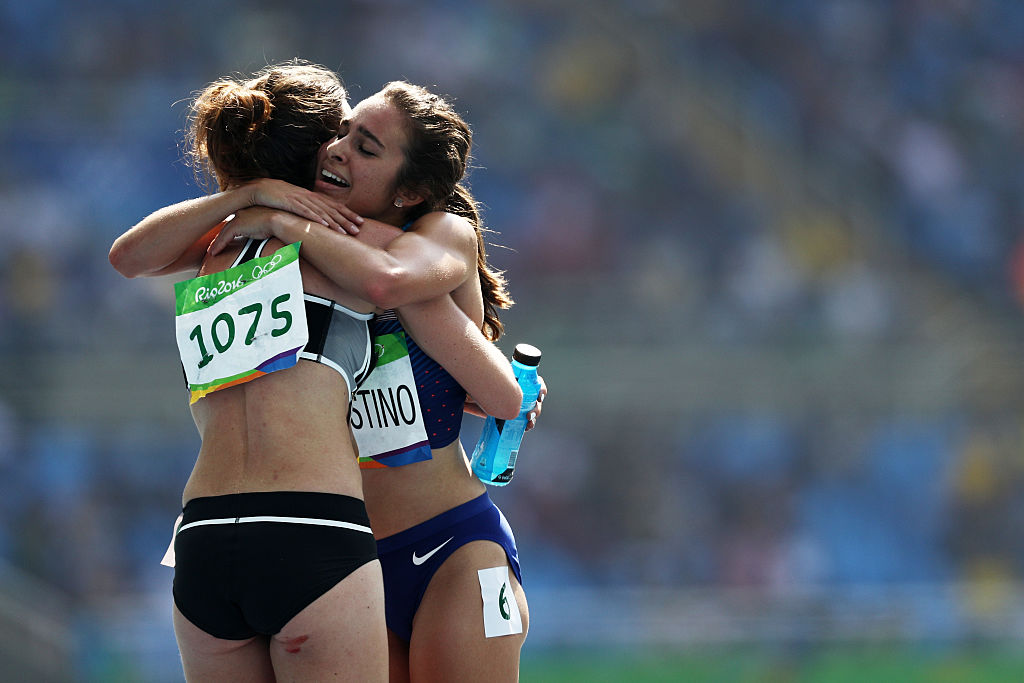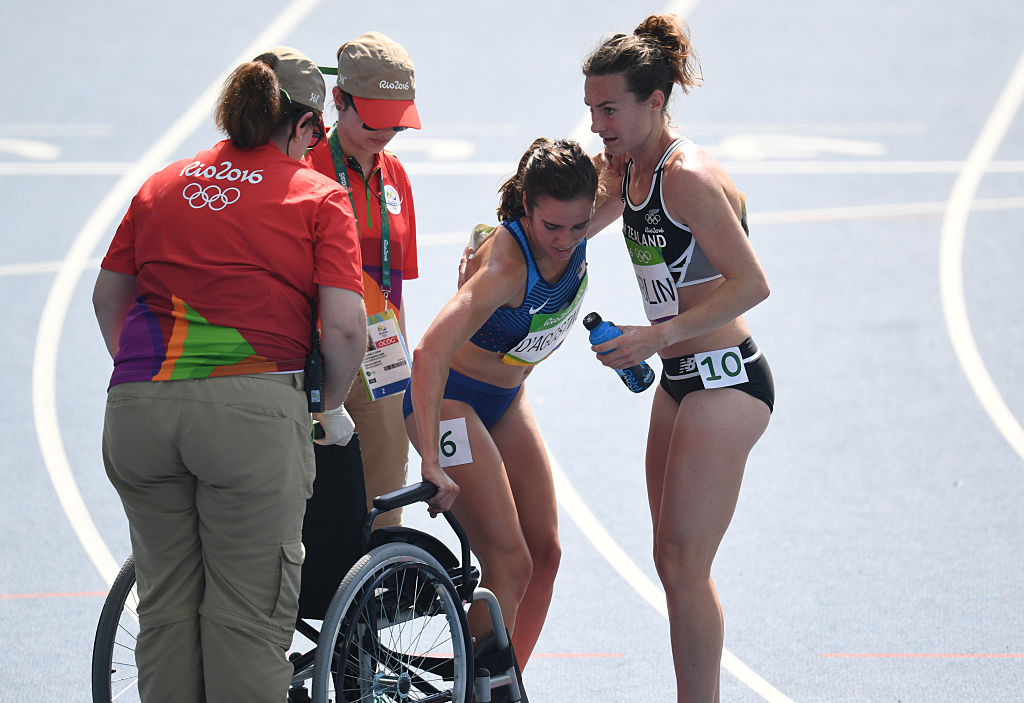 Nikki actually had to shout to the medics to make sure that Abbey got help, and she did. And all was not lost for these two athletes' Olympic dreams. They both filed a protest and were allowed through to the finals on Friday. Unfortunately, Abbey's injured knee will prevent her from competing, but Nikki will run in the final.
These two proved that sportsmanship is the ultimate Olympic prize.