This artist's two-faced Disney portraits are giving us a whole new outlook on our favorite characters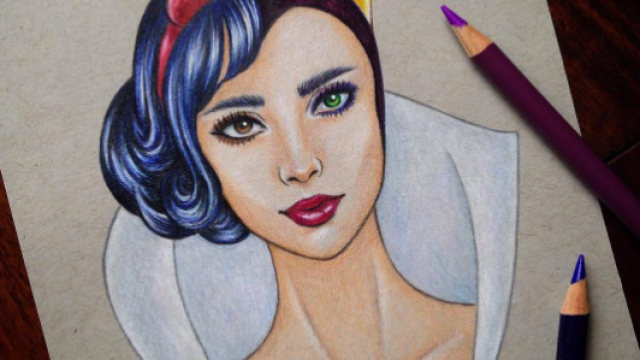 If you finished the Gilmore Girls revival and need something new, then look no further. An artist on Instagram called @dada16808 has a fresh take on Disney heroes and villains. She creates two-faced Disney art that combines our favorite heroes with their arch nemeses. And people are loving it! Hence her 70k strong subscriber base.
Sure, they aren't as out-there as the Disney princesses hot dogs — and maybe they aren't as meticulously researched as the historically accurate interpretations of Disney princesses — but they are just as awesome. Each post catches your eye! They also capture the imagination. Walt would definitely be proud.
The Princesses
The artist put some of our favorite Disney princesses up against their dark counterparts. The result is a haunting drawing that packs a punch.
Alice and The Queen of Hearts have never looked better.
If Snow White's stepmother saw this composite sketch, there would be no need for poisoned apples. Everyone lives happily ever after.
We're so mesmerized by this Aurora and Maleficent drawing.
We can't look away from Anna and Elsa!
The Male Leads
Excuse us while we wipe away the sweat because of all this heat being thrown our way. Finally, art does Disney's Hercules justice. Sign us up for a drawing course!
Other Art
https://www.instagram.com/p/BLMEEMNB5gR
The drawings get lots of love online. As a result, they look better and better each time. The artist obviously spends a lot of time on them. She favors colored pencils. Furthermore, she incorporates watercolors. They add something special!
Watching her speed-draw and paint is magical. Some might say hypnotizing.
Subscribers keep up with her posts online by following her account. The artist also draws characters from Pokemon, Sailor Moon, DC Comics, and more. We can see Pikachu and Batgirl in addition to princesses.  Applause break!
This project shows that beauty is not far away at all. It's right under our fingertips. We just have to look a little harder. And social media makes discovering it that much easier. Looking up suggested accounts is a good first step. One thing will lead to another.