Here are two very simple glittery eye makeup looks that any sparkle novice can do
When it comes to glitter, my general attitude is, "thank you, please may I have more." Why ~wouldn't~ one want to sparkle like a diamond and reflect light like a mirrorball? Sure, it's not the most subtle and nuanced look, but it's certainly one of the best things to spark joy. And if you can create happiness and don't — well, the problem is clearly deeper within you.
What am I talking about?
Oh right, glitter makeup. A thing many, even quite advanced makeup wearers describe as "frightening." Frightening?? You might as well admit being afraid of, like, shower caps! Admittedly, glitter makeup can be a bit strange but ultimately harmless and fun!
Yes, sometimes glitter is a bit too glittery. Sometimes applying glitter resembles a children's finger painting class rather than an effortless diamond-esque look. But, to help you ease into this glitter-filled look, I have two different options that will help you dip your toes into the cooling waters of wearing sparkles on your eyes and a slightly more shimmery option. No more excuses, ladies. Two easy ways to make glitter's acquaintance during this trying time. Next week: rocket science.
Let's get started, shall we?
Here's what I used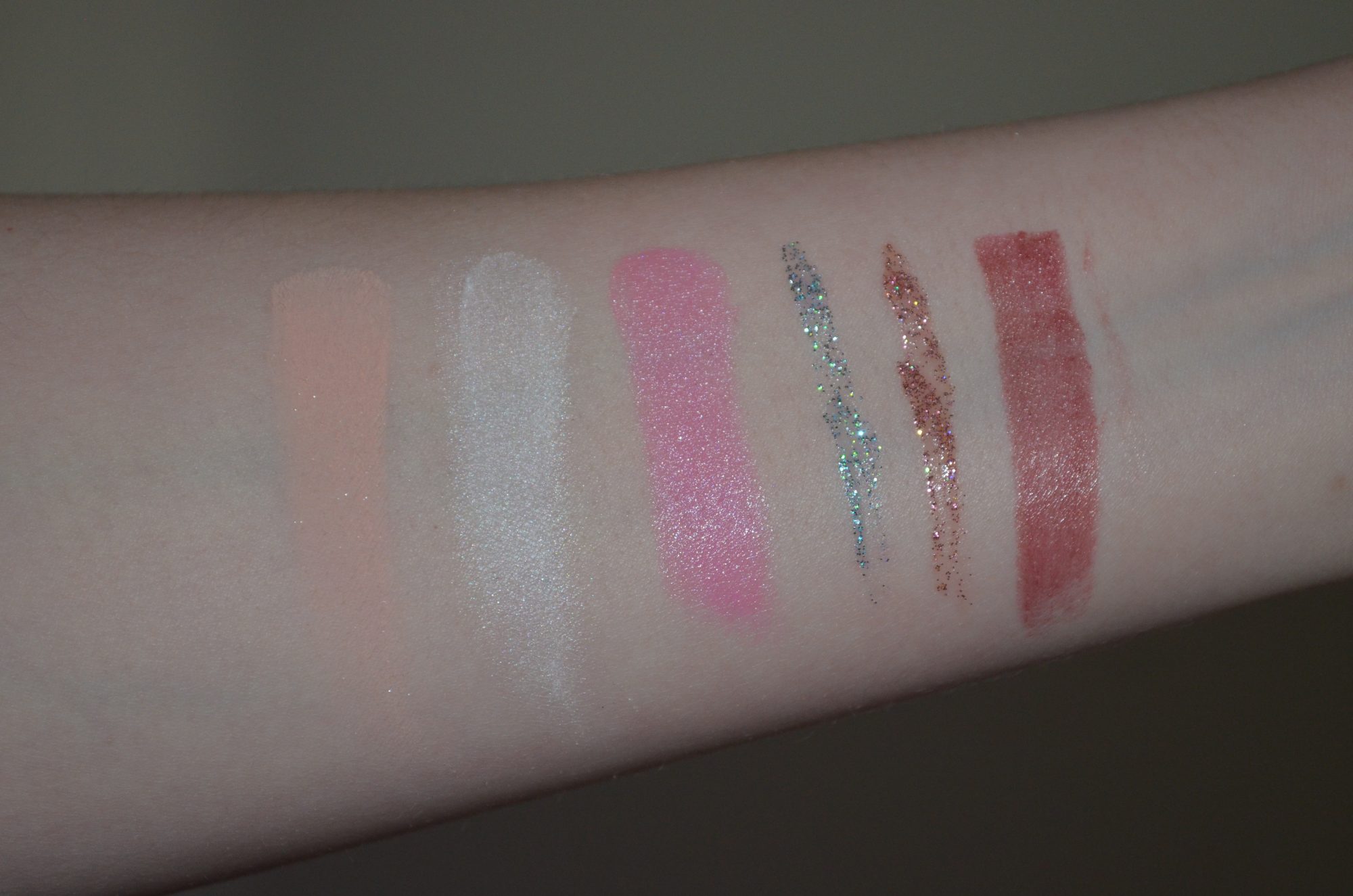 From left to right: Kryolan 03 ($11.28), Kryolan Pearl ($11.28), Revlon Colorburst Balm Stain in Cherish ($5.69), Urban Decay Heavy Metal Liquid Liner in AMP and Junkshow ($20), and Wet 'n' Wild Truffle in Paradise ($2.99).
Here's the first look:
It's a soft, pastel look with just a few sprinkles of glitter dusted over the top. I used two matte/glitter shades from Kryolan and a bright pink Revlon lip stain. For this, I used two of the Kryolan Eye Shadow glitters, in the shades 03 and Pearl. 03 is a warm peachy tone, which I applied all over my eyelids just past the crease.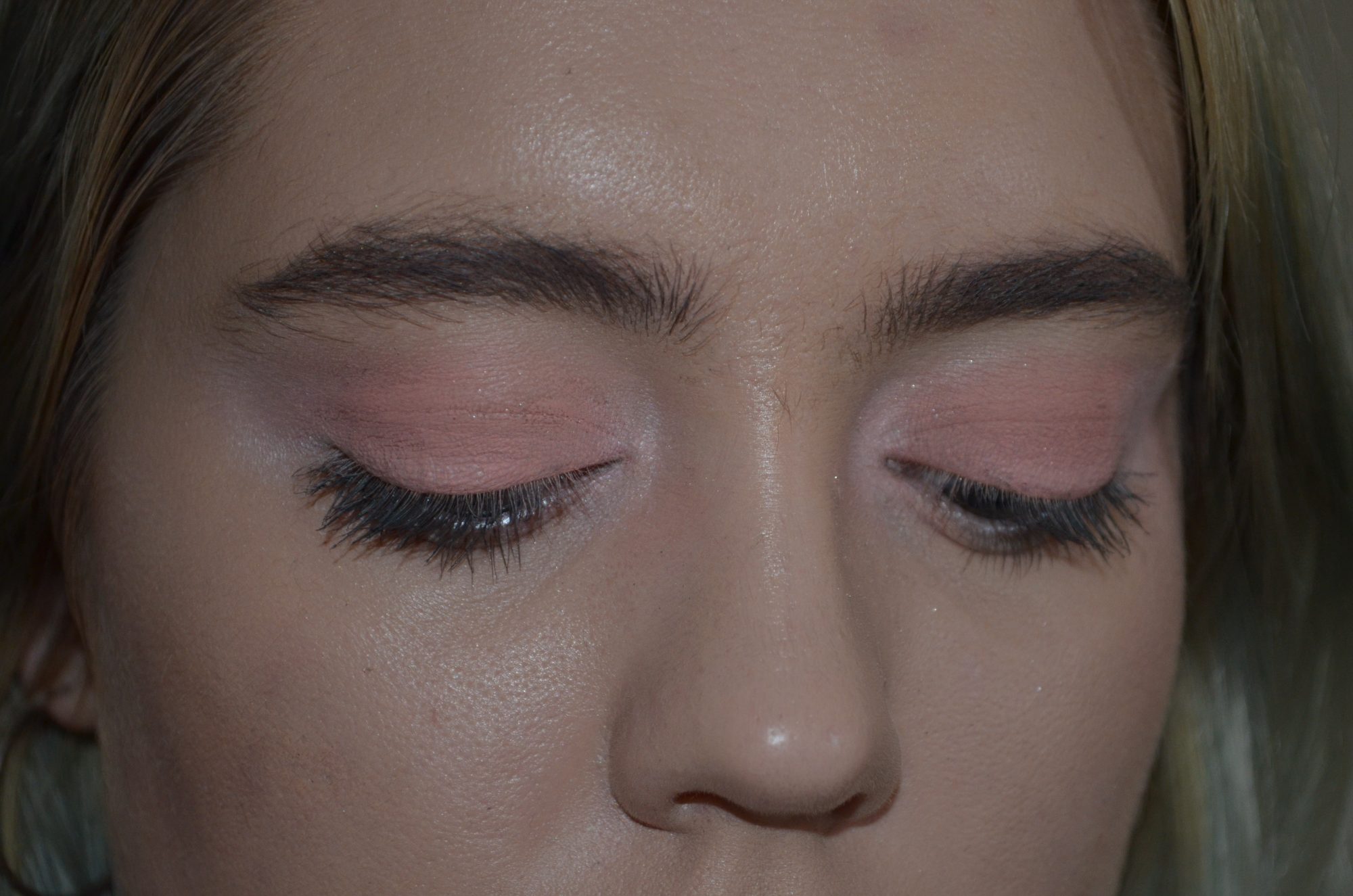 This shade is cool because it's essentially a really high-quality, pigmented matte but with small bits of iridescent glitter suspended throughout.
Then, on the inner and outer corners, I amped the shimmery levels by using the shade Pearl. This is more of a standard frosty shadow formula, with an almost translucent appearance. It's great for layering with other colors, to add dimension and bright light to the look. I imagine this would also be a fantastic, angelic looking face highlight.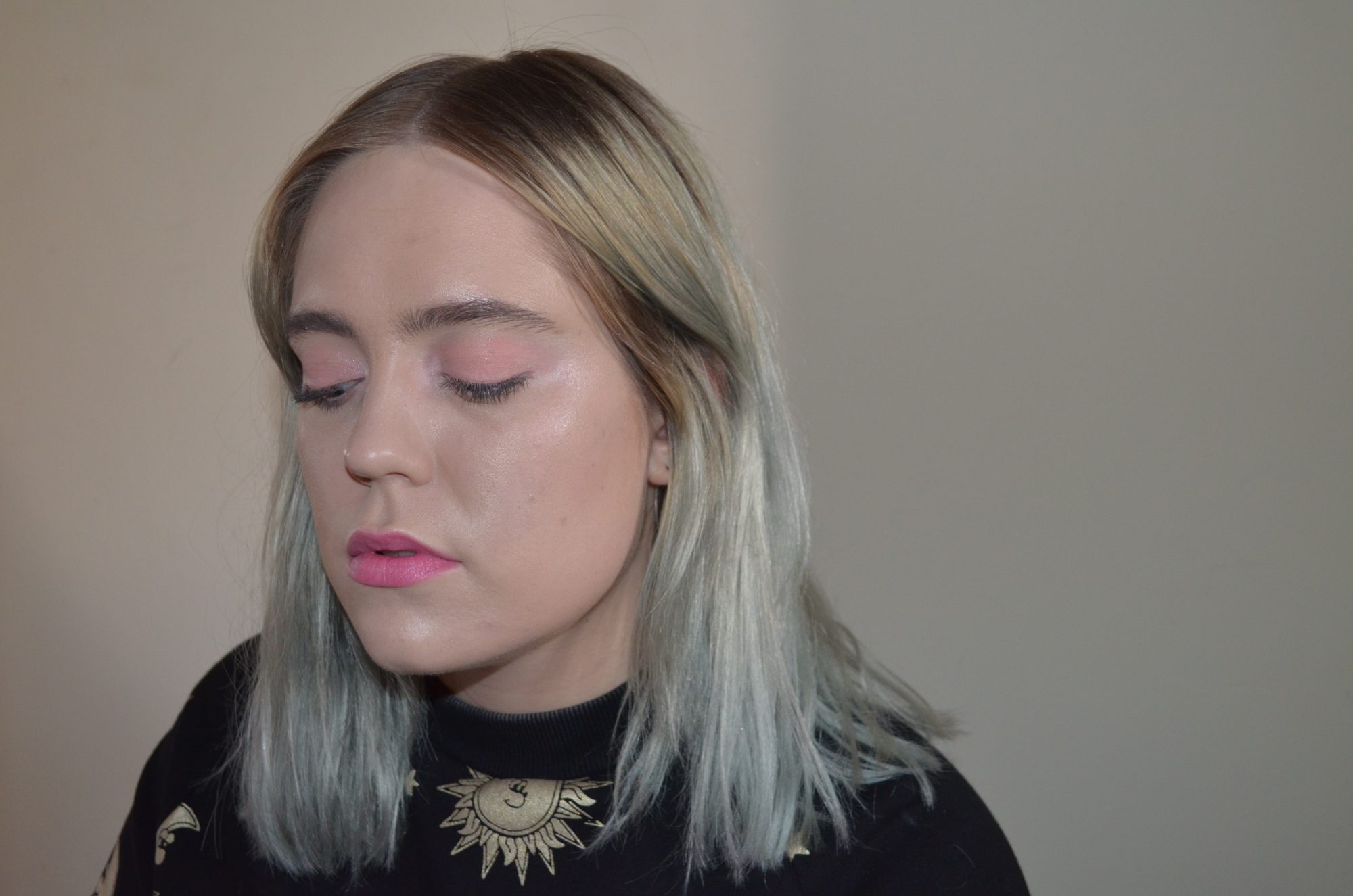 I paired this look with a bubblegummy, lilac-pink stain — the Revlon Colorburst Balm Stain in Cherish. It added a touch of prettiness to an otherwise, let's face it, pale orange glitter eye look. I love a warm and cool facial contrast, too.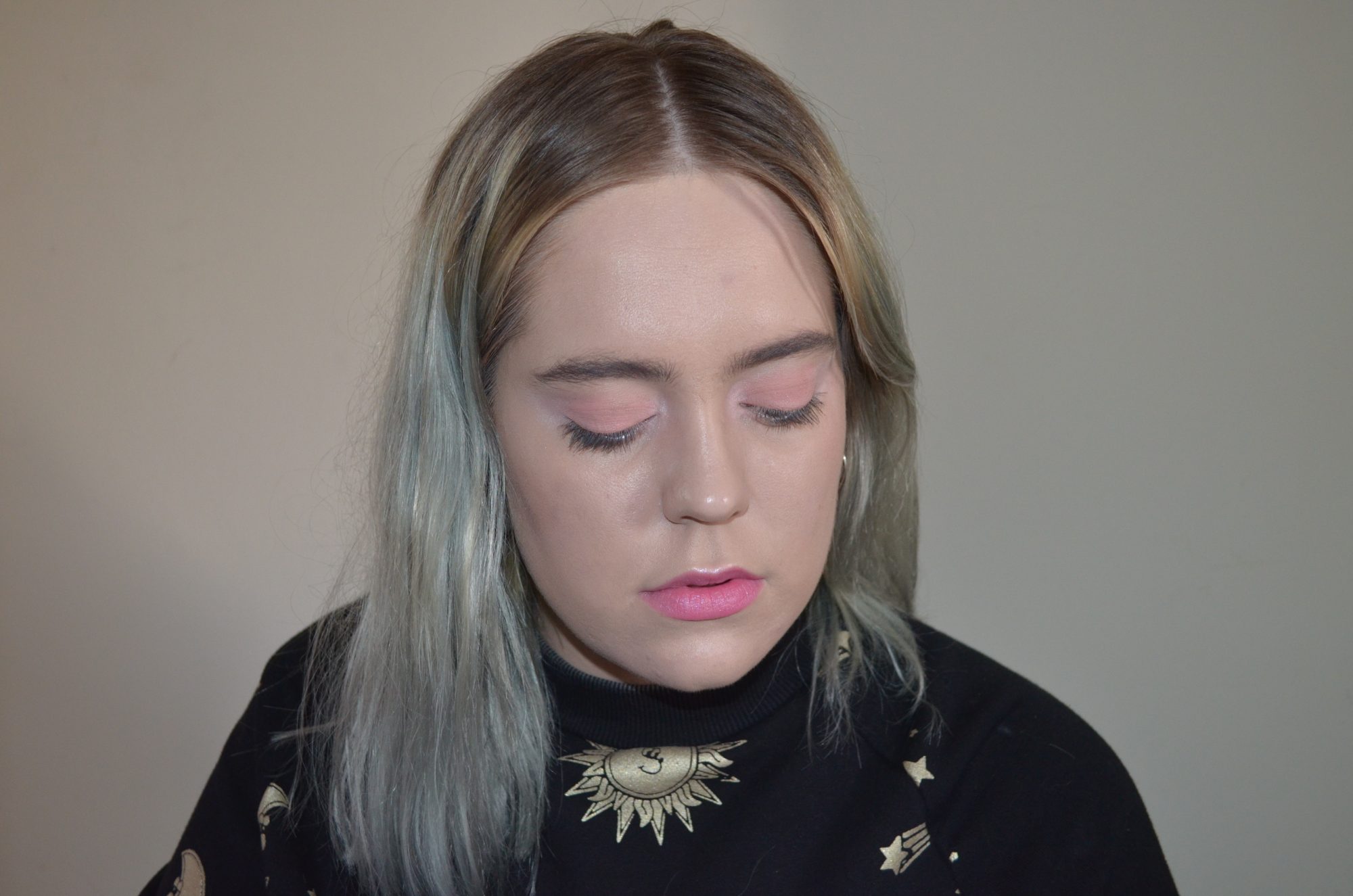 Here's the second look, and it's more of a subtle glitter option:
This glitter eye makeup option is certainly more sparkly, but, to me, somehow less "makeup-y?" Am I crazy? (Don't answer that.) No seriously, I know it involves definite pieces of actual, real life glitter, but it's in a very wearable way. Possibly because it's sheer and the glitter chunks are super sparkly. I used two liquid glitter gels and a darker stained lip to create this eye makeup look.
The glitter in question is the Urban Decay Heavy Metal Liquid Liner, in my case a combo of the shades AMP and Junkshow, an iridescent light blue and bright pink. Although they look scary in the tube and arm swatch, when dabbed on with fingers the opacity is taken down, leaving a gentle, glossy-looking, spangly wash.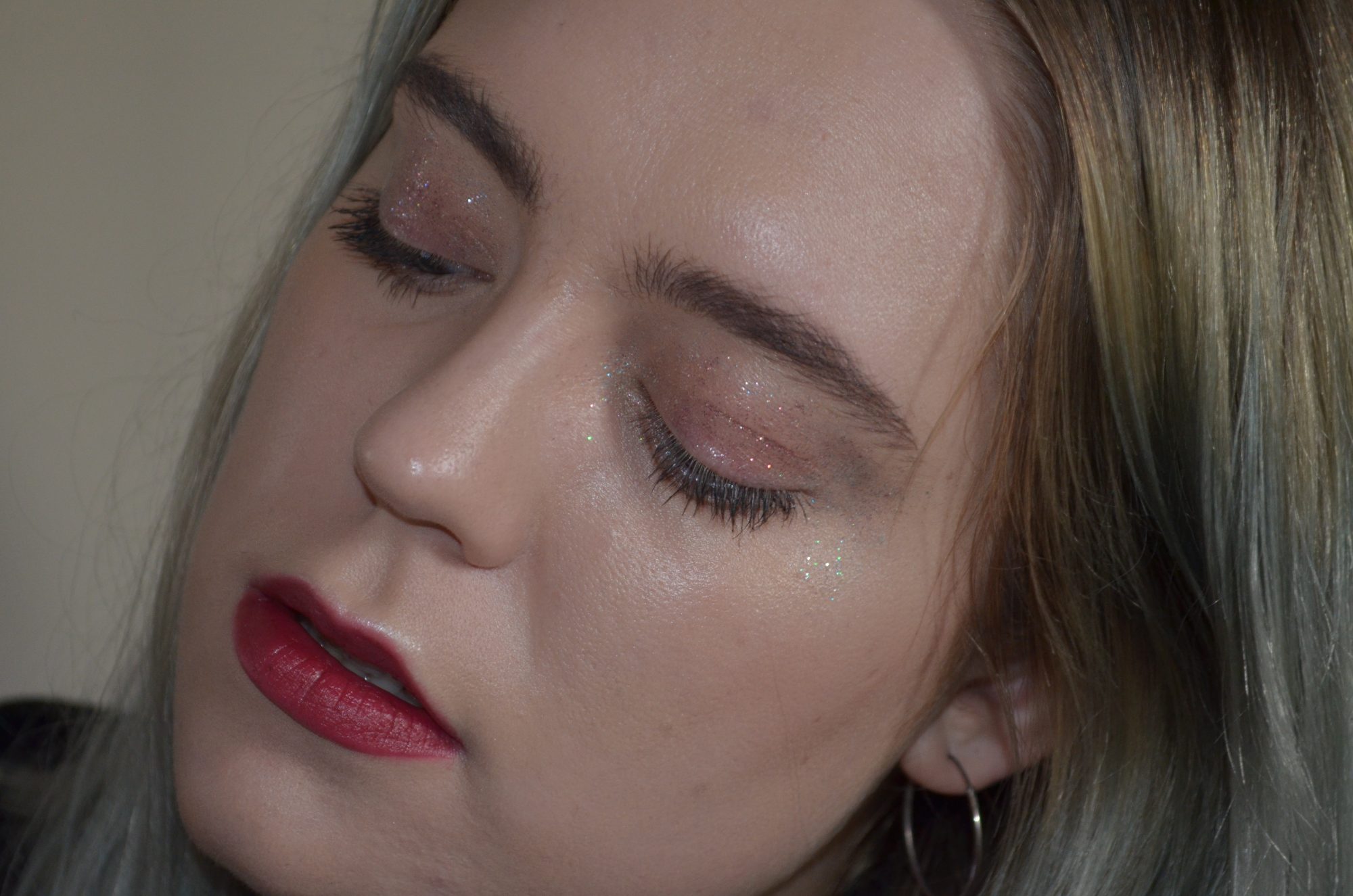 Even though both of these colors look neon — because of their iridescence — when sheered out they basically become colourless. But for an even more subtle effect, I would direct your attention towards Urban Decay's shade in Distortion, which is basically colourless and yet somehow all of the colors at the same time.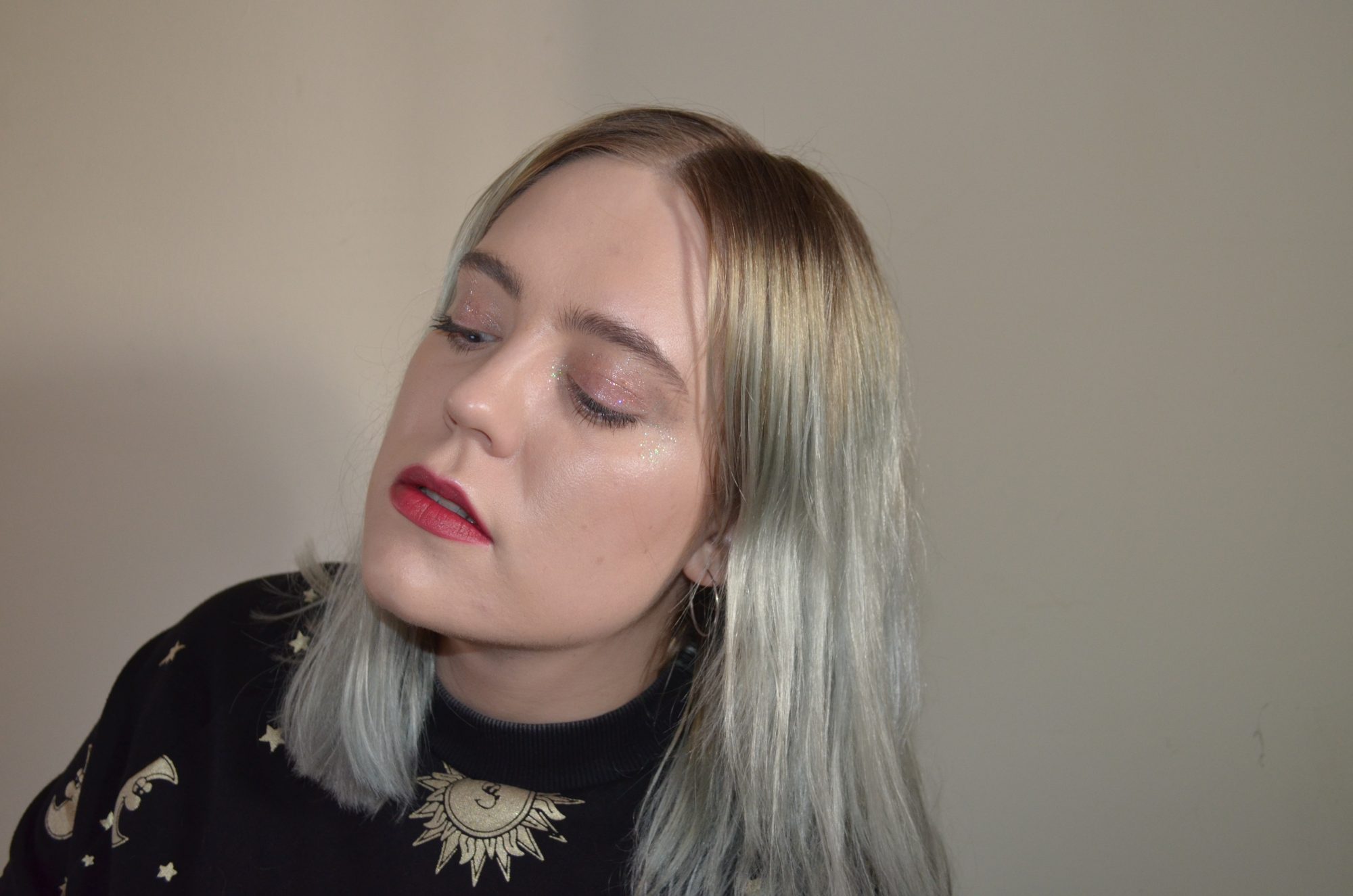 Because the eye look is surprisingly light, I paired this with a darkish lip, another drugstore stain, the Wet 'n' Wild Megaslicks Balm Stain in Truffle in Paradise. It's a warm, red-based brown, which goes on dark and shiny but fades significantly into a kinda-dark-kinda-red stain. Think of it as a no-makeup-makeup take on a dark lip.
Here's the finish look!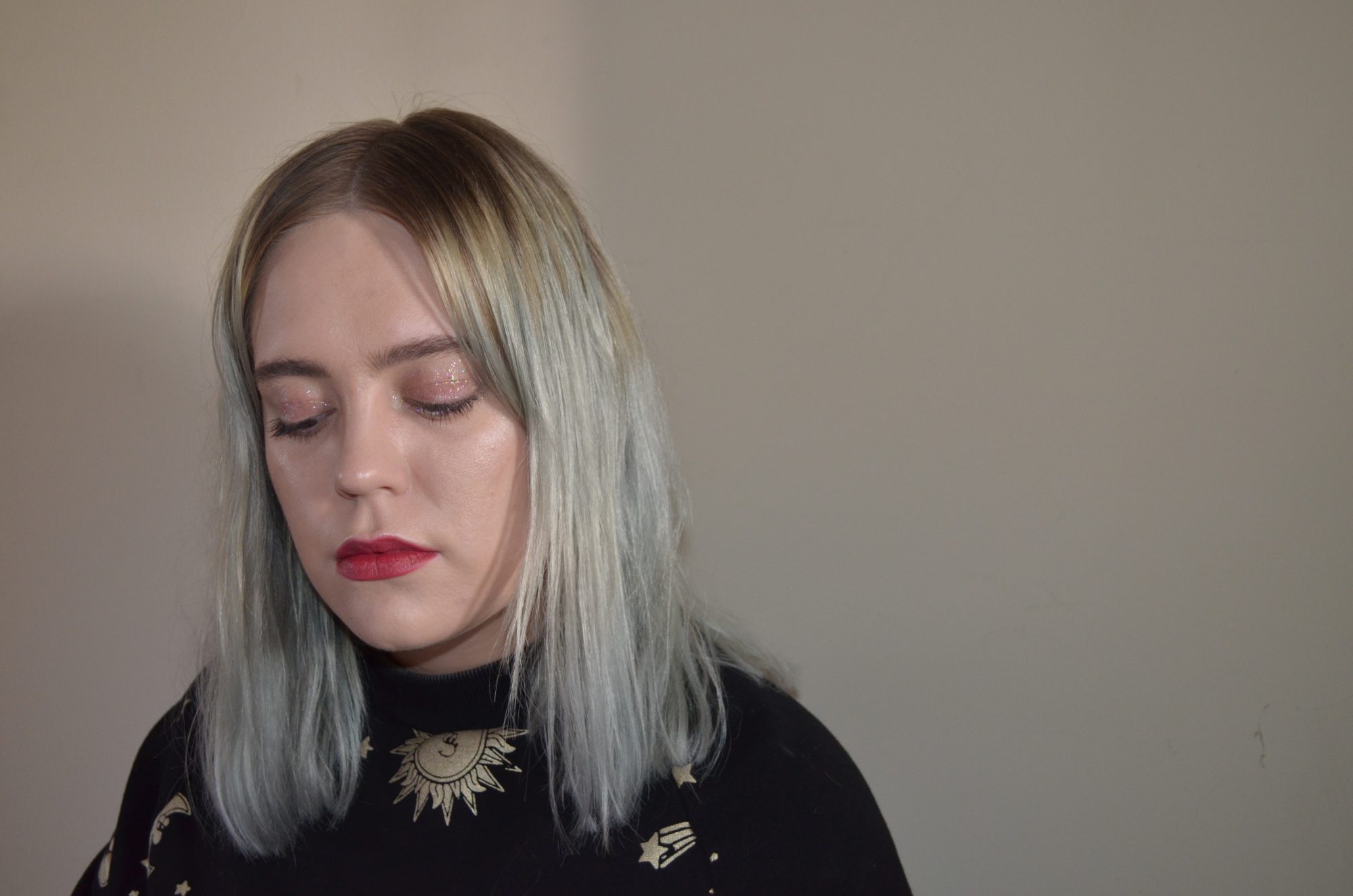 What look will you be rocking? The more subtle one or will you just go for it?