Twitter has a chilling You fan theory that will change the way you think about the finale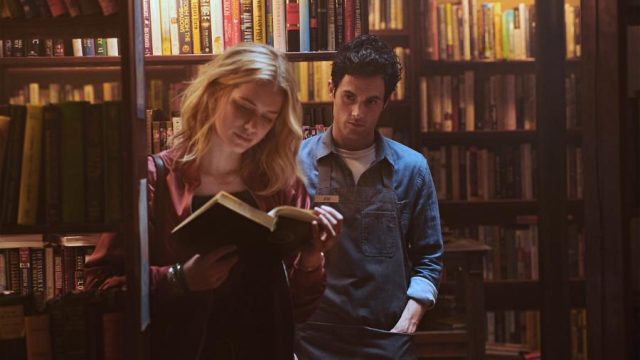 Warning: If you haven't watched the series yet, this You fan theory contains MAJOR spoilers. Read at your own risk.
You is, for lack of a better word, wild. The series first premiered on Lifetime in September 2018. It dropped on Netflix in December, and now, it seems like the only thing thriller genre lovers can talk about. You is based on a novel of the same name by Caroline Kepnes. Penn Badgley stars as Joe, a bookstore manager obsessed with an aspiring writer named Guinevere, aka Beck, played by Elizabeth Lail.
Of course, Beck doesn't know that Joe is obsessed with her. He watches her through her window, taps into her phone to read her texts, and manipulates her at every turn. He even murders a few people close to her, including her best friend. It's seriously twisted and builds to a super disturbing finale. If you've seen the show, you know that Joe kills Beck, frames her therapist (played by John Stamos, NBD), and posthumously publishes her manuscript. But a You fan theory making the rounds on Twitter will make you rethink everything.
What if Joe didn't actually kill Beck?
We know—it's a super dark thought. But some Twitter users think he's keeping her alive in the bookstore basement. Honestly, it's a pretty Joe move. We wouldn't be surprised. false
false
Fortunately, we may actually get some answers. In July 2018, Deadline announced that You was renewed for a second season before the first even hit the air. You Season 2 will be based on Hidden Bodies, Kepnes' follow-up novel. Um, that chilling title fits in a little too well with this You fan theory, don't you think? We'll just have to wait and see.